Planning a family trip is fun and exciting. The whole family gets to go somewhere different and experience a new activity. This event could even be something you and your family look forward to for weeks.
But then something you weren't expecting happens: someone wanders off and gets lost! No parent ever wants to experience the terror of losing their child in public! But it happens all the time, and kids often wander off. What do you do if you lose your child? Or sometimes it's the elderly that wanders off.
This is why it is super important to practice these safety tips in public places to be prepared and know what to do if your child gets lost.
Lost in Public? What to do if a child wanders off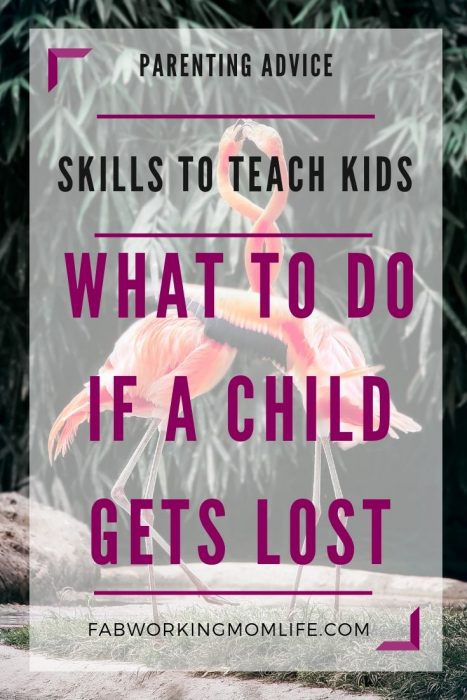 Here's our story of having someone wander off. Over one Labor Day holiday several years ago, when I visited my parents in California, we decided to all go to the zoo. This was four adults and two dependents (my toddler, and my Grandma). I list my Grandma as a dependent and not an adult because, well, she's about as bad as the toddler.
There we were, enjoying a nice day at the zoo, checking out the elephants and the giraffes. Pointing at the funny monkeys. Then we were looking at the pretty hyenas and discussing whether they were more dogs or cats, and we suddenly realized we were missing a person in our party. No, not my baby boy, but my Grandma had disappeared.
The next hour was stressful and chaotic, but we did eventually find Grandma, safe and sound, outside the park. Apparently, she thought we left without her and went out to wait for us in the parking lot. Honestly, it could have been worse. We were concerned she might have gotten on a bus to try to go home. Wouldn't be the first time.
How to Prepare for a Public Outing in case you get Separated
It is so important to have a plan to prepare for and prevent a child getting lost. Have a conversation with your preschooler so she knows what to do if you get lost or separated from your parents. Teaching your child what to do if they get lost is a critical step in getting found quickly.
Have a photo of everyone in the clothing they are wearing that day.
My Dad is Paparazzi when it comes to family photos, so we had not just a recent, but a picture of what my Grandma was wearing that day, hat and all. That helped the park security search for her.
Plan a meeting spot for everyone to gather if someone gets separated.
This is something we failed to do in advance. Even though the rest of the adults assumed we would find her at the entrance (and that is where I waited with my baby while the others ran up and down the park), my Grandma assumed the exit was where we would find her. But honestly, why would we leave the park if we got separated inside the park? Have a rendezvous point planned out in advance.
Find a security officer or a police officer to help.
That is something we both did. My family on the inside of the park contacted the zoo security, and they started a search. My Grandma, sitting outside in the parking lot, flagged down a police officer who was patrolling the parking lot. The police officer contacted zoo security, and our missing person was returned to us.
Cell phones.
Not everyone has them – case in point my Grandma is just too elderly to learn to use it, we tried. But the rest of us had our phones, and when we were split up inside the park doing a search, we were able to check in with each other, so we knew where everyone was and their status.
Know phone numbers.
This continues the point above if the people do not have a cell phone on them. If your child (or grandparent) is able, make sure they have important phone numbers memorized. My Grandma did not have my Mom's number memorized and couldn't ask someone to call her. If phone numbers are not known as second nature, maybe a business card or a slip of paper in the dependent's pockets would be a good idea. Or an "if I am lost" bracelet, perhaps.
Know names.
While my Grandma didn't know our phone numbers by heart, she was able to tell the police officer my Mom's name. This is an important fact for children to learn, since how often do kids use their parents' names? The authorities need to know the names of the adults they are looking for.
Frequently Asked Questions about Losing a Child in Public
What to do if a child goes missing? Here's what to do if your child gets lost.
Start by calling your child's name and quickly looking around the area high and low. Usually, kids are just out of reach but not too far. But do this step quickly and calmly, and move to the next step if you don't see your child in the next couple of minutes. Then seek help quickly.
A huge tip I have learned is you immediately start loudly calling out a description of the missing child. As loud as you can, so everyone can hear and pass it on. Example: "I'm looking for a child, a 4-year-old boy, brown hair, red shirt, blue shorts."
Find the nearest employee or security guard of the park or attraction where you are, and they will initiate their protocol to locate a lost child. If you are unable to find your child after getting separated in a crowd, contact local law enforcement. Don't wait – time is of the essence with missing children.
What a child should do if they get lost?
Before a public outing, have a family plan you can discuss with your child. If your child gets lost, remind them not to panic and remember a few tips. First, instruct them to stay where they are!
Tell them to find a safe adult – a police officer or a mom with kids – they will know what to do.
Teach your kids your name and phone number, or have a bracelet with that information. I have shared some recommendations below.
Also important for your child to remember to call out your real name, not mom or dad.
Why does my 3 year old run away from me?
Toddlers tend to run away from their parents as a way of pushing boundaries and trying to exert their independence. But this behavior is very risky, and kids can be down the street or in front of a car in a blink.
Parents can prevent this behavior by giving some power back to the child. Narrating the next step so the child knows what we will be doing helps the transition from one task to the next. Letting the child have a job – like pushing the button in the elevator – and letting them know before we walk to the elevator about that job, helps keep their mind on the fun button push.
We can also give a consequence in advance – such as if you cannot walk next to me, I will need to hold your hand tightly."
It also helps to give plenty of opportunities for safe running away and running back, to make this action not a unique or overly exciting activity.
What to do if you find a lost child on the street?
If you find a child that is lost, keep them in the location you found them but in a safer spot (so if they're in the street, take them to the sidewalk). Don't move them to a new location because that might make it harder for their parents or guardians to find them. They likely got separated recently, and their guardians are close by.
Ask the child if they know the names and phone numbers of their parents or guardians and make the call. If the child is too young or doesn't know the numbers, call the police. If you can't get ahold of anyone by the numbers the child provides, also call the police. Wait with the child until a police officer or their guardian arrives.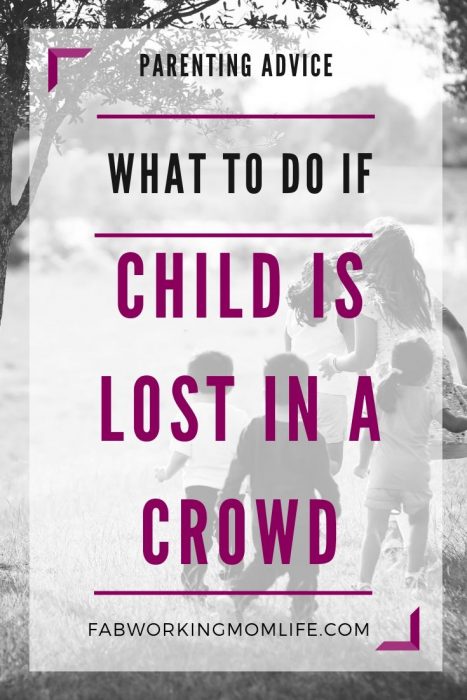 Getting separated from a family member in a public place is certainly not fun. Stressful and unexpected situations serve to teach us quite a few lessons so we can be better prepared in the future. Have you gone through a similar situation? Do you think about how to prevent your child from getting lost?
---
A fabulous idea is getting a Reminderband and adding a custom message specific to your child. You can put a contact number and a name. You can also specify if a child has autism or allergies. These can also be great party favors!
The lovely folks behind Reminderband sent me a couple of sample bands. I chose to put my son's name and the name of each parent, and cell phone number. These bands are fun and cute, and my son loves to wear wristbands, so we'll be putting them on him every time we go out in a crowd.
---
Has this ever happened to you? Share your tips for what to do if you lose your child in a public area with us!
---
A stressful moment, but an important lesson to learn. Now I know how to prepare in advance to avoid losing someone in a public place.
Join the Working Mom List
Join the Working Mom collective and get support and tools to help you thrive! Subscribers get access to my library of resources and printables.