*This is a sponsored post (sponsored by The Door Guardian). Opinions are mine.*
The entire world is going through a shared experience, individually. Alone in isolation, each family is doing our best to stay safe in our homes during the quarantine for COVID-19.
What is a family do to when we have little kids who are escape artists and who just want to run out and play outside in the street? Older kids you can reason with, but younger kids, especially toddlers, require tools that help keep them safe.
We know when babyproofing, we have to keep dangerous items high and out of reach of young hands (such as liquid laundry packets), and we know to learn first-aid and CPR and even keep tools to help aid us in a choking emergency. We also need to consider other sources such as barriers and door locks to keep kids inside safe spaces.
Especially now during these strange times, when children playing with items in public areas could lead to infection spreading faster. It is difficult enough for an adult to remember not to touch our face, but keeping the little ones from doing so is most certainly a challenge. We all know little kids love to put their hands in their mouths, and pick things up off the ground and try to taste them. During these unprecedented times, we need to focus on keeping our kids safe at home and keep the germs away.
Keep your Doors Closed with The Door Guardian
Unfortunately, little humans are pretty good Houdinis. Being able to open the door and walk out into the street is a huge danger to kids. Door locks like The Door Guardian can help protect our children. Installing these locking devices high on the door, well out of reach of tiny humans, keeps them safe and gives parents peace of mind.
Reasons to install safety locks on your doors:
Keep your toddler or 3-year-old from sneaking out of the house (and quite possibly getting injured or worse)
Keep children with autism from wandering
Prevent people from coming or going from your house without your knowledge
Controlling the spread of germs into your home

Babyproof your Cabinets
Now that we're spending more time at home than ever before, it is even more important to keep the inside of our homes safe for our families.
Many of us store our cleaning supplies in the bathroom or kitchen cabinets. But these are at a perfect height for little ones to reach and open. That's why it is so important to safety proof your cabinets. The Door Guardian's Stick on Safety Lock or Refrigerator/Cabinet Locks are perfect for keeping these cabinets safe and closed.
Reasons to install locks on your cabinets:
Contain hazardous substances and cleaners
Dangerous objects (ex: knives) are stored there
Breakable objects (such as plates and glasses) that could cause injury
Child Safety Statistics
Did you know that in the United States, there are over 9 million ER visits due to an accidental child injury each year?
Accidental suffocation is the leading cause of death in infants.
Drowning is the leading cause of death in children under 4 years of age.
Below is a brilliant infographic sharing statistics and a checklist for all babyproofing needs.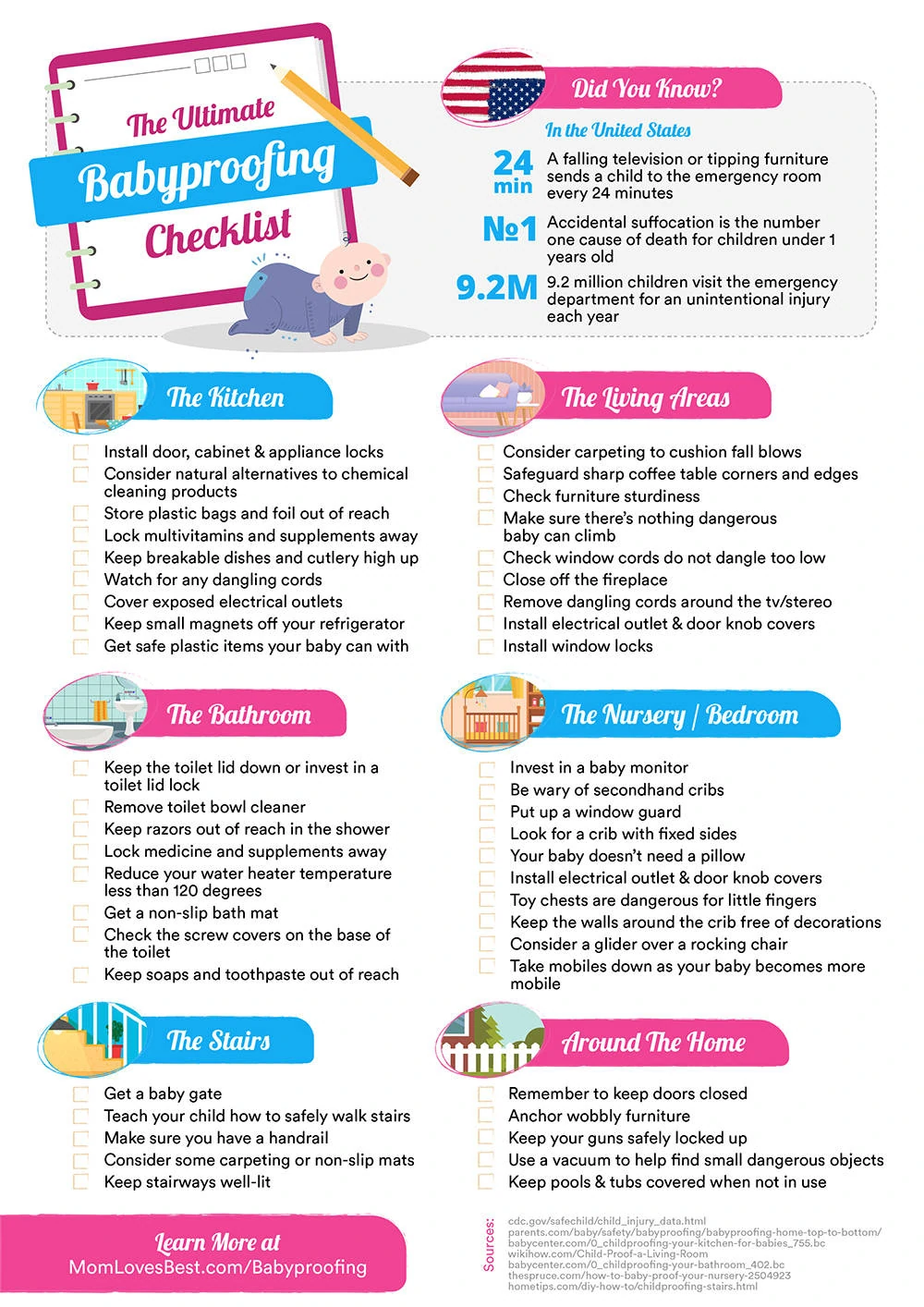 Infographic from Mom Loves Best
Childproofing is Vital
Now more than ever before, we are focused inwardly into our own homes and lives, with very little time spent in the outside world. Now is the time to be sure our homes are safe and secure for the most special people in our lives.
More childproofing resources:
How are you keeping your family safe inside your home during this era of quarantine? Let us know in the comments!
Join the Working Mom List
Join the Working Mom collective and get support and tools to help you thrive! Subscribers get access to my library of resources and printables.