Mother's Day is about celebrating Mom, so let's celebrate *and* encourage each other! Here, I have collected my favorite posts and fellow mom advice to uplift, encourage, and support fellow moms. Keep reading for inspiring Mother's day messages.
Remember the Mother's Day Card – your special Mothers day message to Mom
It is so important to send your momma a heartfelt mother's day message. You can even search for some sweet and happy mother day inspirational quotes to include in a card (handmade or store-bought).
I loved this post, 15 Truths of Motherhood Told Through Honest Mother's Day Cards. These are great reminders of all we do and all we endure to raise happy kids.
This letter to every Mom on Mother's Day will help every mom feel like you are enough. And remember to cherish every moment.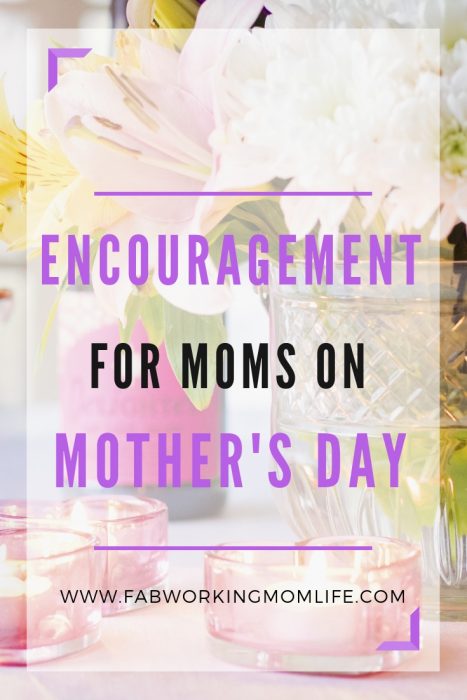 Encouragement for Moms (not just on Mother's Day)
When you're looking for working mom encouragement, reading inspirational posts and practicing your affirmations helps a lot! You are an amazing mom. You know that, deep down. But in case you forget, here are 11 personality traits of amazing moms to help you remember just how awesome you are.
Here are some lovely affirmations for new moms.
Remember that it's not your job to judge others, and if everyone feels loved, you've done enough!
Making mom friends is not easy, especially if you're new and moving around often like we do. I shared some tips on how to make mom friends as an introvert.
If you're struggling with mom guilt, because what good Mom isn't, remember to let go!
It is also important to focus on mindfulness in all things, especially parenting. We can't do all and be all, so learning to say no is crucial.
The mental load we bear is incredible sometimes. It can keep us tired, stressed, and not feeling our best. So keeping it under control with good systems and routines is a huge help!
Tips on Beating Mom Stress
Mom stress is unique, because it is inward and external, affecting our families. Sometimes we live in survival mode, but we can work toward happier, less chaotic days.
Whether you're a working mom or a stay at home mom, keeping your sanity is important. You should also trust yourself and your gut, and give yourself grace.
If you're trying to manage your anger, read some tips on how to go from annoyed and irritated to calm mom. It's OK to feel like a bad mom sometimes. That does not mean you are!
A Happy Mom for Mother's Day
There is a lot of pressure to be fit, skinny, beautiful. But what matters more than that is our health and our happiness. Here are some ideas for happy mom tips.
A happy Mom is a great mom. Let's help each other be happy Moms, and find joy in motherhood, ourselves. Let's share these beautiful messages for Mother's day encouragement.
How are you encouraging moms today?
Join the Working Mom List
Join the Working Mom collective and get support and tools to help you thrive! Subscribers get access to my library of resources and printables.