Working moms, we do it all. And we are freaking exhausted! But one form of self-care is reading. Especially for me! So here are three fantastic books every working mom needs to immediately place on her nightstand TBR pile and love herself enough to read them. Or listen to the audio on your commute. You'll thank me later.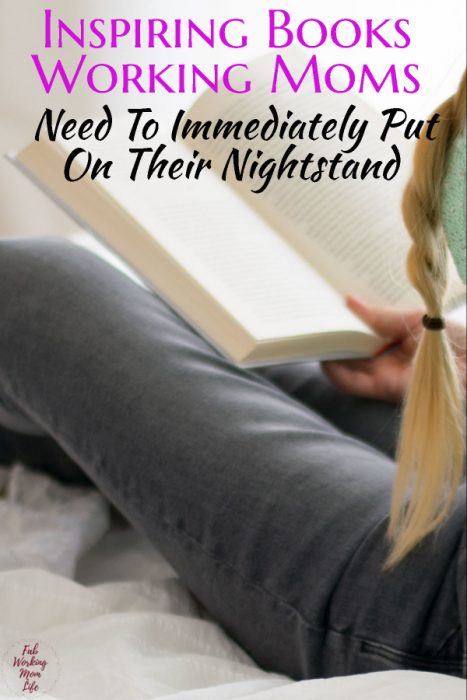 Working mothers constantly battle the pull to do all the things well. From managing work and home responsibilities to being impacted by a lack of self-care and time for deep friendships, the struggle is real. At the end of each day, many working moms are exhausted and stretched too thin. But this does not have to be the norm. Full of compassion and encouragement, Stretched Too Thin will empower women with useful insights and tools to thrive as working moms.
I'm participating in the launch of this book so I not only got to listen to the audiobook early, but I also received an advanced hardback copy as well. I loved the audio, narrated by the author herself. This book is wonderful! It not only includes tips and advice, but it shows from the author's personal experience how harmful guilt can be, and how much happier everyone is when guilt is out of the equation. Every working mom needs to read this book. So much encouragement and great advice to thriving as a working mom and avoiding being stretched too thin. The book also contains self-reflection questions to help us think through our current situations and how we can make changes to be happier.
With wry wit and hard-earned wisdom, popular online personality and founder of TheChicSite.com, Rachel Hollis helps readers break free from the lies keeping them from the joy-filled and exuberant life they are meant to have.
Each chapter of Girl, Wash Your Face begins with a specific lie Hollis once believed that left her feeling overwhelmed, unworthy, or ready to give up. As a working mother, a former foster parent, and a woman who has dealt with insecurities about her body and relationships, she speaks with the insight and kindness of a BFF, helping women unpack the limiting mindsets that destroy their self-confidence and keep them from moving forward.
I read this because of the hype. Sometimes peer pressure is good. It's a bit heavier on the religious content than I'm a fan of, but that's really my only complaint. The whole point of this book is to be a motivational slap in the face. Stop hiding, and chase your dreams! I listened to the audio of this one via my Audiobooks account (since hubby keeps using up all my Audible credits), and it was also narrated by the author. I loved how brutally honest she was about everything in her life, laying it all out there for us to relate and understand that if she can look herself in the face and tell herself to stop believing lies and be her best self, so can we.
"Life is not supposed to overwhelm you at all times. Life isn't meant to be merely survived—it's meant to be lived." – It really ties into the first book I listed, does it not? See, all my recs have a theme!
How often do you really pay attention and choose things to improve your day? In 365 Days of Happiness, author, energy healer, and mindfulness teacher Jacqueline Pirtle has created daily inspirations that help you mindfully work towards living a more vivid experience of daily happiness. Showing that you can put in work to change your life while having fun, the practices are full of whimsy and delight. Jacqueline decided to spend every day of 2017 devoted to her own happiness. She wrote every single day about the things she does to honor her joy, and used these writings to create this 365 day step-by-step guide, so she could teach you how to shift to BE and live in a "high for life" frequency of happiness too-no matter where you are at in your life right now.
I also received a complimentary copy of this book. The title intrigued me and being happy is one of my goals, as shown by the other two books in this recs list. While this book contains a bit more "woo-woo," what it does is remind us to find happiness in every day, in every little action. In every smile. Even in every flower. We can find joy in every accomplishment and even in our failures as they teach us something new about ourselves and our goals.
So these are three fantastic soul uplifting books for us fellow tired, overwhelmed, working moms. You should definitely pick these up, or at least add them to your wishlists.
---
This post is part of the 31 Tips for Working Moms series. See the rest of the posts here:
Join the Working Mom List
Join the Working Mom collective and get support and tools to help you thrive! Subscribers get access to my library of resources and printables.