Hiring a nanny to care for your children is a process, and every process has important steps. Do you know what to include in nanny contract?
First, we need to decide whether a nanny will fit our needs, and we went through a decision process of nanny care versus a daycare center.
Next, we need to have our nanny interview questions ready for when we meet with potential nannies. Also important to remember is to order nanny background checks on any potential nanny you are interviewing or considering.
Finally, when we select the person we wish to hire as our nanny, we need a nanny contract or babysitter contract in place. This is also your nanny duties checklist template.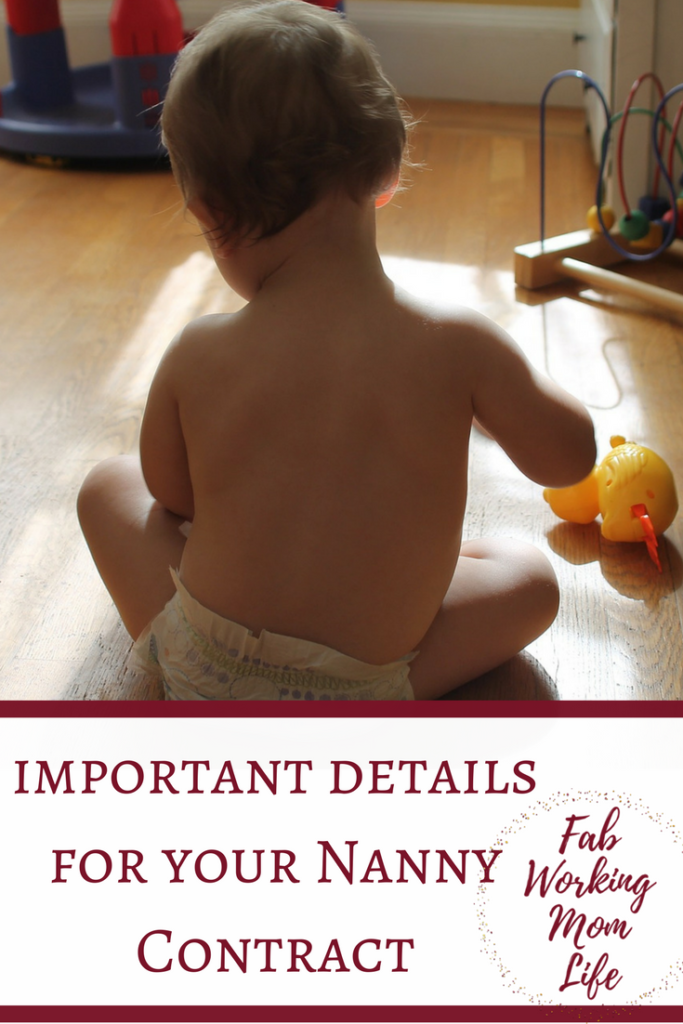 Why you need a Nanny Contract
An agreement or contract between the nanny and your family is meant to protect both parties and outline expectations. Likewise, you should get a nanny share contract template in place if you are sharing a nanny with another family.
A nanny contract or agreement outlines the expectations, job requirements, compensation, and schedule for your nanny. Both parties review the contract to ensure everyone is on the same page. If the nanny will be living with you, the agreement should include a live-in nanny contract as well.
The nanny agreement document outlines what you, the parents, require the nanny to achieve on an ongoing basis and what responsibilities this nanny will have.
What to include in a Nanny Contract
In the contract we wrote for our nanny, we included the following sections for your nanny responsibilities checklist.
Work Schedule, Compensation
Job Responsibilities
Training, Emergencies, Communication
Living arrangements and household requirements
Confidentiality, Termination, Waivers and Legal protection
If you are writing your nanny duties contract yourself, be sure to include these details in the sections:
Work Schedule.
Identify the expected hours and days the nanny will work, as well as discuss any specific needs outside this schedule (weekends for date night for example).
Compensation.
This contract must specify the pay, time off, and whether the family is providing health insurance and withholding taxes or whether the nanny is responsible for these items.
Job Responsibilities.
This is the big one – discuss all the details about the care you expect, to include specific rules on feeding, keeping the baby on a schedule, naps, activities, and anything else that is important to your family and your child's well-being.
Training.
Is the nanny expected to have CPR training or will you provide/schedule this class?
Communication.
Will you have the nanny keep a log of daily activities? Will you have regular meetings at the end of the day or week to go over any issues and plans? Include these details in the contract.
Emergencies.
Include the protocol on who to contact if the child is sick or if something happens. Provide phone numbers of parents, grandparents or other guardians, and doctor's offices.
Living arrangements and household requirements.
If you are hiring a live-in nanny, include whether you require the nanny to have a vehicle. Specify what (if any) driving will be expected. Include details on phone privileges, eating out of the fridge and pantry, and other use of your house.
Confidentiality.
You will want a confidentiality clause to keep any information the nanny will learn about your family private.
Termination.
Your contract should specify what happens upon the ending of the nanny job – whether for cause or otherwise.
Waivers and Legal protection.
Should the nanny get injured on your property, or any of the nanny's guests, if allowed, add language to state you are not responsible.
Anything special and unique to the family will also need to be outlined and included as part of the expectations and responsibilities.
Use our Sample Nanny Contract Template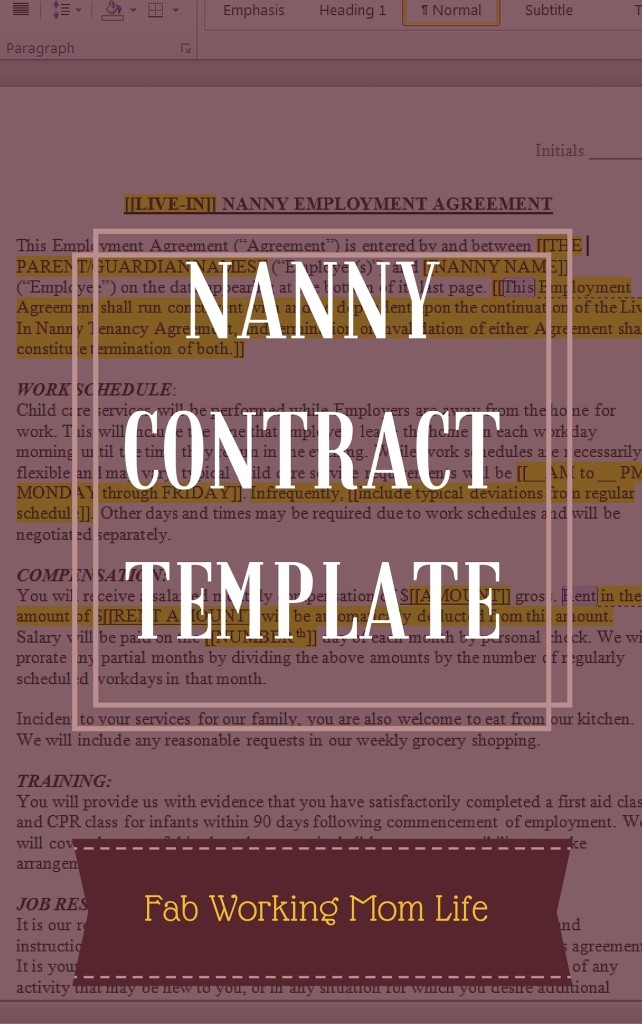 We developed our Nanny Contract when we first hired our live-in nanny (my husband is an attorney and he wrote up the language). Now we are offering this contract as a template to assist others when hiring their nannies to care for their little ones.
This Nanny Contract Template is in a zip file. The document inside is a .docx format Microsoft Word file to allow easy editing as needed for your family's specific requirements.
The document is for personal use only, not to be distributed or sold.
I am also willing to offer help in completing and customizing this Nanny Contract Template to your individual family's needs. If interested, we can discuss the details.
In conclusion, it is important to have a nanny contract in place to protect both the nanny and the family. If you're considering hiring a nanny, you'll want to start by creating a nanny contract. This document will outline the duties of the nanny, expectations, schedule, and compensation for your nanny. By creating a contract, you can avoid any misunderstandings down the road. Plus, it will give you peace of mind knowing that both you and your nanny are on the same page.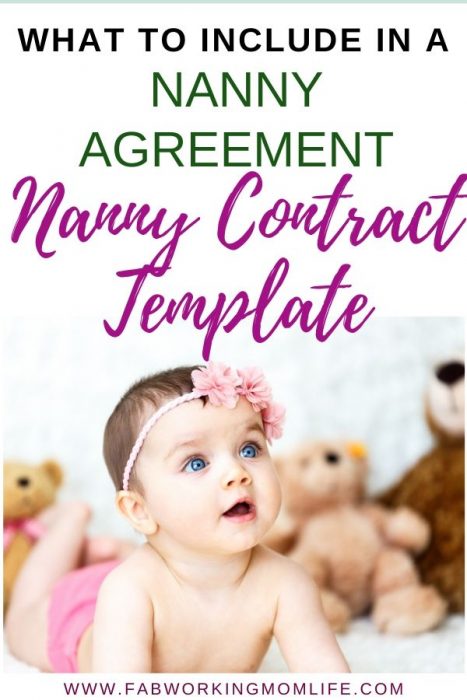 Join the Working Mom List
Join the Working Mom collective and get support and tools to help you thrive! Subscribers get access to my library of resources and printables.