I'm guest posting today on Baby Castan On Board about why I'm happy we switched my toddler to daycare. A brief excerpt is below, and you can read the full post there!
Before I had my baby, we decided to hire a live-in nanny to help care for him while we were at work. A secondary reason for having a live-in nanny was there would be another adult in the house while my husband was away on military duty. This arrangement worked out great for some time, but when my son was almost two, our nanny suddenly quit on us. I was solo-parenting at the time, so her departure added quite a bit of extra stress into my life. Having to get both of us ready and out the door plus adding the time it took for drop off and pick up did impact my schedule. But as it turns out, this was a great move for the toddler.
Reasons switching my Toddler to Daycare was a great move
Toddler's learning soared in daycare
Toddler is interacting with other kids in daycare
Toddler is getting prepared for school
Toddler's learning soared in daycare
My toddler was doing well at home, running and climbing and mastering all his motor skills. But he was not speaking and only had maybe a handful of words. As much as I asked the nanny to do various learning activities with him and try to get him speaking, he just wasn't progressing.
My son has been in daycare for about half a year now, and he has picked up many new words. Sometimes he just counts to 10 on his own for fun. He sings the Alphabet song with me and repeats "I love you" and "good night" and other phrases.
Toddler is interacting with other kids in daycare
Babies are not very social, and small toddlers typically play around each other rather than with other kids. Now that he is two years old, my toddler has begun playing with others. Staying home by himself with a nanny just would not have given him exposure to others.
Kids learn best from watching interactions between people. They get the social cues from each other and from adults, and they learn from experience what behavior gets specific reactions. In a daycare setting with several teachers and multiple children, my son is able to learn patterns and make connections. This isn't something he could do one-on-one with an adult and no other children during the day.
Toddler is getting prepared for school
Since the daycare environment is structured, my toddler is learning how to keep up with a schedule and rules. He is being prepared for his future school days by conforming to the routines and teacher-led activities.
Every Friday the daycare sends him home with various preschool lessons and activities the kids did that week. Usually, it is coloring the letter or number of the week and a simple craft. Sometimes we continue coloring and playing with his school work during the weekend, which helps him connect school and learning to homework (while keeping it a play situation).
Even though switching my toddler to daycare has added an extra level of complication to my already busy routine, it has been a tremendous improvement for my toddler's development. Life tends to throw changes at us that complicate our world, and sometimes those changes are exactly what we needed.
Read the rest of the post on Baby Castan On Board!
Don't forget your Custom Daycare or School Labels Pack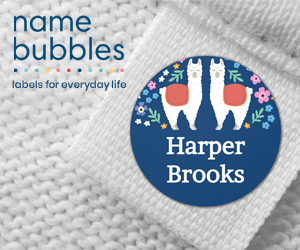 P.S. If you are looking at hiring a nanny, I have prepared a Nanny Contract Template to help you hire your own nanny.
Read other posts from this child care and nanny series.
Save
Join the Working Mom List
Join the Working Mom collective and get support and tools to help you thrive! Subscribers get access to my library of resources and printables.