Thanks to Ms. Rodrigues for sending us the Super Agents Safety Squad box set and collaborating in writing this post full of great tips for parents to introduce the topic of body safety for kids.
Body safety for preschoolers
These facts will not be an easy read – in fact, I cringe writing them. But this information is so important to share! Body safety for preschoolers is such an important and delicate topic. Starting the conversation early with body safety activities is crucial! This post will help you learn how to talk to your child about body safety.
Facts you need to know
Child abuse is a scary public health problem. Child sexual abuse refers to the involvement of a child (person less than 18 years old) in sexual activity that violates the laws or social taboos of society and that he/she:
does not fully comprehend
does not consent to or is unable to give informed consent to, or
is not developmentally prepared for and cannot give consent to
Did you know?
About 1 in 4 girls and 1 in 13 boys experience child sexual abuse at some point in childhood.
91% of child sexual abuse is perpetrated by someone the child or child's family knows.
(Source)
You can read more about the impacts on kids in this CDC Factsheet.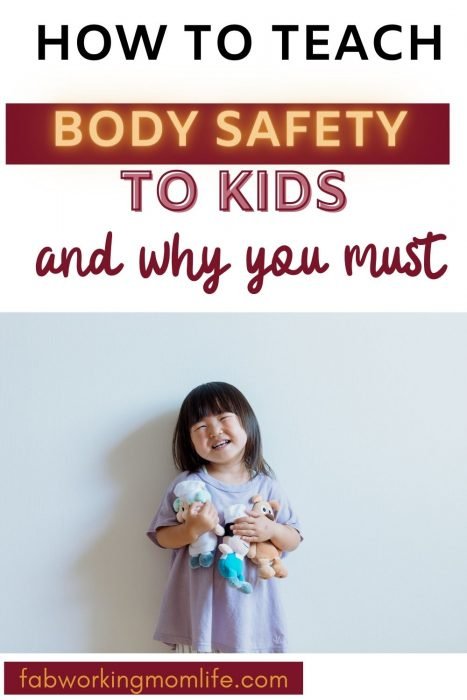 Starting The Conversation about Body Safety
Having a conversation with kids about body safety is uncomfortable, but so important. As parents, we have to have the uncomfortable and awkward conversations with our kids regularly. We have to teach them about so many topics to raise them as strong, resilient adults. Talking about body safety is vital to protecting our children from sexual abuse.
Body Awareness
It starts with body awareness, knowing the correct body part names, and understanding the "swimsuit area" is the private area.
Teach kids that their body is theirs to control. If they don't want to hug or kiss someone, that is their right. They can high five or throw a shaka. No one has to be touched if they don't want to be.
Teach that stop means stop. That means in a tickle fest if someone says stop, do so immediately. Teaching consent starts at a young age.
Explain and Educate
Teach children that no one should be touching their private area. Of course, go into exceptions (safe touches) like Mommy or Daddy helping you wipe or bathe (and of course any trusted caregiver helping do the same) and going to the Doctor (with a parent in the room).
Talk about inappropriate touch (unsafe touch) and how no one can ask to see (or show them) their private parts. Discuss how unsafe touch rules apply to everyone – friends, family, children, or adults.
Talk about how it feels when something inappropriate is happening (scared, uncomfortable, unsafe).
Talk about the early warning signs – if their heart is racing or their tummy feels sick.
Be aware of someone who wants to be "alone" with children and might be grooming your child. Read more about grooming here.
No Secrets Rule
Teach kids that there are no secrets between kids and their parents. Use the word surprise for healthy family secrets.
If an adult is asking you to keep something secret, that's a warning sign that something bad might be going on.
Tell children that sometimes abusers may threaten to hurt the child or someone the child loves. Remind your child not to listen and not to keep a secret.
Empower children to say no to secrets.
Safe Space to Talk about it
These situations and topics are so uncomfortable, that kids realize it right away. Kids might be embarrassed or afraid to share if they encountered someone or have been touched inappropriately.
It is important to create a safe space so kids can share with their parents and other trusted adults and tell if something happened to them. A trust bond between the child and an adult is important. Sometimes kids are more comfortable telling an adult that isn't a parent, so have a trustworthy adult in the circle – for example, a grandparent.
You might want to create a family safe word, for situations where kids are uncomfortable to bring up a topic but are asking for help.
Children never get in trouble for telling. And if they tell you about a bad touch – believe them!
My Body Safety Rules Infographic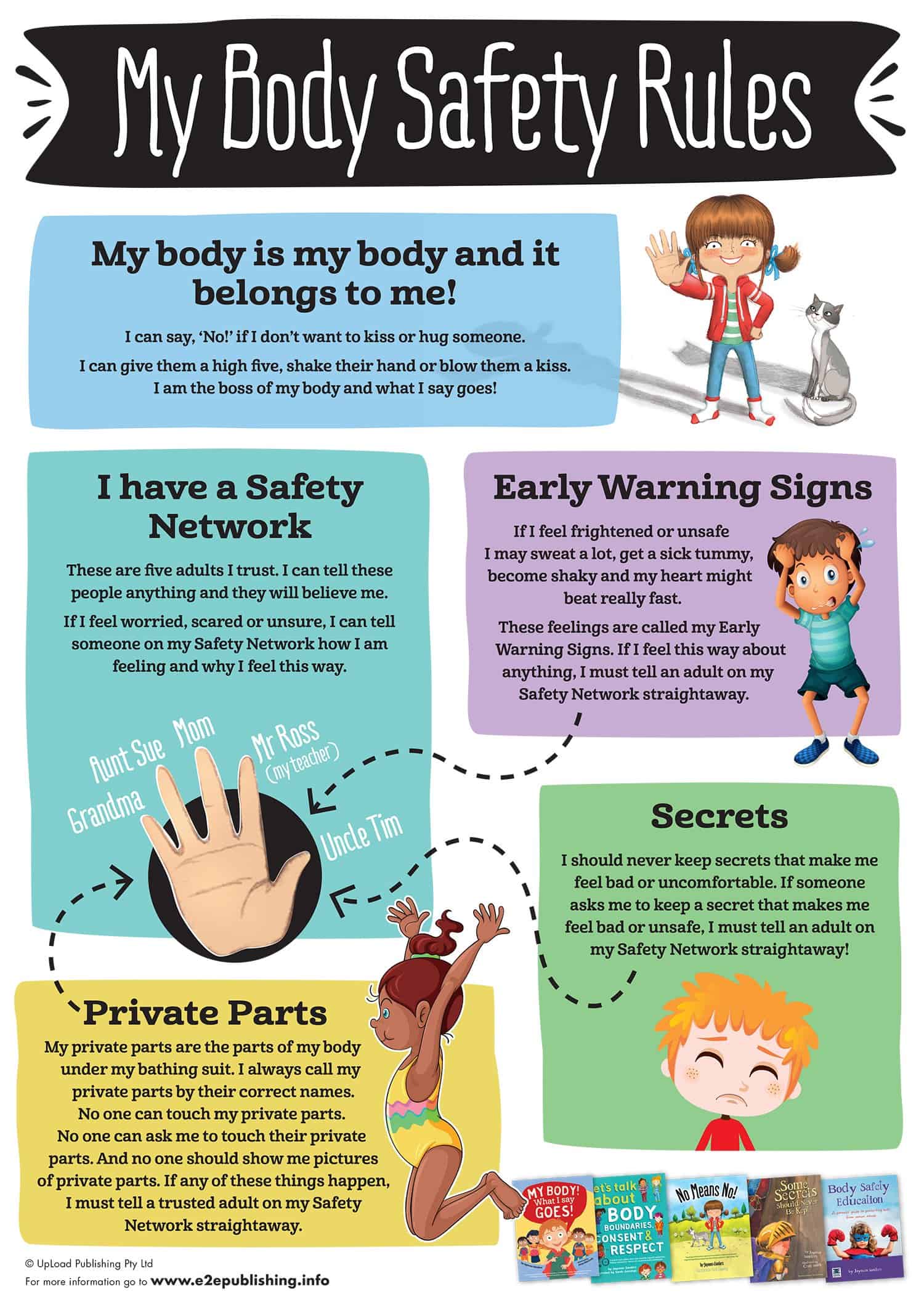 Infographic from e2epublshing.
Read Body Safety Books for Preschoolers
A great book to help teach body safety and unsafe touch is Super Agents Safety Squad by Denize Rodrigues.
When Denize Rodrigues found out about the sexual assault of her young niece, she was not only deeply troubled but as a mother of two young children, she also wondered what resources existed to HELP kids better protect themselves. Not finding any, she was determined to fill this critical void and gave birth to Super Agents Safety Squad.
Her mission: To provide tools and resources for parents, guardians, teachers and kids to PREVENT abuse.
The book gives examples of situations that are safe and have the green go-ahead light, situations that are questionable (yellow light) and situations that are red light STOP.
It is also important to note this conversation is not a one-time talk. Continue to talk to your children about body safety, especially before specific situations like sleepovers, group gatherings, and camp. How are you talking to your kids about body safety?
Join the Working Mom List
Join the Working Mom collective and get support and tools to help you thrive! Subscribers get access to my library of resources and printables.