I have a great guest post to share with you with tips to stop breastfeeding! I shared previously how we did a combination feeding breastmilk and formula with my son since I had so much trouble with breastfeeding. We established a breastfeeding and formula feeding schedule that worked for us because finding what works and feeding the baby is most important. Are you wondering if you should try switching baby from breastmilk to formula cold turkey? Well, maybe a gradual approach is better.
Keep reading for great tips to help you learn how to stop breastfeeding and switch to formula.
Updated in 2022.

Switching from Breastfed to Formula Fed
I had no expectations when it came to feeding my first daughter. When she was born, I just went with the flow. I always figured I would breastfeed – that's just what you do, right? I didn't even put much thought into it or even consider the possibility it might not work out for us. Turns out, I wasn't a fan at all.
I know, these days it can be quite taboo to admit this, but I hate breastfeeding. I lasted until 12 weeks with my daughter, who one day started screaming on my breast until my mum walked up to me, handed me a bottle, and told me it was ok. I thought I was 'meant' to breastfeed, and felt so guilty making the switch, but was so happy once I did.
With my second daughter, I really wanted to last the 12 weeks again. Why? Mom guilt. I felt that because I had given my first daughter 12 weeks, I should do the same again. We made it, we made the switch, and once again I was so much happier afterward.
Then along came my son. Once again I had the same intentions, once again the same guilt, but it just didn't work for us. By 6 weeks we were both well and truly done, and while my hormones got the better of me after I made the switch I was happy as anything.
So how do you make the switch from breast to formula? Cold turkey? Over a couple of months?
Really, you have to decide what works for you, but here are my tips.
Switching from breastmilk to formula
Don't rush it
Unless you have really had enough with breastfeeding, it is always easier to cut down slowly. This is what I did with my girls. We started off by introducing a bottle in the evening and then cut down feed by feed. This gave my breasts a chance to adjust (and no longer produce milk at those times), and also gave my daughters some time to adjust. Of course, with my son, he just wouldn't go back on the breast, so I had no choice but to stop cold turkey.
Have a pump handy
It takes time for your breasts to stop producing milk, and at times you will feel full and heavy and need relief. You don't want to pump too much, as this is signaling to your breasts that you still want to produce the milk. Instead, just pump off the top for relief. I found the Haakaa really handy for this. I simply attached it and let it catch whatever came out but didn't physically express and try and get more.

Wear tight bras
A firm bra is meant to help the process. I can't say whether it did or didn't, but it certainly was a lot more comfortable than the breastfeeding ones I had been wearing, so it is worth a shot! Also, make sure you stop up on breast pads to catch any inevitable leakage.
Use cold compresses
The heat stimulates your milk production, while cold compresses can help relieve any soreness you are experiencing without bringing on more milk. Whether it is an ice pack in the freezer or cold cabbage leaves (I have heard these work wonders but never tried it myself), have a go-to up your sleeve.
Watch out for blocked ducts or mastitis
I ended up with some blocked ducts with my son which were quite sore and painful. I took warm showers (yes, goes against the point above but I was trying to relieve the pain and unblock the duct), and massaged my breast while trying to hand express off the top. I also took some Nurofen to help with pain and inflammation. Thankfully, it never turned into mastitis, but there is always a risk, so be on the lookout for signs and seek treatment straight away.
>> You can also try this no more milk tea to help you stop producing breastmilk.

How long does it take?
Can you switch from breastmilk to formula cold turkey? This question depends on so many things, such as how long you have been breastfeeding for, the age of your baby, etc. For me, going cold turkey the worst was over in about 3-5 days. When I cut down gradually, it took about 2-3 weeks for things to settle.
Look for support
Make sure you look for support when going through this. Your hormones will be all over the place and it's important to have a support system to get you through. Remember, fed is best!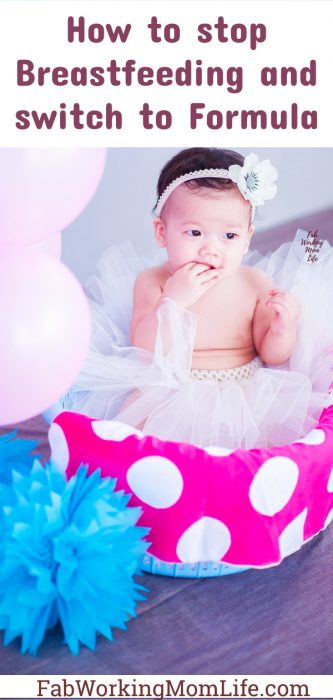 Author Bio
Felicity is mum to her two daughters, Cassandra (3.5) and Vivienne (21 months) and her son Elliot (2 months). Her passion is the parenting industry and creating a community where everyone feels welcome no matter how they choose to parent. It is this passion that led to the creation of The Baby Vine.
---
Q&A to Help you Stop Breastfeeding
More information that might help when switching from breastfeeding to formula. Here are some Q&A for weaning off breastfeeding to formula.
Can you just stop breastfeeding and switch to formula?
While switching from breastmilk to formula cold turkey can be a big sudden change, sometimes it isn't something you can control. If your milk supply dries up, you'll be switching quickly. And that's OK! Some babies don't care, they just want food, in any way they get it. That was my son, didn't care what milk was handed to him as long as it was plentiful and NOW.
How long does it take for a baby to get used to formula after breastfeeding? Well, you will expect a tiny digestive system to take a little time to adjust. You might notice some discomfort for a week or two until it becomes normal.
How to switch from breastmilk to formula? If you are trying to wean off gradually from breastfeeding to completely formula feeding, try replacing one breastfeed a day with formula.
How long does it take for breastmilk to dry up? It depends on the woman. Some women dry up right away when they stop breastfeeding, but sometimes it takes a few weeks of gradual decline. To avoid engorgement while weaning, a gradual decline in the breastfeeding session (a few minutes shorter each session).
Will I lose the bond with my baby if I stop breastfeeding? Not at all! Your bond with the baby is the mother-child bond, it isn't only through the breastmilk or latching. Your talking to your child, laughing, eye contact, smiling – all that builds the baby and mama bond. You will continue to build a bond with your child as he or she ages into adulthood, right?
How to stop breastfeeding quickly? You might be able to make the switch quickly if your child already gets formula as a supplement and prefers bottle feeding. However, you still want to do so gradually as the first few days will be uncomfortable and you will be engorged. You will likely need to pump to reduce the pressure and avoid clogged milk ducts, and feed the baby the pumped milk in a bottle.
How can I dry up my breast milk for formula? One method for drying up your breastmilk is to put cabbage leaves in your bra. They work great for getting out clogged milk but with prolonged use they do help dry you up. You can also try herbs like peppermint, which has been shown to dry up milk supply.
Does baby formula expire? Yes, in fact. This article does a great job breaking down the ways where you might find your baby formula expire. Baby formula containers will have an expiration date, but the box is only good for 1 month of opening. Once you mix your baby formula it is only good for one hour from the start of feeding.
Join the Working Mom List
Join the Working Mom collective and get support and tools to help you thrive! Subscribers get access to my library of resources and printables.