Whether you're a working mom looking to get away from the office life or a stay-at-home mom looking to start her side hustle, starting a business from home can give you the freedom and flexibility you're looking for. Curious about learning more? Below, we'll cover some of the benefits and the steps you need to take to start a business from home.
Benefits of Starting a Home-Based Business
Starting a business from home while maintaining a household can be tricky, but worth it. Here are just a few of the many benefits of starting a business from home as a mom.
More flexible hours and schedule:
When you work from home and are self-employed, you have the ability to create your own schedule.
Ability to spend more time with family:
A more flexible schedule means more time to spend with your kiddos.
Save money on childcare:
More time at home can also mean you can cut costs on childcare if you choose to do so.
Increased sense of purpose:
Many working moms want the freedom of being their own boss and doing something they're passionate about. This can lead to an increased sense of purpose and self-worth.
Ability to maintain or increase income:
The best part is, you can still have the flexibility of staying home while maintaining (or maybe even increasing) your income.
8 Steps to Starting a Business from Home
Ready to start your own business? Check out the infographic and more details on the steps for starting a business from home below.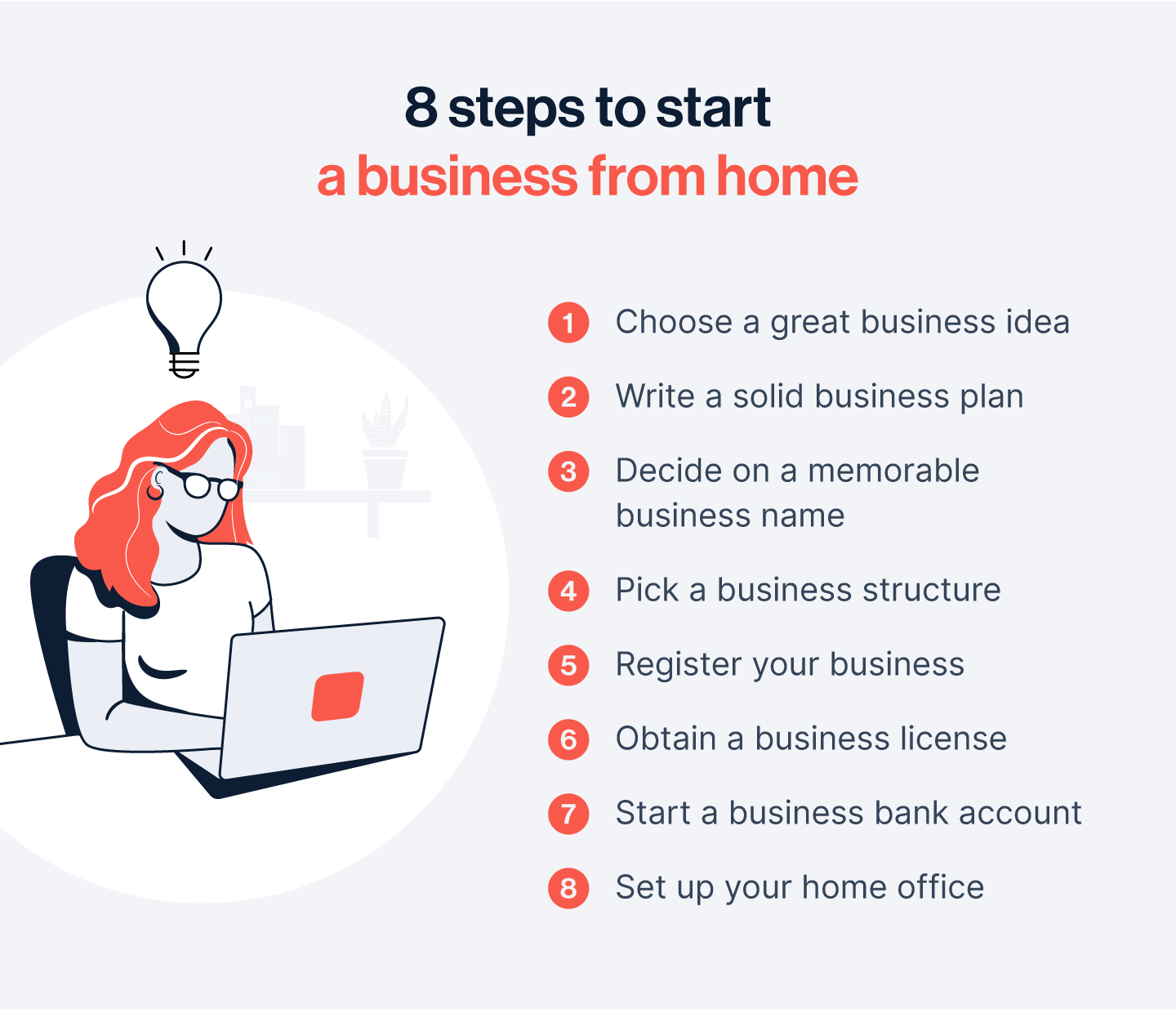 Choose your business idea
First things first, you need to choose your business idea. You may already have this in mind, but if you don't think about the following:
How can you turn your passions into a business?

What type of business do you see yourself being successful in?

Will you be able to successfully run your business from home?
Answering these simple questions will help you better understand what kind of business you are confident running from home.
Create a business plan
The next step is creating a business plan. This is where you'll get more specific and hone in on how you'll grow your business, how you'll fund your business and any gaps you can fill in your industry.
The main components of a solid business plan include:
An executive summary

Your business overview

A market and competitor analysis

A description of your products and/or services

Your marking plan

Your financial projections
Choose your business name
Choosing your business name can take some time, but it'll come to you. You want to pick a name that speaks to what your business does and who your brand is, but also one that will be memorable to your target customers. Make sure it's easy to remember, it's not already taken in your town of business and in other states if you plan to expand. You also want to make sure the name is not trademarked.
Decide your business structure
There are four types of business structures: sole proprietorship, general partnership, limited liability company (LLC), and C corporation.
Each comes with its own set of pros and cons, so make sure you do your research or consult with an attorney to make sure you're choosing the right structure for your business.
Register your business
If you decide to form an LLC or C corporation, you'll need to register your business with your state. You'll want to check with your state's business office to determine the process and ask any questions you may have.
No matter what business structure you went with, getting an employee identification number (EIN) from the IRS can be beneficial in because it helps you file business taxes, open a business line of credit, start a business bank account, and hire employees when the time comes.
Get a business license
To make your business legit and to protect your home business, you'll need to obtain a business license. In addition, there may be certain permits you'll want to get depending on your state's guidelines and the type of business you're running. For example, if you're selling goods, you'll likely need to get a seller's permit which allows you to be able to collect sales tax from customers and report them on your taxes.
Open a business bank account
Having your funds in one account for your home business can help you stay organized and keep your business money separate from your personal cash. A business bank account can help you receive payments from customers, manage income, pay suppliers and employees, and can make tax filing easier.
Have fun with your home office
A home business isn't complete without a home office to operate in. Having a dedicated office can help you keep your personal life and work life separate. Invest in quality items that will last a while, and decorate the space so there are minimum distractions. Have fun with it and make it a place you'll wake up excited to walk into.
Starting your own business comes with its fair share of ups and downs, but for moms craving financial freedom and flexibility, the hard work you put into starting a home-based business will be well worth it.
Grab your Budget Workbook Now!
Join my email list and we will send you this Monthly Budget Workbook right away!