Inside: Tips for hosting a baby shower without all the stress. If you're hosting your own baby shower or hosting a baby shower for a friend, you'll love these tips.

Maybe you're planning your own baby shower (and yes hosting your own baby shower is perfectly fine!). Maybe you've been put in charge of the festivities by the mom-to-be, and she's staring at you with lizard eyes as she just waits for you to mess up.
A baby shower can definitely be a stressful affair. However, the good news is that you don't have to get your head bitten off by Momzilla. If you plan things carefully, you can throw a no-mess, no-fuss party that will be fondly remembered by your guests for years to come. Here are just a few tips for making it happen!
Tips to Host a Perfect Baby Shower
Determine Your Budget
First things first: How much can you afford to spend on your baby shower? If you sit down with the numbers before you start dreaming of pink-and-blue garlands, there won't be any surprises when you start shopping. Browsing online stores for baby decorations like Zen Engravings will help you find the perfect one for the occasion and plan your budget.
You can create a budget any way that you'd like, but the easiest option is to categorize your expenses like so:
– Food
– Venue
– Decorations
– Transportation
– Invitations
You should also make a list of cost-cutting ideas. Which baby boutiques are having a sale? Can you sign up for a rewards card for extra coupons or discounts? Can you get the cake from a local bakery instead of an expensive artisan one?
Don't forget the baby registry!
Babylist Registry is the best, universal gift registry for expecting parents. They offer unbiased advice to help parents make decisions with confidence. Create a Babylist registry today to be eligible for a free baby box full of goodies for you and baby!

Establish a Chain of Command
As the host, you're in charge of the baby shower. But this doesn't mean that you have to do everything alone! You can enlist sisters, aunts, besties, and moms-in-law to help you with various tasks.
For example, you might put one person in charge of food and another person in charge of beverages. A third person can be in charge of prizes for baby shower games. Another option is to have a "lieutenant" acting as your right-hand woman for errands, chores, baby shower decorations, and set-up.
Not only will delegating tasks help you with the workload, but it'll also ensure that nothing slips between the cracks. When everyone has an assignment, all details will be accounted for, and no one will suddenly gasp about forgotten frosting right before the guests arrive.
Get Ready the Night Before
Cook your dishes. Hang up your balloons. Print out the baby shower word scramble game. As much as possible, get things done in the last 12 – 24 hours before the big event.
This might mean that your veggie dip isn't quite fresh or that your streamers are a little crooked because the dog couldn't resist playing with them like toilet paper. But repeat after me: Minor flaws aren't the end of the world. No one is going to say, "Well, the baby shower could've been great, but the skewers for the shish kebabs were clearly made from engineered wood and not genuine Asian bamboo."
It's okay to cut a few corners when you're hosting a baby shower. The dishes can sizzle from the microwave rather than the oven. The goodie bags can be handmade rather than purchased from a fancy gift shop.
Don't let anyone drag you down when you're supposed to be celebrating the joy of a new life. If grandma wants to complain about the food, grandma is welcome to go into the kitchen and make some more. With any luck, she'll stay in there for the entire shower!
Make Your Wishes Known
A baby shower is a war. It's Braveheart. You're Mel Gibson with his face painted blue, and the hungry hordes are coming across the field to pinch your cheeks, eat your cheese crackers, and tell horror stories about childbirth.
One way to win the fight is to put your foot down before they even arrive. If you're worried about your relatives talking politics, for example, tell them in no uncertain terms that if you catch any political talk during your baby shower, you're kicking them right out. If the smell of nuts gives you morning sickness, tell them that any gifts of almond truffles or pecan brownies are going straight into the garbage, and you don't care if it hurts someone's feelings.
You're the boss of this baby shower. Make sure that they know it.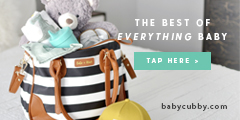 Consider the Little Details
Pretend that you're a guest at the baby shower. Look at the event through their eyes. What little details have you missed?
– Are the bathrooms clean and ready for use?
– Do you have garbage bags for all of the wrapping paper?
– Who's going to sit by that drafty window?
– Do you have enough plates, forks, napkins, and other essentials?
– Are you prepared if someone brings an unexpected plus one?
– Did you prepare everything for baby shower jeopardy?
These are the kinds of challenges that can catch you by surprise on the big day, but if you're ready for them, you'll be a napkin-carrying, air-freshener-spritzing wizard. The trick is to step outside of your regular perspective and pretend that you're someone else. If you were attending your own baby shower as a guest and not a host, what would you think of it?
Don't Force Yourself to Be Happy
It might sound strange, but trying not to stress can sometimes cause you to stress even more. Your emotions will become a volcano with nowhere to blow, so you'll feel even worse than if you'd just let it out in the first place.
This doesn't mean that you should grab an ax and reenact The Shining on your baby shower guests. Instead, try some mindfulness-based stress reduction (MBSR) such as deep breathing exercises. Acknowledge your negative emotions and rather than trying to repress them, work through them.
You don't have to be a perfectly perky baby shower host. This is especially true if you're pregnant! It's okay to feel what you feel, and if anyone has a problem with it, tell them that they can just rub your feet if they really want to improve your mood.
Are you ready for your baby shower? Have you made your lists and checked them twice? Keep these suggestions in mind as you prepare, and with a little luck and some mean strawberry shortcake, you could have the best baby shower of your life!
Author Bio
Ivana Davies is an educator turned stay-at-home mom. She's a proud mom of a beautiful 7 year old girl and a playful 5 year old boy. Since she didn't have a clue about raising kids, she had to learn it all in a hard way. Ivana managed to find so much information online and it inspired her to turn to blogging to share her experiences and struggles as a mom. Being a mom is not easy. In fact, it can sometimes be pretty isolating. Her blog, Find Your Mom Tribe, is here to help you connect with other moms, as well as to share mom hacks, information, and tools to help you on this parenting journey. You can catch up with her on Facebook and Pinterest.
You might also like:
Join the Working Mom List
Join the Working Mom collective and get support and tools to help you thrive! Subscribers get access to my library of resources and printables.