Oral Language – The Early Years
I currently have a 3-month-old and a four-year-old. One does not stop talking all day, asks a million questions and is a wonderful conversationalist.  The other gurgles and has just started blowing bubbles and creates cooing noises that make my heart squeeze with love.
Our four-year-old has always been a great talker.  We often have people compliment us on his vocabulary.  Adults love chatting with him, and we have had the word 'gifted' bandied around when discussing the topic of his speech and language development.   As much as I believe my child is clever (what mother doesn't hey?), I don't necessarily believe he is gifted.  No, I just believe we gave him the best opportunities possible to speak and increase his vocabulary from a young age.
And the best thing is – anyone can do the same for their child or the children in their lives.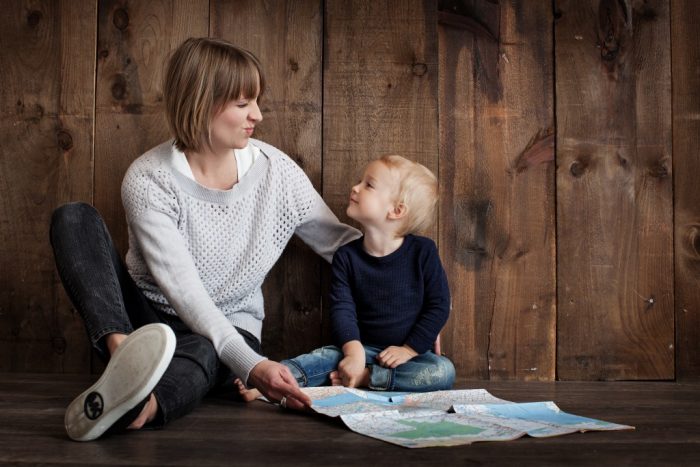 Talk to Children
As a teacher and a parent I am aware that there are a lot of adults that talk at their children – "Its time to go" – and over their children – "Johnny has swimming on Thursdays" – and for their children  – "Yes he would love a cookie, thank you- but not always to their children.
With our three-month-old son, I find that I make sure that we include him in the conversations I am having with our four-year-old.  We make eye contact with him, tell him what we are doing, where we are going and who we might see.  If I notice that he is looking at something (a leaf on the ground) I will explain to him what he is looking at, what colors he can see and where it might have come from.
I am incredibly amazed at the way he responds to us as we speak to him and how he already can maintain eye contact with us, smile and make noises to show he is part of the conversation.  The simple act of talking to your baby is the beginning of significant oral language development, and it is fun too.
Read to Kids
As a teacher, I love to read to children and understand the significance of reading as the foundation to all learning. I remember before I had children I would hear of people reading to their newborn children.  It seemed a little funny to me to imagine choosing a book and reading to your tiny baby.  I now understand that reading to your child from a very young age helps their oral language development immensely.
Read books, and signs as you are driving in the car or even recipes as you are making dinner.  Take a picnic rug outside with your baby and read your favorite magazine aloud.  It is your voice, and the words you are speaking that will encourage language. Your voice is also one of their favorite sounds in the world so it a beautiful way to connect with your baby too.  There are so many ideas here on how to make reading fun.
Sing to Babies
My husband sings everything.  When I say everything, I mean everything.  He will make up a song for anything and sing to any tune that pops into his head.  Our four-year-old now does the same and sings to his little brother – he sings that it is morning; he sings that he has kindergarten; he sings that we are having pizza for dinner.
There is something quite beautiful about songs and the development of language.  Babies respond to the rhythm all while being introduced to a myriad of incidental sounds, intonations, and words.

It is quite incredible that something we can easily do every day sets our child up to have a head start in their oral language development.  Talking to your baby, reading to your baby and singing to your baby are also such beautiful opportunities to connect and express love, security, and warmth.
Enjoy, but be ready to answer ALL their questions when they turn four!
Author Bio

Shannon is the lead writer for The Schooled Parent. She has a Masters of Education and has worked passionately as a behaviour management and classroom teacher for 13 years. Shannon lives on the Gold Coast in Australia with her husband and two little boys.  
Join the Working Mom List
Join the Working Mom collective and get support and tools to help you thrive! Subscribers get access to my library of resources and printables.