Slime is the latest trend in kids sensory play. Don't get me wrong, it's super fun to make and play with when you're a tiny tot who likes to get their hands dirty with squishy fun. My little man enjoyed making slime when we made our glow in the dark slime for Halloween. But what happens when they get it everywhere and all over their clothes?
My four-year-old loves squishy sensory play, but then quickly gets icked out and starts to rub the stuff on his pants. Why? I just don't know. He also has a weird thing of getting it in his hair, which is an entirely different story.
But we've got some varieties of slime and putty and noise-making goo at our house now, and it always tends to end up on his knees. But this post was inspired by a particularly bad slime on clothes incident. I still don't know how he got it all over his lap and belly. Let's talk about getting slime off clothes.
How To Get Slime Off Clothes
Getting slime off of clothing is not too hard. Let's dive in.
Supplies you need to get slime off clothes:
white vinegar
warm/hot water
sink or mixing bowl
dish soap (if needed)
What to do to clean slime off clothing:
Pour some white vinegar onto the slime stain on the clothing and allow it to soak in for a few moments.
Fill your sink (plugged up) or a large mixing bowl with some warm/hot water. You don't want the water to be boiling hot, just really warm will do.
Soak the clothing item in the warm water. For at least 30 minutes. I mean, real talk, I soaked it overnight.
After soaking is complete, you can wash away the slime residue. It came right off!
If you still have slime residue on your clothes, add some dish soap onto the clothing item and rub together until the slime residue is removed.
Then rinse/wash normally to get all the vinegar washed away. I just ran it with a load in the washing machine.
So our goo stain ended up happening right before bedtime, so I soaked it and to be honest forgot about it until morning. When the kiddo ran to me and said I'm dirty it was kind of a funny but seriously wtf kind of moment. But I pulled the stained clothes off him and quickly added vinegar and dumped it in hot water. Then we did bath and all the rest. The next morning I found the clothes in my sink and remembered what happened. But the clothing was completely clean. The vinegar and water overnight soak dissolved all the slime residue. All I had to do was wash/rinse the items normally and they are back to being wearable again.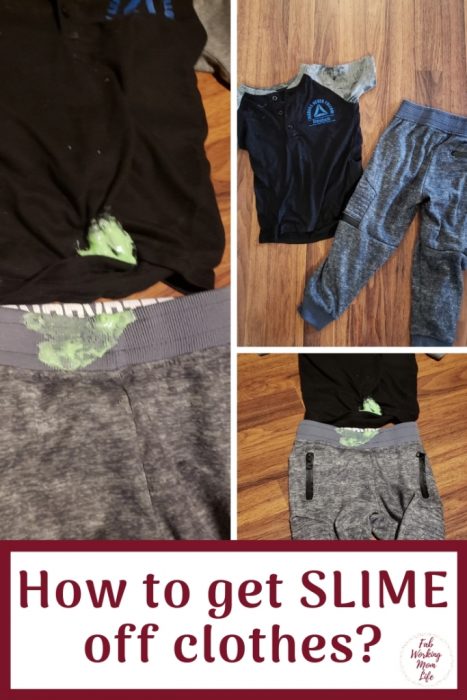 Join the Working Mom List
Join the Working Mom collective and get support and tools to help you thrive! Subscribers get access to my library of resources and printables.