Here on Fab Working Mom Life, child care is an important topic. So much so, that we ran a series of tips and collections of other working mom experiences with a variety of child care options. If you're wondering how to find childcare or things to know about childcare, I have collected some amazing tips to help you out!
How do working parents manage childcare?
When to look for Childcare
The best top for when to start looking for childcare is – right away when you find out you are pregnant. This can vary in intensity of searching, but start thinking about what type of childcare options will be best for your family.
Do you want to hire a nanny to come to your home and care for your child?
Will you be using a daycare center such as an early childhood education center?
What about an at-home daycare option?
Are family members available to babysit? Maybe the child will stay with grandparents during the day while both parents are at work.
When you have decided on the type of childcare you will use, then start looking into the specifics.
I have outlined our decision process where we decided to hire a nanny to watch our newborn. I also had a fellow blogger share alternatives for childcare.
If you work a non-typical schedule, finding childcare gets complicated. Here a friend has shared a conundrum for finding childcare when you are a shift working mom.
You might also need to consider how to handle childcare if you work from home. Or what if you travel to conferences for work, how will you manage childcare?
Tips for Hiring a Nanny
Where do you find a nanny or a babysitter? There are some great websites that help connect parents to a childcare provider. I used Care.com to find our nanny. You can also use Sittercity. Another option is Nanno StayCare, which is a way for parents to work together and book a single great caregiver to care for the kids in their little pod. You can also book an individual sitter for just your family through them.
If you decide to hire a nanny, you will need to interview several potential applicants. Here is a list of questions you should consider for your nanny interview.
In case you're wondering, here's a list of the pros and cons of getting a nanny. When hiring a nanny, here are 5 things you should do.
Specifically, if you're going to have a nanny in your home, you will need a contract or agreement in place. Here are tips on what to include in your nanny contract.
You will also need to conduct a background check on the potential nanny. You can read more about what you need to know when conducting a background check on a Nanny.
Have you considered a live-in nanny? What about a live-in manny?
You might also want these tips on how to introduce a new nanny to your kids.
Tips for Selecting Daycare
When we transitioned from a nanny to a daycare center, I had some mixed feelings. But ultimately, I was happy we switched our toddler to daycare.
A very important topic is what to look for in a daycare for infants and toddlers. There are some great tips for finding a good daycare, helping you plan your daycare evaluation.
You might also need to consider what to look for in a home daycare if you go that route. At-home daycares are typically smaller and have fewer kids, which can be more convenient for your location.
What your child needs for Preschool
Starting a preschool or an early childcare education center is a big step for a little human. Here are some great tips for the executive function skills your child will need for preschool.
It is very important to consider how to pick the best preschool for your child, including questions to ask at daycare orientation.
Here are more tips to get your kids ready for preschool.
Don't forget your Custom Daycare or School Labels Pack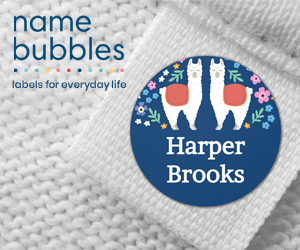 What childcare-related questions do you have? Drop us a comment and we'll help find an answer!
P.S. If you are looking at hiring a nanny, I have prepared a Nanny Contract Template to help you hire your own nanny.
Join the Working Mom List
Join the Working Mom collective and get support and tools to help you thrive! Subscribers get access to my library of resources and printables.