Working moms often hold on to a little guilt. They feel guilty when they work late, guilty when they miss a recital or soccer game. And there is even a little mom guilt when they pick up take-out food for dinner instead of cooking for the family. Okay, maybe there isn't too much mom guilt on the take-out thing, lol.
When I started working from home and stopped traveling due to the pandemic, I thought I would be able to have more time to spend with my kids since they're homeschooling for now. But now, the part I feel most guilty about is the amount of time I need to leave my kids to their own devices, literally.
It is expected that I attend meetings as normal, which can be back to back.
Even though I'm not traveling as much now, I find mom guilt weighing even heavier on me when I need to actively push my kids out of my office for important video calls.
4 Things To Do To Feel Less Mom Guilt When You Work From Home
How many times have you had to blow off the kids because you are on a virtual meeting or conference call?
Even though my body is technically at home, that's where it ends. I am so focused on getting my work done that I completely lose track of what's going on with the kids.
And if you are also the primary parent responsible for distance learning, the guilt can be too much.
I shared my story with my girlfriends over a virtual girl's night and I was surprised to learn that they also have their share of work from home mom guilt moments. They also shared what they do to try to find a balance homeschool and work.
Here some things they shared and what I do now to feel less guilty while I work from home during the pandemic.
Block Off Time
When you are constantly attending video or conference calls, your workday never ends. But you have to give yourself a chance to separate and decompress from work. It can be as easy as not checking email in the evening.
Plan An Evening Activity
It helps to plan an activity to do with my kids. This gives them (and me) something to look forward to when my workday ends.
When you stop checking email in the evening, you can plan an activity for the family, like watching a movie.
Follow Your Regular Schedule
In other words, if you typically left the office at 6 pm, log off for the night at that time too. And if you went out for lunch with co-workers, take a break and have lunch with the kids.
Delegate
This one is a little hard for me because but I'm working on it…if there is a meeting or task someone on your team can handle for you then by all means let them! It's not selfish to dedicate your attention to activities you can be doing with the family.
Wrapping Up My Tips For Less Mom Guilt
My last tip is, let go of the guilt. I know this is easier said than done when you're focused on getting your work done, attending meetings, etc. It's so easy to completely lose track of what's going on with the kids.
But I hope the tips I shared in this post will bring you more peace, less guilt, and more time with your family while you work from home during the pandemic.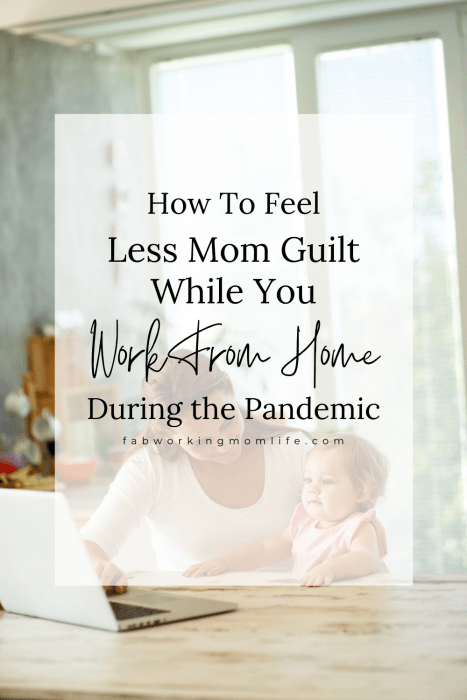 Author Bio

Kim Kupiecki (

kimmybean.com

), chemical engineer by training, digital marketer by trade, loving wife and mother of dragons.

Passionate about science, sustainability, all things digital, music, French, yoga, friends and fitness. I strive to weave these passions into my work and more importantly my family. I try to see the humor in the situations life brings and have started to share that humor with others who might relate to the sometimes crazy things we do to make it all work.
Join the Working Mom List
Join the Working Mom collective and get support and tools to help you thrive! Subscribers get access to my library of resources and printables.