Having too much on your mind causes chaos. The chaos is not easy to sort through when the brain is a hedge maze full of information and ideas. A way to remedy this chaotic mind is to do a brain dump and lighten or even relieve the mental load of motherhood and mom brain! This post is part of our 31 days of tips for Working Moms to find Calm in the Chaos of Life series.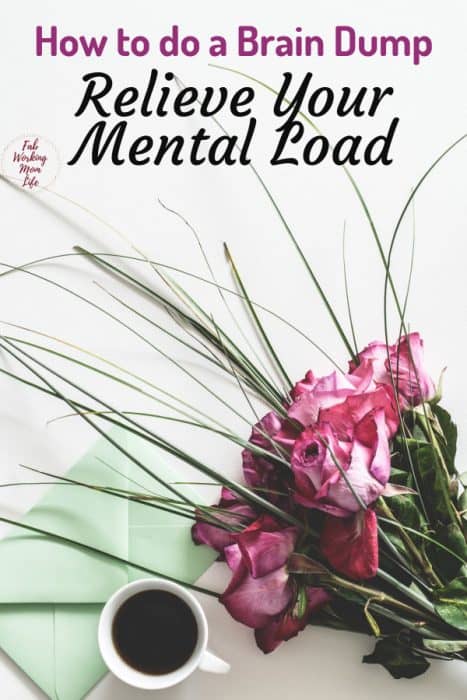 Why do a Brain Dump?
We all have a lot on our minds and having a full plate is part of parenthood. But how do we GTD? (That stands for Getting Things Done, by the way.) I find a great place to start is doing a download of everything on our minds onto paper.
How do you know if you need to do a brain dump? Well, let's see:
Does your mind constantly jump back and forth between things you need to do?
Are you always wondering if there is something you should be doing?
Do you often have trouble sleeping because of all the ideas floating around your head?
Our minds are not meant to manage this much information. Information overload is a real thing, moms! That's why the journal and planner markets are HUGE!
Getting it all out of your head and onto paper helps. SO MUCH!
Once you give these ideas and lingering thoughts the recognition they are demanding, your mind can relax and move on to other things.
How to do a Brain Dump
A great place to start is my Mind Dump Journal and Planner!
You can also start with a spiral notebook. You might want to use my lovely notebook journal I have in my Zazzle store. Call this your brain dump journal.
Or pick something else you like that's fancy and encouraging:
Sit down with a pen and your brain dump journal and just start writing. Don't worry about being organized or systematic. Just write. One thought per line. We'll organize them later. Here are some topics to consider when doing a brain dump:
Deadlines and reminders.
Plans for house projects?
Projects at work with tasks that keep tripping you up? write them down!
Heavy emotions and negative self-talk? write that ish down and cross it out!
Health concerns or appointments to make.
Birthdays? Christmas gifts?
Family meetings or topics to discuss with your spouse?
Things to buy/cook/think about later.
You get the point. Everything and anything that's on your mind absolutely needs to be brain-dumped.
What's next after a Brain Dump?
Now that you have everything down on paper, grab your highlighters! You want to categorize everything in groups that make sense.
Examples of these categories can be:
Work
Home
School
Kids
Child care
Health
Marriage/Partnership
Family
You get the idea. Give a category to everything and highlight to visually showcase these categories. Then you can return to this list later and pull each item to its own page in your brain dump journal if you wish to organize the ideas and thoughts further.
We'll talk about how to prioritize your to-do list later, but there are a few things you can do to get a head start on figuring out what to do with everything on your list.
Look through each item and assign a general time frame of how long you expect the task to take, and a timeline for when it needs to be completed (if at all). Maybe you have a home task that would take a full weekend to complete but it's a nice-to-have and not super urgent. Make a note of that.
Is there something that would take less than 5 minutes to do, but has to be done during business hours? Make that note, and add it to your to-do list for the next day (aka your daily schedule). If it would take less than 5 minutes and can be done at any time, just do it now. Cross it off and feel better.
Grab your Master Agenda now!
Join the tribe email list and we will send you this Master Agenda Workbook right away!

Grab your Master Agenda now!
Join the tribe email list and we will send you this Master Agenda Workbook right away!

When to do a Brain Dump?
If you're feeling overwhelmed and seeking the calm in the chaos, do a brain dump right away!
Then set up a routine. Maybe do one at the beginning of a new month (or at the end of the month planning for the month ahead).
Some people like to do them on Sunday to plan for the week ahead (keeps the Sunday scaries at bay). Others keep their brain dump template notebook on their nightstand for any lingering thoughts that keep them up at night.
You can even do a brain dump first thing in the morning. Find a rhythm that works for you!
How often do you do a brain dump, or are you planning to start?
---
This post is part of the 31 Tips for Working Moms series. See the rest of the posts here:
---
Grab your Master Agenda now!
Join the tribe email list and we will send you this Master Agenda Workbook right away!