Last year was a life-changing year for me. In March, I found out that I was paid 47% less money than my colleague for virtually the same job. It was emotional. It was devaluing. It was hard. After a lot of research, discussions, brainstorming, and soul searching, I quit my job and started my own consulting company. It was exciting, but also scary and stressful.
I'm embarrassed to say that in just a couple of months, while all of this chaos was surrounding me, I gained 10 pounds, on top of some baby weight from child #2 that I hadn't yet gotten rid of. At a time when I wanted to feel as awesome and empowered as possible, gaining weight was not helping me.
In December, I decided it was time to get serious and lose the weight. I looked at my eating habits and quickly realized I wasn't doing badly for most of the day, but I had one really bad habit. After my kids go to bed, I pack my son's lunch. I have this box of lunch snacks for him, he gets one a day. It has things like Rice Krispie squares, fruit gummies, granola bars… As I would make his lunch I would eat one. I wouldn't even think about it. I wasn't looking at it and saying, "yes, I really do want a Rice Krispie square". I would just open the package and before I knew it, I was chewing on the last bite. Once I ate one, I ate more of them. Then I might also eat some crackers or make popcorn. All of this was unnecessary food that I definitely didn't need and didn't even really want.
So I made a goal – stop eating junk food after dinner. I wasn't trying to change my whole life, just these evening snacks.
Guess what happened?
Nothing changed.
I wanted to change. I was motivated to change. This was a clear goal of mine, but I just kept eating one snack without thinking and then everything went downhill.
Luckily, at my day job as a healthcare consultant using behavior change theory, I was working on a project using research evidence to understand how people break and make habits. I read dozens of academic journal articles and not only did I make progress on the project, I immediately realized why I wasn't able to change my behavior from this amazing quote:
"If a behavior is a habit, then intentions alone are not likely enough to change the behavior".
It was great to know that my intentions were not enough. But what was? After reading all of this research from experts in the field, 4 key steps came up over and over again. These are super concrete, easy-to-understand steps that you can apply immediately to change your habits.
Step #1: It is not enough to have a goal – you have to figure out what that change will really look like in real life. You need an "if… then…" plan.
My goal was to stop eating junk food in the evenings, but I needed more detail.
I came up with this plan: "if I am making my son's lunch, then I will start by cutting myself an apple." I know that if I start eating an apple, I will be more aware of what I am doing in terms of eating, and I'm not going to eat his little kid snacks by accident.
This is the easiest part of changing your habits. Just figure out what you want to do differently and then it into an "if…then…" statement.
Step #2: Figure out what cues your good or bad behavior
All habits have a cue or a trigger. Something in the world around you cues you to do this habit. For me, it's packing my son's lunch. Just the act of opening the snack cupboard does something inside my brain, probably because it remembers what that delicious food tastes like. We often think of cues or triggers in terms of really bad habits that people want to break, like smoking.
This step involves some serious self-reflection, you really need to watch what is happening for you right before you do or don't do the habit that you want to be breaking or making. These cues could be really small or really big and they are going to be specific to you, so it's not even worth it to figure out what other people's cues are, just focus on you.
Step #3: You need a habit backup plan.
You need to start with an "if…then…" plan, but that is not enough, because the world is going to throw you challenges along the way. So you need a backup plan. You need to think through the kinds of things that are going to prevent you from creating this new habit or make you return to that old habit. You should come up with at least five things you think might cause a problem. And then you come up with really concrete solutions for those situations.
Going back to my evening snack eating. My first problem – what happens if I don't have an apple? I can use another fruit as my first backup plan. My second backup plan can be going to brush my teeth. I often don't want to eat right after I brush my teeth, so that might prevent the snacking.
Another potential problem is that sometimes the snacking starts earlier when I give the kids an after-school snack. This is most often cheese and crackers, but it's late in the afternoon and I am hungry at that time, so it's too easy to pop handfuls of goldfish into my mouth. Here is my new backup plan. This solution involved a pretty exciting realization – my five-year-old can actually pour goldfish into a bowl. So I'm getting my kids to take on more responsibility, and I don't need to touch the goldfish reducing the chance that I will grab a handful in the process.
What about if I eat that first snack? This one was interesting because that's when I often lose control. My backup plan now is to immediately go brush my teeth.
Those are just a couple of examples. The more you can plan for, the better.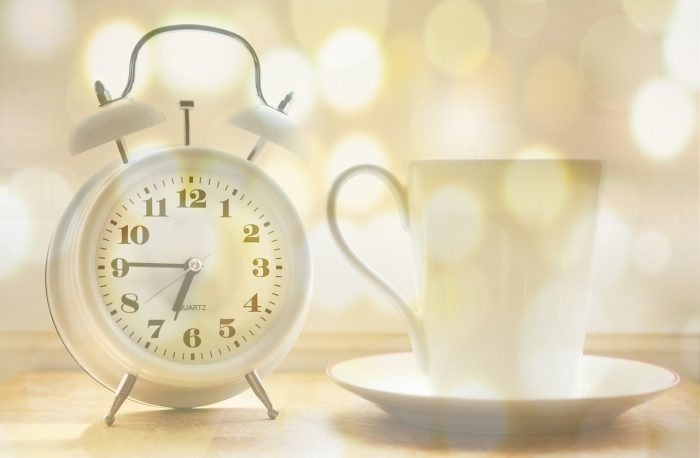 Step #4: Dream big, act small, drop high expectations
I always say you should dream big. You should have a long-term vision of where you are going. If you do not know where you're going, there's almost no way that you will get there. But you need to start with small steps.
Habits are hard to break and hard to make. They take time. You know how everyone says that habit takes 21 days to make or break? Well, that's actually not true. People have started talking about this new study that said it takes 66 days to make a break a habit. I went and read the research, and it said it could take anywhere between 18 days and 254 days to make a break a habit! With an average of 66 days. So depending on what you were trying to change, this will take time. You have to drop your high expectations and focus on the small wins. Know the big picture of where you're going, but focus on the little wins day today.
I am happy to report that I have made huge progress in my evening snacking habit. I rarely snack in the evening, and when I do it it's always after a super stressful day. In those situations, I don't cut my apple, and then I eat a snack without thinking about it, almost always the gummies. But I can see my progress.
Are you ready to improve your work-life balance by changing your habits?
Grab your Habit Tracker now!
Join the email list and we will send you this Habit Tracker right away!

If you want an even better Habit Tracker Printable – grab my 12-Month Habit Tracker with a new design each month!
We often think about the habits we can change at home, but there are so many opportunities to also change habits at work. When I started thinking about how to Marie Kondo your career, it became clear that understanding how to make and break habits is key to success.
Imagine what your life would be like if you could actually change your habits? Think of all of the ways you could improve your life and reach your goals. Create the work-life balance that you want. And it only starts with a little step.
Good luck!
Author Bio

Julia Egan has a PhD from Penn State in human development and is the founder of Balancing Bravely (and now Behavior Elevation Academy), a resource for working moms striving to create a work-life balance that allows them to thrive. Sign up for free tips and resources and to read her latest posts on advancing your career, achieving financial freedom, balancing work and family, and finding a little time for yourself.
Reading recommendation:
Grab your Habit Tracker now!
Join the email list and we will send you this Habit Tracker right away!