Thanks to Minbie for sponsoring this post on bottle feeding baby.
Breastfeeding a child is an incredible and complicated journey. It has its ups and downs, and each relationship between mother and child poses different challenges. My child was happy with any bottle, but it was me he had a difficult time accepting. I ended up supplementing with formula more than I breastfeed due to my struggle with maintaining supply. Other moms experience their breastfed baby refusing bottle feeding.
If you're a breastfeeding mom and getting ready to return to work, reading up on tips for breastfeeding and bottle feeding expressed milk is vital to your continued breastfeeding journey. Here are tips to help you learn how to bottle feed a breastfed baby.
Breastfeeding and Bottle Feeding Tips
Here are some tips to help you transition your breastfed baby to sometimes taking a bottle of expressed milk so you can do both – breastfeeding and bottle feeding at the same time.
1. Watch for signs of hunger, and position the baby in a comfortable, upright position. Introduce bottle feeding when mom and baby are relaxed. You may consider having someone else offer the bottle if your breastfed baby is refusing bottle feeding from mommy.
2. Remember that bottles can flow faster than the baby feeds directly from a breast, so it is important to practice paced bottle feeding.
3. La Leche League suggests waiting until breastfeeding is established and introducing a bottle to a breastfed baby at 4 weeks or later.
4. Feed for approximately 10 minutes and allow breaks or pauses, in a similar pattern like when the baby breastfeeds. Switch positions and burp baby, like you would when switching from one breast to another.
5. The slower-paced bottle-feeding method and allowing the baby to take breaks helps avoid overfeeding the baby. This method also helps mitigate nipple confusion since the eating style is similar, and avoid preference to a faster flow of milk, which supports a continuing breastfeeding relationship between mom and baby.
6. It is also essential to select a bottle that helps nurture a good breastfeeding latch and helps avoid bottle preference. The bottle preference is a big issue we had, and I wish we started with the right bottle from the first feeding.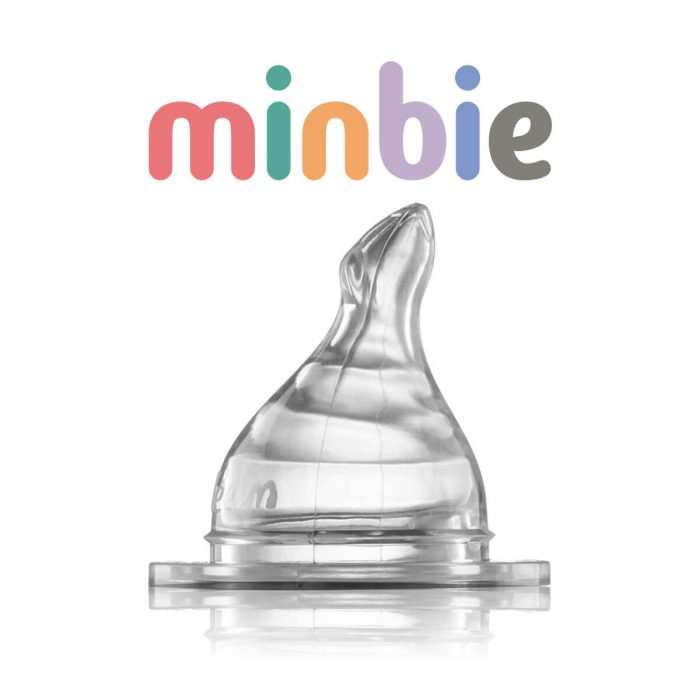 What baby bottles are best for breastfed babies?
We tried various types of bottles and nipples when my son was a baby, but I loved the Minbie for the shape and feeding angle it allowed, helping the breastfeeding relationship. We didn't learn about it until my son was six months old and by then we had a lot of nipple preference issues to overcome.
My experience with Minbie
Baby H had latch problems since he was bottle-fed before my milk came in. Through the majority of our breastfeeding relationship, I had to use a nipple shield with him when breastfeeding. The Minbie nipple is angled, and it was immediately apparent that he fed using Minbie in a different way than other bottles. I saw a change in the way he formed his mouth around the nipple. Rather than puckering and sucking, he moved his tongue under the nipple and opened deeper like when breastfeeding. Here is a photo I have from that time, and you can see a bit of his tongue beneath the Minbie nipple.
Background on Minbie
Minbie is a soft silicone baby bottle/nipple specifically designed based on a decade of R&D by an Australian Mom to nurture a newborn's instinctive breastfeeding technique. When newborns feed using Minbie, they practice the intuitive latch and feeding action that matches breastfeeding techniques. These techniques help to avoid latch problems and "nipple confusion" when the baby is breastfeeding.
Share your thoughts, have you tried Minbie bottles? What bottle do or did you use with your baby?
Join the Working Mom List
Join the Working Mom collective and get support and tools to help you thrive! Subscribers get access to my library of resources and printables.