Parenthood is the dream for some moms. For some parents, it is the one job that brings them joy. However, as your kids grow older, you get more time on your hands and might wish to pursue a full-time career.
Many parents find the real estate industry to be the perfect space for them to balance motherhood with work. When you think about joining the real estate industry, you can get into property management, real estate agency, home staging, etc.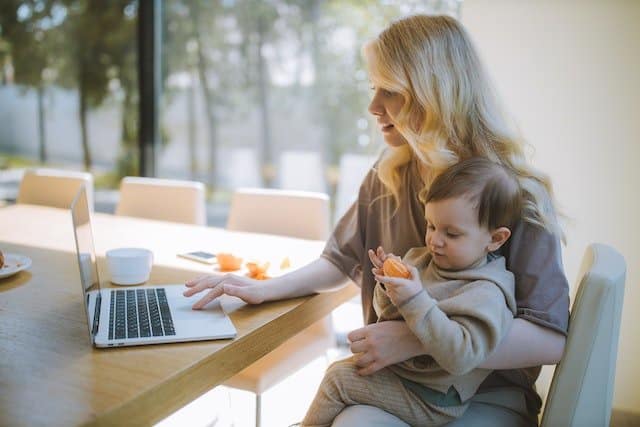 Why Is Real Estate a Fantastic Career Choice for Moms Who Wish To Have Time For Their Kids?
Mothers nowadays are not tied to a stereotypical life of having to balance work with parenthood. Most women have already realized that they can equally share the housework with their husbands. Therefore, there is no need for them to worry about being judged for working a full-time job and letting their partners take care of the kids when they don't have time.
However, not every mother has a partner, and some who do, prefer to spend most of their time with their kids. There are multiple reasons why moms, including stay-at-home moms, single moms, and empty nester moms, choose real estate work as the career to balance with parenthood in 2023.
1. Flexible Time
You can juggle parenthood with working in real estate because of one simple reason: time. Real estate workers have more control over their hours than others. This is why Phil Dunphy of Modern Family gets to spend so much time with his kids.
Real estate work is not a typical 9-5 job that will take most of your day. Therefore, you won't have to leave your kids with friends or grandparents or spend too much time on child care.
Depending on the real estate company you choose to work with, you will most likely be able to arrange flexible working hours with your supervisors. Moreover, you can be a freelance real estate professional or a property manager and you can fully take control of your work hours.
2. You Can Work From Home
Real estate agents' and property managers' labor primarily includes creating advertisements, reviewing applications, and creating leases and contracts. These things can be done from home using your computer. In 2023, most people have gotten used to working from home anyway.
You will have the ability to take care of your children in case they get sick and miss school. You can watch over your children even when you are working. Therefore, you will be able to manage your career while also spending time with your kids.
3. Large Income Potential
By 2022, real estate agents earned $6,658 monthly on average. Depending on how well you do your job and how much you work, this number could vary. Real estate agents have the potential to earn a ton of money.
Parents are responsible for the well-being of their children. You need money for childcare, food for you and your children, clothes, school supplies, entertainment, etc. With a career in real estate, you will be able to not only spend time with your family whenever you want but also afford to take care of your family and even take them on nice trips.
How To Balance Real Estate Work With Motherhood
We already discussed why real estate is a great industry for mothers to enter, however, how can you balance parenthood with work once you have started a career?
1. Create a To-Do List
Creating a to-do list is always a good start to managing your time. Sort out your priorities of the day to chronologically put them on your list. This way, you will have a visual of what you need to do and which tasks are urgent.
You will be able to keep track of your clients and their requests as well as the needs of your children. You can manage your time with a list and you can figure out how to multitask. You won't forget to prepare a basket for your kids' field trip and you will prepare the advertisements for real estate on time.
2. Use a Notebook
You can write your to-do list in a notebook. A notebook is a good way to keep notes and leave important messages to yourself for the next day. You can write down your list of assignments and chores you need to complete. You will also be able to keep track of the dates when you completed certain tasks or when certain projects are due.
Moreover, it would be helpful if you kept two notebooks, one for the home and the other for your work. This way you can separate the housework from your career goals. It will help you develop in your field and grow your business or get promoted in your company.
Or grab this mind dump planner!
3. Technical Devices
Computers are necessary if you work from home. By using a technical device, like a laptop, smartphone, and touch screen tablet, you will create great comfort for yourself. If you work with accounts where you keep all of your information, you will be able to use different platforms as it's convenient for you. All of your data will be safe and you can simply log into your account on any device to continue working on projects.
This way, you will be able to work on the move. Therefore, you can take your kids to dance practice and work while waiting in the lobby. No time will be wasted. Your kids will have months of vacation from school, so you don't have to feel guilty that you can't take them on a trip the whole time because you only have 2 weeks of free time. You can simply go on a vacation for months with your laptop and have fun with your children while also not falling behind on work.
Final Thoughts
The real estate industry is a perfect choice for moms who want to spend as much time with their children as possible. If you prioritize your kids and want to create cherishable memories with them, you can choose to work in the real estate field. This way, you will have more control over your time than most people do.
Join the Working Mom List
Join the Working Mom collective and get support and tools to help you thrive! Subscribers get access to my library of resources and printables.