The more your family grows, the more complicated the schedules become. It's much less chaotic to keep up with one persons' schedule. But then you add a spouse. Then a kid, or more. Now you have to remember what everyone needs to be doing and when, and what events are planned. That's on top of keeping up with your work tasks and projects. Here's why working moms need a home command center. Read my review for the 1Thrive command center.
What is a home command center?
A family command center is a central designated space in your home where you can see all family matters in one spot – that includes all schedules, papers, to-do lists, car keys, etc.
This designated location needs to be in a central location where the most family foot traffic takes place – this is usually the kitchen, which is why you can also call this a kitchen command center.
But you can pick any room that makes sense for your home. If you have a big entryway that everyone drops stuff down on the floor, maybe that's a good location to put together a command center, and incoming stuff storage.
A corner wall might be great to hang things next to a shelf.
Or are you more into a digital home command center?
How do you make a home command center?
There are many ways to put together this modern family command center. You can DIY it with a combination of whiteboards, peg or cork boards, some calendar options, and note pads. You can use a marker, pen, or chalk to decorate and write events on your command center.
You can also find a ready-made command center that is functional and gorgeous if too many ideas are overwhelming your mental load. That's my option most days.
1Thrive has a beautiful collection of home command centers that are ready to use.

What should be in a family command center?
Your command center needs to answer all the questions from the husband and kids. That includes questions like:
what's for dinner?
what are we doing this weekend?
when's my next soccer game?
when's my big project due?
honey, where's my paaants? kidding – little bit of LEGO movie humor
You can accomplish this with a variety of features. These items are generally useful in a command center:
A monthly calendar you can write on to specify the month's big events
Weekly menu (if you do a meal plan)
Shopping list anyone can request or add items onto
Incoming mail drop-off to attend to not at this very second since you just walked in the door.
Shelf or bucket for keys. Purse/backpack hook.
Bulleting board for pinning school papers, to-do lists, follow/up items.
Pens/chalk/markers storage. Post-it notes.
Dry-erase whiteboard for notes/maybe family goals, quotes, or motto.
School paper accordion envelope or clipboard.
Charging station perhaps?
Wall bins for odds and ends that end up on the kitchen table?
Why should I have a visual home command center that duplicates my Google calendar? Right – I'm with you. I love my digital calendar. But sometimes spouses cannot be bothered to check their Google calendar we've clearly shared with them. Or the kids are too young to be able to check our Google calendar but are able to see the date on a wall calendar. So sometimes, yes, we do need to have events in several places.
Our Command Center Recommendation? 1Thrive
1Thrive has a great selection of beautiful and modern home command centers that will look put together in any house and match any decor.
Check out these brilliant Command Centers from 1THRIVE!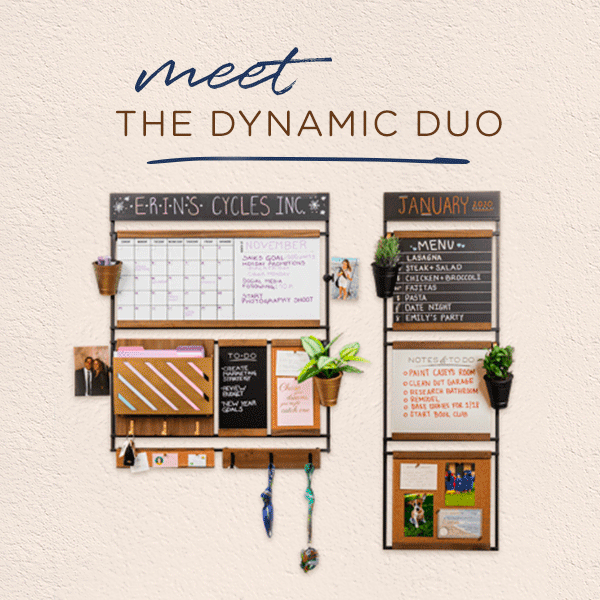 What's really awesome about these 1Thrive command centers is they are versatile and easy to rearrange and use however you need. You affix the frame to the wall, and the individual pieces for your organizing needs are placed on the rods. So you can take the pieces on and off for use – like if you want to take the calendar off and bring it to your computer to add events, you can. If you want to curl up on the couch with the blackboard to write notes or doodle, you can.
The boards used by 1Thrive are not regular dry erase boards or chalkboards. They use special 1WRITE Boards, with a matte finish, designed to be used with their special 1WRITE Liquid Chalk Markers, which are vibrant and smudge-proof.

Join the Working Mom List
Join the Working Mom collective and get support and tools to help you thrive! Subscribers get access to my library of resources and printables.