Wow, the holidays are fast approaching. It is time to make our gift lists for family and friends and think about those Christmas gifts. If you're like me, you have a difficult time figuring out what the perfect gift might be. Here are some tools and suggestions to help you in this quest for the perfect gift.
Tools to help find the perfect gift
Giftry is an app where you can make and share wishlists. So now you don't have to worry that you'll get bad gifts, or that you'll give them, as long as you can share your wishlist and view wish lists of your friends and family.  Get it: Android | iOS.
Gifts for Infants and Toddlers
This Play-n-Go. This entertainment center is full of exciting and educational activities. It fits perfectly on most airline tray tables, high chair trays and fits perfectly onto the Snack & Play travel tray for use in the car. So whether you are in the air or on the road, Play-n-Go provides MILES OF SMILES! Perfect for ages 6-24 months. See my review.

Baby Einstein Take Along Tunes Musical Toy

My son absolutely loves this and carries it around with him from his playpen to the high chair. The music can pull him out of most crying fits.



Fisher Price Laugh & Learn Puppy's Smart Train

My son got this for his first birthday, and it is an instant favorite. This train can roll on its own and have babies crawl behind it, has several Smart Stages of learning and so many songs and words.

VTech Alphabet Activity Cube

I'm thinking of getting this for my little one because of how fun it looks. There is so much to do and lots of learning opportunities.
Large electronic learning activity cube features five sides of fun
Includes 13 building blocks to teach 26 letters
Learning cube has a building surface top that provides a place to stack blocks
Electronic side recognizes blocks and features piano keys and number keypad
Mechanical sides feature a peg maze, put-and-take holes, storage, sliders, gears, mirror and more
Gifts for New Moms
The
BeliBea
 bra line combines the best of traditional maternity bras with both an improved fit and design for better comfort, with the Nourish by BeliBea style also providing the ability to hold pump shields in place for hands-free convenience.
See my review here
.
StickerKid
labels are great for babies in daycare, kids in school, packing for summer camp, etc. You can label their important belongings so they don't get left behind or accidentally switched. They make adorable "this belongs to" labels and stickers, which makes it easy to distinguish my baby's stuff from another baby's stuff.
See my review here.
Gifts for the Ladies

Any bag from the 88 Handbag Line. Isn't this one lovely?
88 is a vegan brand and no animal products are used.
88 is the number of constellations in the sky.
88 is considered the luckiest number in Chinese culture as it sounds like word for wealth.
88 is the ham radio sign off that means love and kisses…
88 represents the cycle of creation and recreation.
88 is a collection of bags designed by an expert creative team that works on design for brands worldwide. This collection is their favorite. It is the edited expression of the right bags for the season. Bags that are on trend, that look great and which work. Bags that enhance your life by helping you look good while working hard to carry the stuff you need. They are created by optimistic people who love what they do. Bags that work to help you in the wide and varied adventures of your daily life while looking great at the same time.
88Twitter – 88Facebook – 88Pinterest – 88Instagram
Gifts for Parents of Older Children
Familoop Safeguard analyzes all of your child's online activities and turns information into actionable insights. Be proactive with Thought-out Rules that automatically block inappropriate content, set healthy time limits and monitor communications for signs of suspicious behavior.  
Gifts for Older Children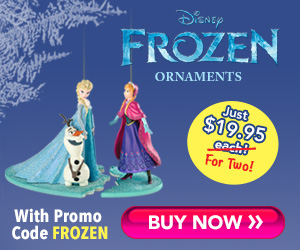 Start a new holiday tradition and an heirloom quality collection with the purchase of the Elsa and Anna collectible ornaments! The double ornament can be hung as individual ornaments or displayed as figurines. These hand painted ornaments are not found in stores and come with a certificate of authenticity.
Here's a great frugal gift: 4 Disney books for $.99 each + FREE Shipping. Choose from 24 titles, including Inside Out and Frozen! Plus, while supplies last, get the exclusive 12"x12", 2016 Disney calendar at 50% off! This calendar is not sold in stores and will only be available for a limited time.
Disney Princess: A Magical Pop-Up World. This collectible piece of Disney Princess magic spans eleven films and princesses, including fan-favorites such as Belle, Snow White, Ariel, and Rapunzel. Through twenty-seven pop-ups and transformative scenes, the key moments from these beloved films leap from the page, and the accompanying text makes this book a wonderful interactive reading experience that families will treasure. See my review.
My lovely followers can use the Friends & Family discount of 35% off all Insight Editions titles at www.insighteditions.com. Simply use the code IEFRIENDS at check-out.
Or what about this awesome looking educational toy gift for the kids who enjoy electronics and learning new things? Snap Circuits Jr. SC-100 Electronics Discovery Kit
Health and Wellness Gifts
NatraCure Cold Therapy Socks provide fast relief for sore, aching, or hot feet. A freezable, full-foot-length gel pack sits below each foot. An additional half-size gel pack can either go over the toes or behind the heel. This is great for plantar faciitis, or simply tired feet See my review here.
Brieftons next-generation spiralizer that is compact, highly functional and can achieve the same effects as some spiralizers many times its size and price. See my review and a salad recipe here.

Gifts for Grandparents

Make a lovely photo book for your child's grandparents. Photo books make wonderful gifts that are always treasured. Save 35% off all orders for Black Friday
---
Save