Did you know that 10 million tons of plastic is dumped into the ocean each year? We are currently stationed on Hawaii and living here has taught me so much about protecting these beautiful oceans and their creatures. I now cringe when I see plastic trash on the ground because I know it will end up in the ocean and might end up harming one of those beautiful Honu.
Most people are familiar with the term "sustainability" in relation to the environment and conserving resources, but sustainability also applies to the products we use every day. Sustainability in relation to plastic means using plastic responsibly so that it does not cause harm to the environment or human health. This can be done in a number of ways, such as reducing our reliance on single-use plastics, recycling plastic products, and using sustainable alternatives to plastic.
This blog post is sponsored by HoldOn compostable bags. They wish to turn the tides on plastic waste – and reduce the amount of plastic living forever in our landfills. This is my HoldOn bags review.


Plastic bags are one of the most common types of trash that litters our streets and clogs our landfills. A growing number of cities and states are banning plastic bags, and many grocery stores are now offering customers the option to use reusable bags or compostable bags. But what exactly are compostable bags and why do they matter?
Compostable bags are made from plant-based materials and will break down quickly. Using compostable bags is a great way to reduce your carbon footprint.
There are many reasons why compostable bags matter. For one, they help to reduce the amount of plastic waste in landfills and oceans. Traditional plastic bags can take up to 1,000 years to decompose, while compostable bags will break down within a few months. In addition, compostable bags help to improve soil health.
About HoldOn compostable bag
HoldOn Bags are plant-based, 100% compostable trash and storage bags. These bags break down in weeks, not centuries. They are non-toxic, TUV and BPI Certified. HoldOn uses nontoxic ingredients like PBAT, PLA, and cornstarch to produce the sustainable material that makes up their bags. Let's take a look at their ingredients from their website:
PBAT (polybutylene adipate terephthalate) is a biodegradable polymer that requires less crude oil during production than plastics and breaks down quickly without emitting methane gas or creating toxic residue.
PLA (polylactic acid) is a monomer derived from organic, renewable sources like sugar or corn. It requires less energy in production and emits less greenhouse gas in decomposition than plastic.
Cornstarch is an organic substance that is ethically harvested from corn and biodegraded quickly without emitting toxic gas.
HoldOn uses minimal, recyclable packaging made with 100% FSC certified material from responsible sources in an effort to reduce waste. HoldOn bags come in a variety of sizes – kitchen trash bags (in tall and small sizes) and food-safe storage bags (sandwich and gallon sizes).
HoldOn compostable bags Review
I will review each of the types of HoldOn bags here. I received a HoldOn Household Staples Kit to be able to review each product.

HoldOn Compostable Tall Kitchen Trash Bag Review
The HoldOn compostable tall kitchen trash bags look quite lovely. In fact, my son made a comment about how much he loved our new green bags. The bag also contains a message about plastic waste and better bag use.
The bags are pretty thick and sturdy, and easy to line a trash can with. The drawstrings are fabulous and are a must for me. They are triple ply to prevent leaks.
While I did get a tear in one caused by a sharp product box, I will say I've had similar or larger tears in the leading plastic brand I've been using, causing me to double bag my trash sometimes before I can carry it outside, thus doubling up my guilt.
HoldOn Compostable Zipseal Sandwich Bag Review
Sandwich bags have always given me a tingle of guilt every time I send my kid to school with a lunchbox full of snacks in individual baggies, knowing it will all go in the dumpster. So these HoldOn compositable zipseal bags provide so much of that environmental relief, while serving the purpose they are meant for.
The zipseal sandwich bags are made with food-safe and non-toxic materials and keep your food fresh by keeping air out. These baggies are strong and cute with the HoldOn logo and design pattern. The sandwich bag container has 100 compostable bags.
HoldOn Compostable Zipseal Gallon Bag Review
The Gallon Bags container includes 25 compostable bags that are extra strong and plant based. The bags are not super see-through like the leading store brand but instead have a cute HoldOn brand logo and their O with the little tab on it patterned throughout the bag. They're heavy-duty and soft to the touch.
HoldOn Compostable Small Space Trash Bag Review
The small space trash bags are 4 gallons in size. The container includes 50 bags of these smaller compostable trash bags. These sizes are perfect for your bathroom and home office trash. These bags are tie top bags that carry the same message as the tall kitchen trash bags. We can all make small lasting change.

Are HoldOn compostable bags Worth it?
If you are consciously trying to reduce your single-use plastic situation, these bags are perfect for you. While compostable bags tend to have a higher price tag than the generic plastic bags we can buy at the grocery or big box store, their benefits are mighty.
Early customer reviews are calling these HoldOn compostable bags just as sturdy as the plastic option, while providing peace of mind and helping customers make a positive change for the environment.
Do compostable bags break down in landfills? Yes! The best part is, you don't have to do anything special to reap the full benefits of these bags. Just collect your trash or store your food as you normally would. Then when you throw them away in the regular household trash, the bags will biodegrade on their own in a landfill.
You can sign up for their newsletter and get exclusive discounts and deals – such as a 10% discount on your first purchase of their HoldOn Compositable bags. You can save money by buying sets of bags instead of individual bags, for example the HoldOn Compostable Bag Trash Essentials Set. You can also save by subscribing to the HoldOn bag deliveries (on a monthly or quarterly basis for example).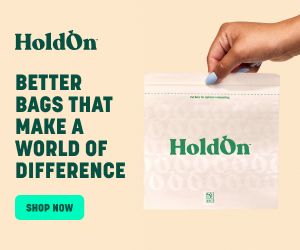 Where to buy HoldOn compostable bags?
You can get them at holdonbags.com
Use my code FWML for 15% off.
Join the Working Mom List
Join the Working Mom collective and get support and tools to help you thrive! Subscribers get access to my library of resources and printables.