Inside: Our toddler fell and hit back of head. What do we do?
The other day we had a scary situation with our son. We were actually out celebrating our anniversary, and all went to sushi after work/daycare pickup. After that, we decided to walk next door and get some ice cream. Because there's always time for ice cream.
Well, this time my son was so hyper and kept bouncing in his chair. He just couldn't sit still. What 3-year-old can? One of those bounces resulted in him sliding out of his chair and landing on the ground. This kid hits head pretty often, gets back up and it doesn't phase him. But this time was different. What to do when my son hit his head and has a big bump?
He didn't fall far, and it looked like his butt hit first, but he was lying there with his mouth open but not screaming. We picked him up and checked him over, and his eyes rolled back in his head. We were very scared at that point let me tell you.
This is a terrifying situation for parents: when your toddler hit head, eyes rolled back. All kinds of scary thoughts go through your head after seeing those eyes rolling back in his head.
It didn't look like he was breathing, but as my husband started to roll him over to check if he was choking or start other techniques we had been taught, our son took a deep breath and started crying.
He was dazed only for a little bit, we estimated maybe 5 seconds tops, and after that regained all motor function and lung capacity quickly. Due to his eyes rolling back after hitting head, we decided to take him to the ER for observation.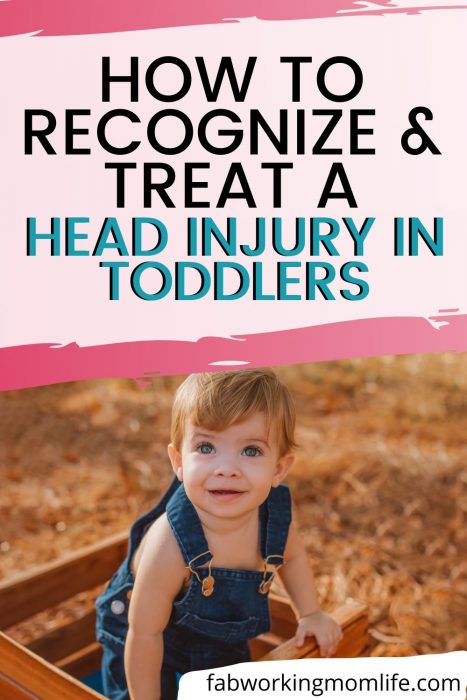 what to do when toddler hit back of head?
When a kid hits their head what to do?
I wanted to share this post with my readers as this is such a common issue all parents face. Children are so full of energy and so reckless with their behavior. We watch them fall over and bust their butts all the time, but what happens when a head injury is more serious? What if your child has a concussion? After a child head injury do you know when to worry? I thought it would be useful to my fellow new moms to hear what the physician and nurses told us.
I am not a health professional. I am a fellow mom wanting to share our experiences and raise awareness. This post is not meant to take the place of advice from your physician.
If your child hit back of head when they fell, especially if your toddler fell and hit back of head on concrete, these are the serious signs you need to look out for.
How do I know if my child's head injury is serious? Signs of a serious head injury:
Vomiting repeatedly (more than 3 times)
Worsening headache or a change in the type of headache pain
Change in behavior (less activity, extreme sleepiness, etc.)
Clear or bloody drainage from nose or ears
Numbness, tingling, or weakness in the arms or legs
If the child feels faint or lightheaded
Problems seeing or changes in vision
Difficulty waking from sleep or more confusion
Seizures
If you observe any of these – seek immediate medical attention.
Do you know what concussion symptoms to look for? These are signs of a concussion.
Why do parents worry about a head injury in children?
When should kids go to the ER for head injury? A parents worst nightmare is if their toddler hit back of head on tile floor. A head injury from a small fall is usually quite mild, but we are all terrified of a traumatic brain injury and just want peace of mind that our child is fine. Here's an infographic sharing more information about brain injuries, including concussion symptoms.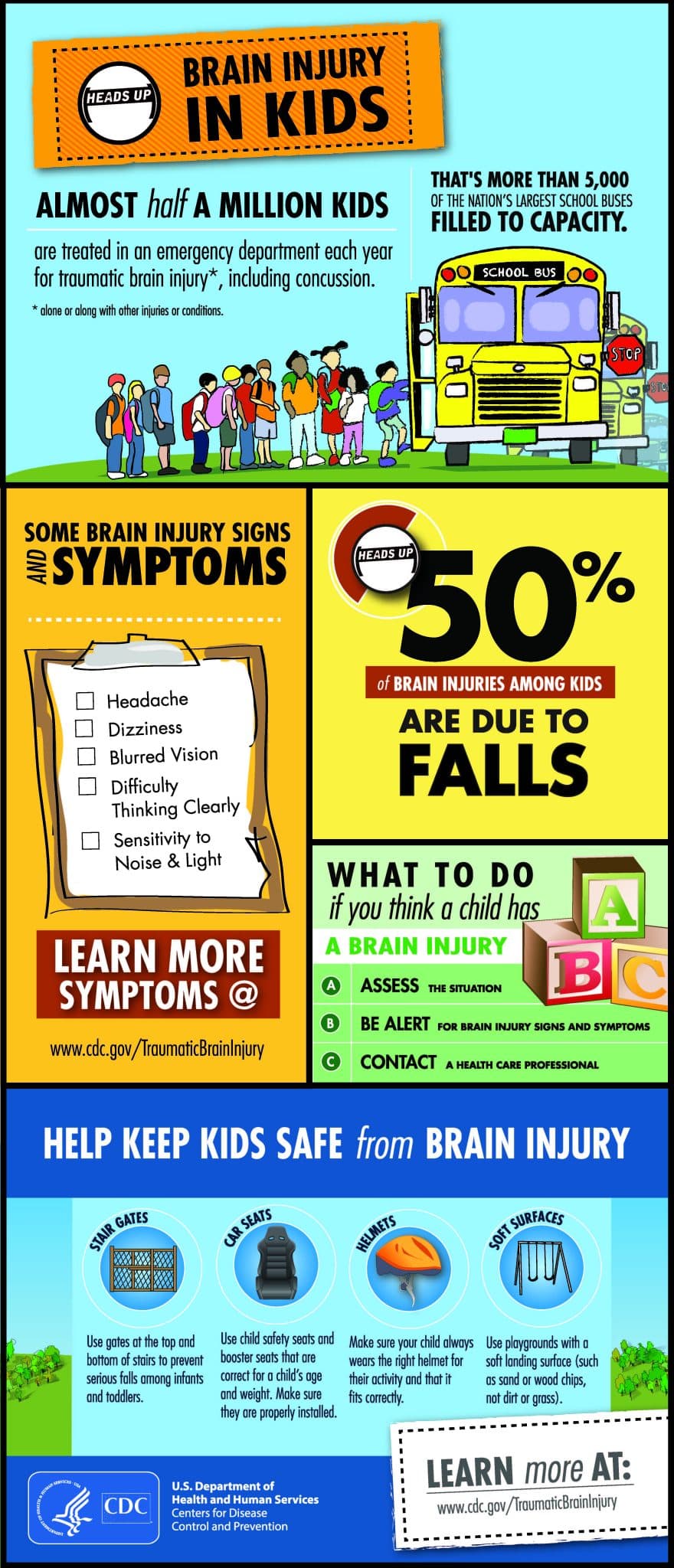 So what happened with our toddler head injury and goose egg?
The staff at the ER asked us a series of questions, to describe the event, and specifically how far did he fall and how fast did he get back to normal. The doctor then turned off the lights and performed a neurological exam, which simply means he shined his light into my son's eyes and made him follow the light by looking in certain directions.
An hour later the doctor repeated the procedures, said the child is fine and sent us home with our goose egg. We asked if he was fine to go to daycare the next day and have splash pad and gymnastics class, and the physician said that should be fine if his condition remains the same.
They told us a fall from a chair isn't that huge of a concern as far as injuries go – they are more concerned if the child falls from double their height and sustains a head injury. They also said a child that is dazed or in shock for less than a minute is normal for a mild head injury.
They told us head injuries are very common and often mild. They said it is rare to see a worse injury than a bump, but it is important to observe a child after a fall to make sure no changes in their behavior occur. A CT scan or x-ray is not recommended in these cases of mild head injury.
This part is important – I'm sharing it from the packet they gave us in our discharge documents. They said to continue observing him and see if anything changes.
What to look for after a head injury? Here's more head injury advice.
I found this great video that explains the different levels of head injury and what to look for.
The bottom line is this: is your child acting right? If the answer is no, seek medical attention.
Have you experienced an ER visit due to a head injury in children?
Conclusion
The dreaded moment every parent fears – their toddler taking a tumble and hitting the back of their head on a hard tile floor. It's enough to make any parent panic and rush to their child's side in an instant. While accidents like these can be terrifying, it's important not to jump to worst-case scenarios right away.
First and foremost, ensure your little one is conscious and alert after the fall. Watch for signs of nausea or dizziness, but don't forget that toddlers can have quite a resilient nature. Keep an eye out for any changes in behavior or unusual symptoms that may arise in the hours following the accident. It might give you some peace of mind to contact your pediatrician just in case, as they will likely have some guidance or recommendations tailored specifically for your child.
Remember that kids are incredibly adaptable and tend to bounce back from minor incidents remarkably well. However, it is crucial to monitor them closely and trust your parental instincts throughout the recovery process. Lastly, try not to beat yourself up over what happened; accidents happen even under the most watchful eyes!
Join the Working Mom List
Join the Working Mom collective and get support and tools to help you thrive! Subscribers get access to my library of resources and printables.