If you're looking for Halloween pasta recipes, here's one you might like! This is a spin-off on a monster spaghetti recipe since I'm not using spaghetti but a different type of pasta. You can turn pasta into so many fun Halloween pasta shapes! Hope you enjoy this Pesto Monster Pasta dish!
You know I love all things Halloween. If you don't, like if it's your first time here: hi, I'm Julie and I love Halloween. If you have been here before, you also know I'm a busy working mom, and also usually too lazy/exhausted/overwhelmed to make things extra perfect. I'm also not the best housekeeper or homemaker and definitely not the best chef. This is why my slow cooker and Instant Pot do all the work for me, saving my sanity and mental load. But I do also like making other simple fun meals that require few steps to put together and fewer ingredients! Here I'm sharing a fun and easy treat – Halloween Pasta Monsters with Pesto!
*I received this product for free from Moms Meet to use and post my honest opinions. Compensation for this post was provided and this page may contain affiliate links.
As part of this sampling program, I got to try out a jar of Barilla® Creamy Genovese Pesto. I love Italian flavors, and pesto, so I was excited to try this product and make some monsters. This pesto is creamy and so smooth. I loved tasting the basil and cheese flavors and it tasted wonderful mixed in the pasta.
My idea was to make some easy to cook Halloween pesto pasta, flavor it and turn it green with delicious pesto, and serve it up with some additional food garnish to make faces. Today I made two lunches – one for myself and one for my son.
Halloween pesto pasta – Make Monster Pasta with Pesto
Ingredients:
6.2 oz jar of Barilla® Creamy Genovese Pesto
1 lb box of Barilla® pasta (we used Rotini)
Babybel cheese (for eyes)
Blueberries (we used dried blueberries, for eyes)
Crackers (we used Wheat Thins) for teeth, horns, hair
Directions
Cook rotini pasta. Boil water, add Barilla® Rotini pasta to boiling water, and boil for 7-8 minutes. Strain.
Add cooked pasta to a separate bowl and pour in your jar of Barilla® Creamy Genovese Pesto. Stir. Keep stirring.
Now you have your green monster pasta, and you can get to work making the faces.
I started with my son's plate, and with the pasta super fresh and soft, I made a circle to fill his round plate.
Then I cut a Babybel cheese the long way, creating two eyes with a flat edge, and placed that on the pasta.
I put down the dried blueberries for the pupils.
Then I cut up some Wheat Thins for teeth and hair.
For my plate, I mixed it up a bit by laying the monster pasta on top of a bed of greens.
Then I repeated the monster-making game, changing up what I did with the eyes (well I made one eyeball with two pupils for funsies) and the hair.
I also added cucumbers around the body for weird legs. Because I wanted cucumbers on my pasta salad.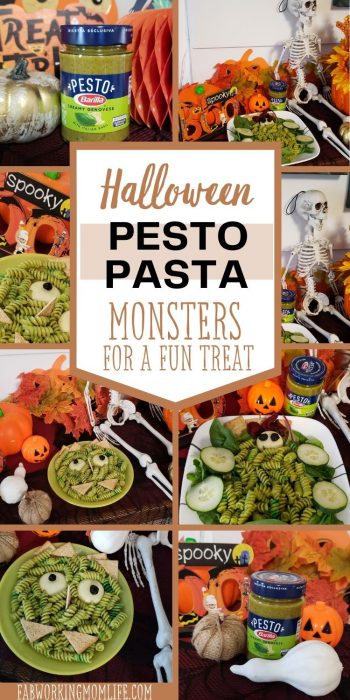 About Barilla® Creamy Genovese Pesto
Barilla Creamy Genovese Pesto is a flavor-packed, versatile, and convenient pantry staple that satisfies cravings for Italian food.
Imported from Parma, Italy, it's made with fragrant Italian basil and freshly grated Italian cheese.
Creamy Genovese Pesto has a creamy, smooth texture and savory taste, making it ideal for stirring into pasta and grains, spreading on sandwiches, marinating meats and vegetables, or using it as a dip.
To preserve the natural color of basil and the fresh aroma of Italian Cheese, Barilla minimizes the handling of ingredients and rapidly prepares their recipe in as little as three hours from the start of ingredient preparation to the tightening of the lid.
With Creamy Genovese Pesto, a little goes a long way; one 6.2-ounce jar of pesto mixes well with 16 ounces of pasta.
Barilla Creamy Genovese Pesto is a versatile product that can be used in a variety of ways and does not need to be heated before use.
Which Barilla pesto personality are you? I'm the new traditionalist.
Fun Facts about Pesto
Pesto is a sauce that originated in Liguria, Italy.
The first pesto recipe appears in "Genoese Cooking" by Gio Battista Ratto and his son Giovanni, which was first published in Genoa in 1863 (Source)
Says Wikipedia, Pesto is the past participle of the Genoese verb pestâ (Italian: pestare), which means "to pound" or "to crush" in reference to the original method of preparation. According to tradition, the ingredients are "crushed" or ground in a marble mortar through a circular motion of a wooden pestle.
Pesto is "a meal for today" as it is normally bought and used on the same day: 66% of shoppers consume pesto after three hours of purchase.
I'd love to see what you come up with, so share your pesto pasta monsters with me!
Check out more Healthy Halloween Treats for Kids!
Join the Working Mom List
Join the Working Mom collective and get support and tools to help you thrive! Subscribers get access to my library of resources and printables.