You and your partner have decided to start growing your family, what an exciting time it is in your life. From baby showers, to designing a new nursery, to baby-proofing your home, there is a lot of preparation that needs to be done. But no worries, getting organized and having an idea of what you need to do before the arrival of your little one will set you up for success!
Below are some tips and tricks to help you prepare for growing your family.
Get Your Finances Under Control
A stressor that can come from growing your family can be related to finances. Having your money matters under control will give you peace of mind and a roadmap when financial situations get sticky. A great way to combat this is to evaluate your current budget and research the costs of new items you'll need to factor into it.
Consider dabbling in money management strategies such as the 50/30/20 budget, zero-based budget, calendar budgeting, or the paycheck budget. Looking into each budgeting method will help you find the best strategy for you and your family.
Try your best to pay off any credit card debt you may have. Doing this will allow you to have a fresh slate and can help improve your credit score for situations that you may need to think about such as applying for loans, a home, your new parent car, etc.
While thinking long-term, you'll also want to get an idea of price points for child care down the road. Not only that, but factoring in costs of formula, food, diapers, and clothing as they continue to grow in that first year. Once you have your finances in order, you're going to want to evaluate your current living situation.
Evaluate Your Current Living Space
Adding a new family member to the mix could make you realize that maybe your current residence isn't big enough and that you need more space. Ask yourselves, do you need to consider a move? If so, make sure you have an idea of what you need to do before putting your home on the market and purchasing a new one.
When looking for a new home take into consideration how much house you can afford, the school districts in your area and the safety your neighborhood provides. Knowing how much house you can afford before beginning the buying process will allow you to set a firm budget before looking at homes.
If you're already in your forever home that has lots of room for growth, you'll probably only have to make some minor updates. For example, cleaning out the spare room to transform it into a nursery. If you already have a little one running around who has outgrown their nursery, create the perfect toddler room by upgrading their space. Whatever it may be, give yourself as much time as you can for these upgrades to limit stress that could be caused by a move or home renovation.
Prepare Your Family
Growing your family comes with a lot of changes, especially when it comes to your family dynamic. It's a good idea to introduce your little one to the idea of having a sibling. Having conversations about what this means for them and incorporating some bedtime stories to prepare them for a sibling are good ways to get them ready for what's ahead.
Having a solid support system will also be helpful during this time. It's a good idea to lean on them when you need an extra hand to ensure you and your partner don't get burned out. Figure out a solid group of people you can have on call. Chat with them to find out if they'd be comfortable and available to be your family's emergency contact. Then make a list of those individuals whether it be family or friends. This is a smart way to be prepared and have help on hand when unexpected events happen or if you and your partner just need a night out.
As your family grows, you and your partner may have less time to spend with just one another. Make sure that you still make your relationship a priority and set days during the week or month that you devote to having a night out with one another or where the kids spend a weekend with their grandparents or aunts and uncles (your support system). This will allow you and your partner to continue to grow your relationship and have some relaxation time.
Don't forget to have designated family time. Maybe this consists of family dinners, going to the movies together, or going on a family trip. You could also implement 1 on 1 time with your kids. This will allow you and your partner to grow your bond with your little ones.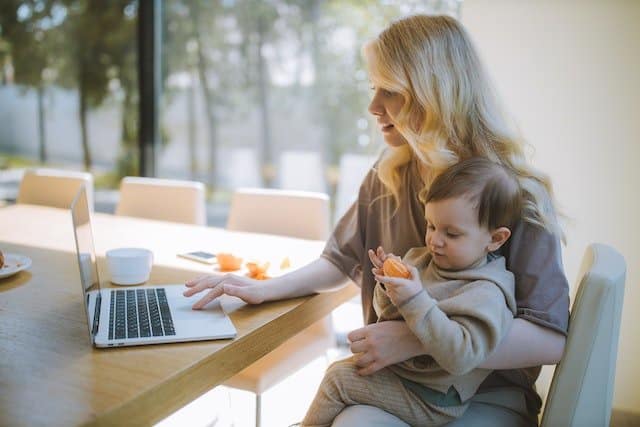 Set Up a Game Plan for Balancing Family and Career
It's a good idea to plan for when maternity and paternity leave ends. Balancing your family and career can come with some trial and error. But, in the end, you'll be able to find your rhythm and integrate both into your life flawlessly.
There are various questions you'll want to ask yourselves:
Will both parents be working from home for a little while after?
Will someone have to travel to the office? Will both of you need to?
Who will watch the kids? Do you need to plan for child care or a nanny?
When will your days start, and when will they have a hard stop?
Keeping these questions in mind and preparing for them ahead of time will allow you to set boundaries and have a game plan for any work situation. Maybe consider creating a family calendar that can help you all stay on track when it comes to family time and work events. Don't forget to ask for help. Burnout can happen at work and in your home life, so don't be afraid to ask for support when you need it the most.
Continue to chase your work goals and make new ones. Just because you've become a parent doesn't mean you have to change your career or become a stay-at-home mom or dad. Although life may be busy at home, it's always important to keep your hopes and dreams in mind when it comes to your career.
Again, growing your family can be a very exciting time. Having a roadmap and guide to follow allows you to feel ready for any life event that may occur.
Join the Working Mom List
Join the Working Mom collective and get support and tools to help you thrive! Subscribers get access to my library of resources and printables.