It took me a long time to understand sensory and I didn't realize my son was a sensory seeker until a doctor told me so. It explained why my son was always hands-on with people, was constantly squeezing his hand in the door, and other strange behaviors.
I started focusing on sensory seeking toys and activities to provide sensory input for my hyper child and that has helped us tremendously. Here I am rounding up some great sensory toys and sensory gift ideas that make wonderful presents for kids and are toys that parents are happy to let their children have.
Searching for toys for sensory seekers? Check out this gift guide for sensory toys for toddlers!
Please note that I may be compensated for sharing some items on my gift guides, but opinions and the decision to feature the items are my own! Affiliate links are used to share these products with you, providing me a small compensation should you make a purchase, at no additional cost to you.
Sensory Seeking Toys: Gift ideas for Sensory Seeking Children

24 Pcs Fidget Pack, Fidget Toy Set for Boys, Sensory Toys for Autistic Children, Stress Toys, Fidget Toys for Adults, Anxiety Relief Toys, Stress Balls, Fidget Spinner, Marble Mesh & More
These sensory toys are perfect for a child with active hands who enjoys tactile sensations, such as pulling, bouncing, squeezing, and squishing.
Sensory Stretchy String Fidget Toys By SyPen These fun and therapeutic toys are especially great for autistic children and those with ADHD, OCD, or high anxiety. It's always fun to have kids play with stretchy strings, which can be pulled, twisted, and shaped, and then quickly revert back to their original size and shape.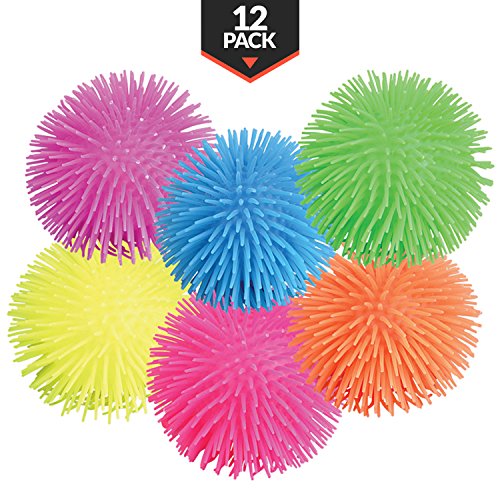 12 Squeeze Soft Large Puffer Balls, In Assorted Neon Colors I mean, you can never say no to playing with one of these puffy ball toys.
Kick Bands Bouncy Chair Bands for Kids – Alternative Flexible Seating Classroom Supplies for Elementary School – ADHD Sensory Fidgets for Classroom Chairs – Bounce Fidget Band by Solace (10-Pack) Oh yes! Put this on each chair the kiddo sits on to help with the fidgety energy and allow for more focus, at school, and at home.
PowerTRC Novelty Pin Point Impressions Pin Art (Metal) Well I just want to play with this pin point impressions art toy. Remember these from children's science museums as a kid?
Sensory Chew Necklace for Boys & Girls – Kids Chewelry for Autism ADHD Oral Motor Chewing Biting Teething Needs by Solace. Sensory seekers tend to want to chew on things (clothing, toys) and giving them an item they can always have with them and chew on safely is brilliant.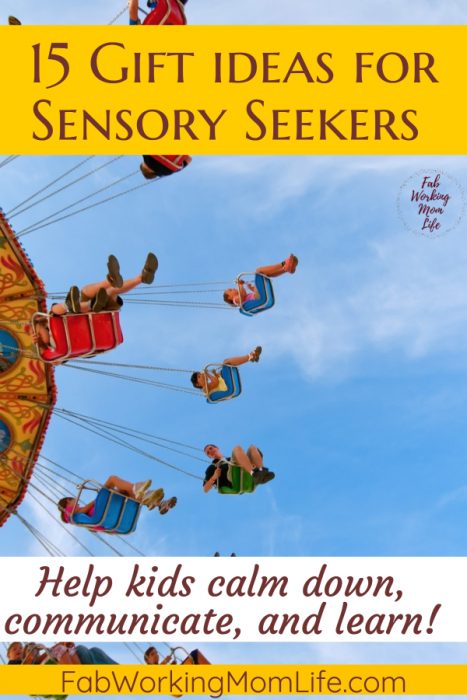 Sensory Toys that provide Proprioceptice or Vestibular Input
Bintiva 45cm Hopper Ball with Foot Pump Pink Oh wow! What a great hopping ball, bright and colorful and provides a lot of sensory input.
Flybar My First Pogo Pals Jumper for Kids is a wonderful gift for busy and hyper preschoolers. My son got the frog Pogo Pal in collaboration with Flybar and it's so much fun! Also, my lovely readers can grab a 15% off code on Amazon (code: FlybarHol15).

Wiggle Seat for Kids:: Inflatable Wobble Cushion/Wiggle Cushion | Perfect for Classroom & Home. What a great cushion for little hyper tushies!
Milliard Anti-Burst Peanut Ball Variety Pack – Approximate Sizes: Green 39×20″ (100x50cm) & Blue 31×15″ (80x40cm) Physio Roll These peanut balls are great for use in therapy to help kids with gross motor strengthening, balance and stabilization of the core.
Child Pod Swing – Indoor Sensory Hammock – Including All Hardware Accessories – Includes Removable Cushion. A sensory hammock and swing to help contain and soothe a hyper child is a must have! I love these in kids gyms!
SENSORY SURF BOARD / SCOOTER BOARD This Floor Surfer is a roller board for play and therapy and is a sensory seeker's dream come true. (Hint hint for Grandmas)
WEIGHTED BLANKETS are wonderful for support for sensory input, and these come in fun patterns too!
Little Tikes 3′ Trampoline. I think jumping is my son's favorite thing. He would spend hours on one of these. (Another hint)
Got any other ideas I should add to my sensory toy wish list?
Looking for proprioceptive input toys and other ideas for sensory toys for toddlers? You've got to check out my gift guide!
Join the Working Mom List
Join the Working Mom collective and get support and tools to help you thrive! Subscribers get access to my library of resources and printables.