Toddlers are silly creatures, and we can best learn about their mannerisms and interests when observing them in their natural habitat. Sometimes they do funny things that we adults might not understand, and yet we sure have a chuckle at them. They do get obsessed with some of their favorite toys for toddlers. Is your toddler taking toys to bed? Sometimes my toddler sleeps with toy cars. Oh well. So if you find your toddler sleeping with weird objects, don't be alarmed.
Here is one opportunity to share a chuckle while we explore what funny items toddlers want to sleep with, in their beds.
Random Items My Toddler Takes to Bed
My son sleeps in a full-size bed now. He went straight from crib to a big adult human bed, since we never had a true toddler bed and didn't see the need to buy extra furniture. So what I'm saying is, he has a lot of room. He likes to use this space wisely, or should I say, there are things he demands go to bed with him. He loves to have all his toys in bed! This is of course in addition to his blanket and pillow. He's 3 now, so no issues with the bedding.
Truck – sometimes with dinosaurs on it (yes, a recent Christmas present)
Bus – absolutely most nights there must be a bus
Baby blankets and burp cloths
Hair ties or plastic bracelets *shrug*
Books – especially soft books or small board books
Sippy cup full of water
"Daddy bear" – a little bear dressed in Army uniform
Items other Toddlers Sleep with
A friend of mine showed me a photo of her son (just a couple months younger than mine) visiting Grandma for the weekend. Grandma had just gotten a Roomba and he was so obsessed with it that he took it to bed. Yes, a vacuum. I mean, if I had one I'd feel the same way *wishlist* so sure why not. That actually is what inspired this post.
I took to my blogging group and asked some fellow bloggers to share fun stories too. Here are some of their experiences with toddlers and sleeping companions.
Favorite toddler sleep toy – this seems to be the main category
Can a 2 year old sleep with a stuffed animal? Sure, after 12 months of age.
"When my daughter was younger, she slept with a Green Toys tea cup with a ball inside it. That weird phase lasted about 6 months!" – lessinthenest.com
"My oldest likes to sleep with a remote. Sometimes it's the TV remote, but lately it's the remote to his Christmas train and the remote to our outdoor laser lights!" – marcieinmommyland.com
"My middle child loved to sleep with a purse that always held a small princess figurine, one sock (not two), and her toy cell phone. If you asked why she needed such an odd assortment with her while she was sleeping, she'd say, "Momma, you just never know." – momgoesmental.com
"Her stuffed snowman, two dolls, a stuffed minnie mouse, tigger, her blankie & blanket, the book I read her before bed and then something random that's always changing. For a while it was a rubber dinosaur, then it was a plastic skeleton Halloween decoration. Lately it's been a toy hammer." -afrugaldesteny.com
"My son sleeps with all the giraffes he can find in the house
? which is a lot since he's obsessed with them. My girls sleep with their dragons. These have been in their beds since they got them. They each play a frozen song so we regularly hear "Let It Go" at odd hours." – thewanderingchaos.space
I suppose this boxing glove can count as a toy? – instagram.com/jacqueline__ana
Not pajama clothing or household items
"Mine has to have her feet covered when she sleeps, so if she's not in footie PJs, she sleeps in house shoes…which is super fun when they come off at 2 AM and wake her up. She also has to chew on the corner of a blanket as she falls asleep. Toddlers are so weird." – amberiam.com
"My daughter raids the linen closet outside her room and sleeps with towels! She also needs a couple books with her." – pigeonandthepeacock.com
"His new sleeping buddy is this sleeping bag-cum-travel bag." – gofamgo.com
"My 2-year-old used to pretty much hoard stuff in her crib. All day long, she would collect rocks, batteries, coins, library cards, etc. and throw them in her crib. And of course, her Curious George monkey and her baby doll." – homeinwonderland.com
"When my son was little I found his pyjamas on the bathroom floor in the middle of the night. I went to check on him and he was asleep, fully dressed, cuddling a bottle of shampoo with toilet rolls lined up along his pillow!" – autismkidsontour.com
People? Food? Sure why not
"My arm. My daughter keeps pinching and squeezing my arm all night. 'Mommy soft'
? Thank you but no thank you! I am very touch sensitive and really don't like it." – JeddahMom.com
"Now, those soft, squeezy stress balls. But at one point my older son wanted to regularly sleep with an apple or potato
?????" – everlearningeverlasting.com
So, in conclusion, toddlers are weird creatures who sleep with funny things. If your toddler collects random things it's totally normal and sometimes they just get obsessed with a toy or topic. Some people find their toddler obsessed with clothing tags. Others wi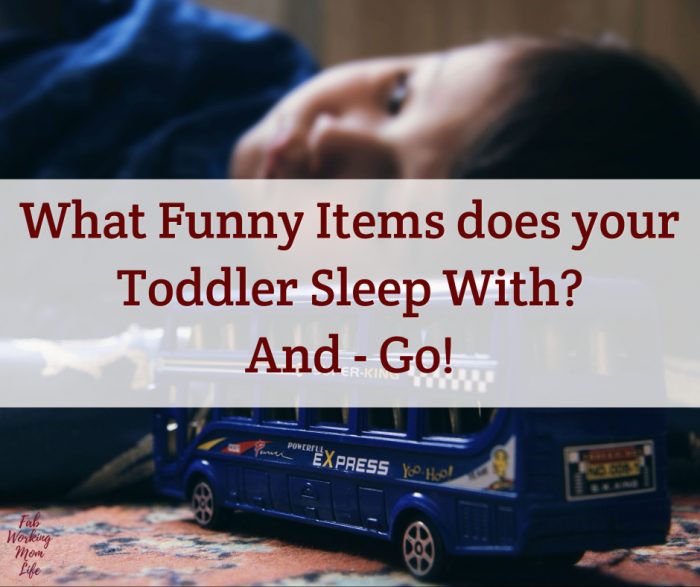 What do your toddlers take to bed with them? What weird things do toddlers do?
Here's an infographic that tells us how to have better and more restorative sleep.
Courtesy of Virginia Spine Institute
Join the Working Mom List
Join the Working Mom collective and get support and tools to help you thrive! Subscribers get access to my library of resources and printables.