Join me on a nostalgic journey for a minute and let's think back to our childhood. Do you remember spending time with your parents (and siblings if you have any) just doing something together as a family? Do you remember going to the park, or the zoo? Family vacations? Trips to the beach, or the lake?
I recall so many moments; vague as these memories have become over the years, I still remember the general feeling of family joy and bonding. I would love to create these types of memories with my family now as we grow together and enjoy this life.
The world we live in can get overwhelming – with busy job schedules, family responsibilities, budget constraints, and the surprises that life throws our way. Sometimes we just don't have the time or the energy to plan a family activity or do something meaningful with our loved ones.
But we know how important family time is, and so we keep adding it to our to-do list. Well, let's stop just wanting to do something with our families, and actually do this something. I know I struggle to come up with great ideas on my own, so I love when other talented bloggers, authors, and moms share their ideas and experiences with us!
I just finished reading this wonderful book called Frugal Family Fun: The Ultimate Family Resource with Over 300 Budget-Friendly Activities. 300 activities! Come on now; surely we can each find something to take away and be able to use with our families, right?
Frugal Family Fun contains ideas for any activity you can think of – indoor or outdoor, active or relaxing, educational, seasonal and holiday, and the list goes on.
I especially liked how the book guides you through making the decisions for family time as a family unit, and not as the parental unit. We are reminded to consider our family's unique make-up and needs, and consider how many activities we want to attempt. I suggest we start small and grow from there because shaking things up with a significant change can sometimes be difficult.
The great thing about the suggestions in the book Frugal Family Fun is just that – the ideas are budget-friendly. We don't have to spend a fortune on a family vacation to have a meaningful time and make special memories. Memories are made, and hearts are bonded over shared experiences and emotions.
Synopsis:
Build bonds with your family that will last a lifetime. Discover activities to draw your family together and get them excited about outings and trips. Find out how to make your family beg to spend time together. Use this book to work towards making your family into the image you hold in your mind of a perfect family – all on a budget! This intensive resource has every kind of fun and frugal activity that you and your family will enjoy. You will never hear "I'm bored" again.

This book is for any parents that want to build bonds with your family that will last a lifetime. If you want to spend more quality time with your family at little or no cost, then you are in the right place.

Author Q&A –

What advice would you give families that struggle with family members that don't want to participate in family events?
The best thing that you can do to get all of your family members excited about family activities is to let them be part of the decision process. Everyone wants to feel that their feeling and opinions matter. By letting everyone help in creating a bucket list or agree on an activity you make them feel like this is their activity. It's no longer just something mom is making everyone do.

Families are so busy, how do you suggest that they find time to do activities together?
It is hard to find the time to do things together when everyone's schedules are free, but if you make it a priority you can make it happen. Schedule your family event way ahead of time or look for small periods of time that you are all together. Maybe before dinner one night, everyone plays a game together for an hour. Maybe on Saturday mornings everyone makes pancakes together. You don't have to dedicate a lot of time to doing family activities as long as it is focused quality time and consistently takes place.

Author Bio:

Amanda Mawhinney is an author, trainer and family development coach. Her professional passions are helping women to develop themselves and helping families to connect and build stronger bonds. Her blog, My Koala Pouch is where she writes about creating healthier families and fun activities for kids and adults.

My Koala Pouch Blog | Twitter | Pinterest | Check out Frugal Family Fun on Amazon
Join in on the Frugal Family Fun launch party, going on all week!
To help you out in planning your family activities, I made you a present! Check out this lovely little monthly activity planner. You can fill in the dates and decide what you will do and when. Bonus points that you can use it for other family events, appointments, etc. and hang it on your fridge!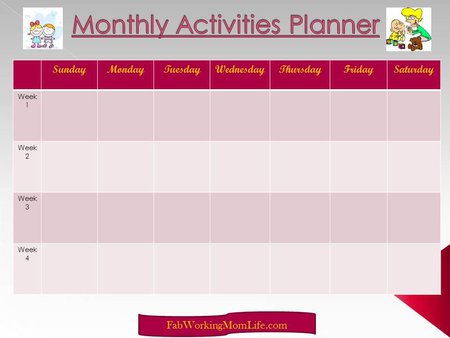 Grab your Monthly Activities Planner
Join the email tribe and we will send you this monthly activity planner right away!
Grab your Monthly Activities Planner
Join the email tribe and we will send you this monthly activity planner right away!
What fun and frugal activities will you enjoy with your family?
Join the Working Mom Tribe
Join the Working Mom Tribe and get support and tools to help you thrive! Tribe members get access to my library of resources and printables.