How did you announce your pregnancy? Did you do something fun on social media? Did you throw a surprise reveal for your husband or parents? Here is a collection of great pregnancy announcement ideas!
Enjoy this list of baby announcement ideas both virtually and ways to announce pregnancy to family in person.
Pregnancy announcement to husband
These are some fun and romantic pregnancy announcement ideas for husband.
Your husband should definitely be the first person to know when you announce the pregnancy. I didn't do anything creative for him but wish I had done something fun. Here are some really cute ideas for breaking the news to your husband that you are expecting.
If you're looking for funny pregnancy announcement ideas to your husband, this "My boys can swim" mug is perfect! SUCH a funny pregnancy announcement to husband!
You're going to be a Daddy reveal pregnancy announcement cards are cute.
Gift Daddy to be this tee! Or this one! Great ideas for pregnancy announcement to husband.
I love this scratch-off pregnancy announcement! The only thing better than having you as my husband… check it out!
This check-list honey-do list is brilliant.
If you happen to be announcing your pregnancy to hubby during the holidays, a gift such as this one is perfect.
Pregnancy announcement ideas for grandparents
This is your list of ideas for pregnancy announcement to parents.
When I told my parents I was pregnant, I just sent a snap of the ultrasound. I do wish I had been more creative at the time. Here are some fun ideas for letting your parents in on the excitement of your pregnancy.
You can always have the grandparents-to-be open a surprise gift that reveals the pregnancy. Here's a great one for announcing your Dad is going to be a Grandpa. And this one, only the best Moms get promoted to Grandma – love it!
This adorable throw pillow with the message that the best parents get promoted to grandparents is great!
This set of baby booties with cute rhyme are a great way to let your parents know they will be promoted to grandparents.
If you're looking for some cute pregnancy announcement shirts, here are some you can wear to someone's house and wait until they notice it. Something like this: a cute tee that says coming soon.
Also a fan of this mamasaurus tee!
This baby shark due due due date onesie is perfect for sending to someone in the mail or opening in person.
Ways to announce pregnancy on social media
These are all digital files you can use as pregnancy announcement ideas for Facebook and Instagram. I love all these options for pregnancy announcements from Etsy!
This is a lovely digital baby announcement with a Valentine's day theme, perfect for sharing in February. It has a cute onesie and a "love is in the air" message.
Here's another super cute digital Valentine's pregnancy announcement with a sheep.
I love this digital woodland pregnancy announcement!
This Rainbow baby announcement is so perfect!
I also really like this IVF baby social media announcement.
Of course, you can't go wrong with fun letter board pregnancy announcements!
Pregnancy announcements with siblings
It's super cute to have an older sibling announce the pregnancy. Here's a great idea.
This only child expiring is hilarious.
Pregnancy announcement with dogs and cats
OOh I love this one!
Dog and letter board pregnancy announcement for the win!
I wanna hear what you did to announce your pregnancy. Share it, Mama!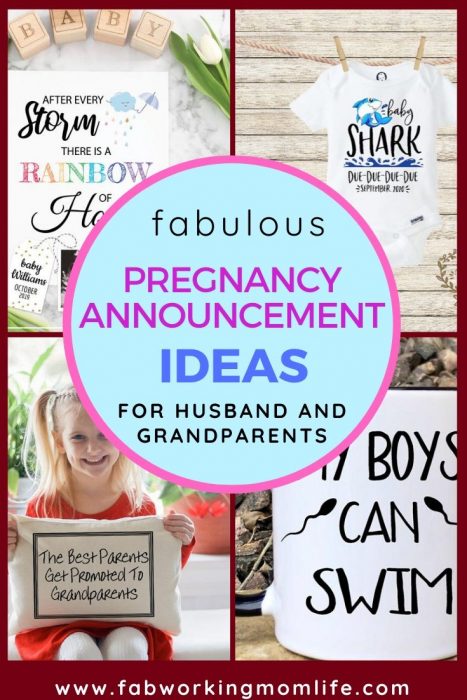 Join the Working Mom List
Join the Working Mom collective and get support and tools to help you thrive! Subscribers get access to my library of resources and printables.