This #HoneyNutCheerios #NuestroCereal Dia de los Niños campaign was sponsored by General Mills Big G Cereals through Acorn Influence. All opinions are mine. Enjoy this awesome edible dirt sensory play activity!

Children are an absolute joy to watch play, and it is so much more fun to engage with them in a fun activity. I recently learned about the Día de los Niños holiday, and I think it is brilliant! Why not have a special day to focus on children and their fun learning experiences while making memories. Sure, we strive for that on a regular basis, but how special is it to have a holiday just for the children.
My sweet baby is definitely a toddler now, and at 18 months, he can start getting involved in our kitchen activities. He has already shown quite a bit of interest in what we do in the kitchen, though usually we have to move him to a safer place if the stove is involved. For this fun children's day treat, I wanted to make a treat that he not only would enjoy eating but also could enjoy helping me create. Time for a fun edible messy play activity!
I decided we could make dirt cake together, and enjoy some sensory play at the same time! My baby is all boy, after all, and what little boy doesn't like to dig around in the dirt? So we dropped by our local Walmart to grab our ingredients. We picked up a huge Family Size box of Cocoa Puffs cereal so we would have plenty of cereal for our play and more to eat. Keep reading for our play dirt recipe. This makes a great edible sensory bin.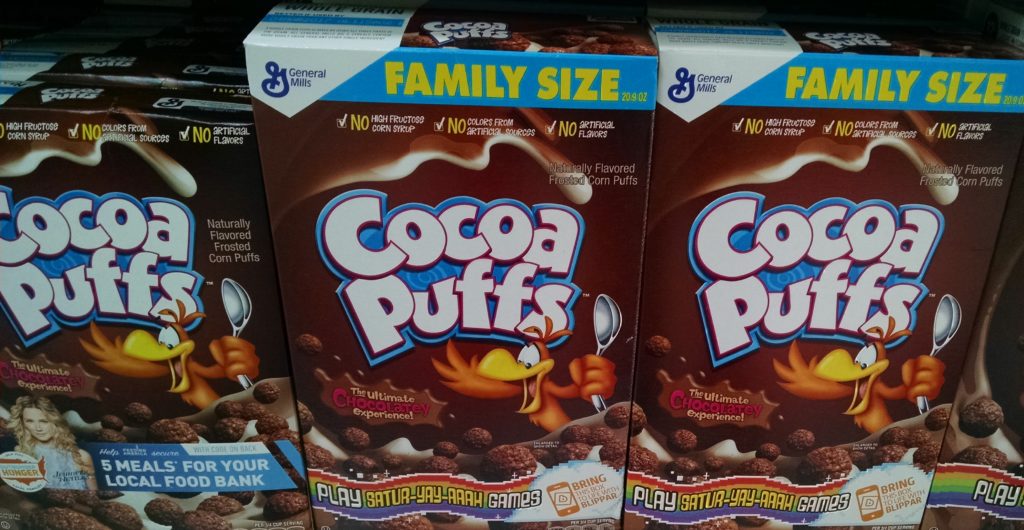 This day was even more of a special treat because Master H got to try Cocoa Puffs for the first time! I have avoided chocolate cereals previously due to Baby H's insistence on sharing his snacks with our dogs. But now my little man is getting more aware and, with careful supervision, can learn what treats are OK for dogs and which ones are not. We can find a learning opportunity while having fun and making memories, and that is what life with littles is all about.
I've said before that I love recipes with 5 or fewer ingredients and steps. This one is no exception, so a fantastic choice for our sensory fun and snack. Hurray for an edible sensory play recipe that's so easy.
Ingredients for Sensory Play with Edible Dirt
Cocoa Puffs cereal
Yoplait vanilla yogurt
Instant Chocolate Pudding
Milk
Gummy worms
See what I mean? Five simple ingredients. The amounts will depend on how much you want to make. I ended up making a full cake, part of which was separate for our sensory play and the rest I brought to a cookout potluck. I made one batch of chocolate pudding (the box made 3 cups) and used the entire 2-lb yogurt container.
Making the edible dirt was easy as well, and Master H helped. This is where the sensory play came in, and we both had a blast making memories while preparing the snack.
Directions for Sensory Play with Edible Dirt – how to make play dirt
Step One: Make chocolate pudding per package instructions. To make the 3 cups of pudding I needed 3 cups of milk, and one entire package of the instant pudding mix. Beat with a whisk for 2 minutes.
Step Two: Mix yogurt into the pudding. Stir until even.
Step Three: Refrigerate for at least 30 minutes to let the flavors set. I found it best to place the mixture in the serving dish.
Step Four: Crush up your Cocoa Puffs cereal. We did this by pouring cereal in a gallon-size zipper bag and smashing it with a serving spoon. Master H got to play while helping me crush the contents of the bag! He did quite well getting us started with some crushed up cereal, and I smashed up the rest.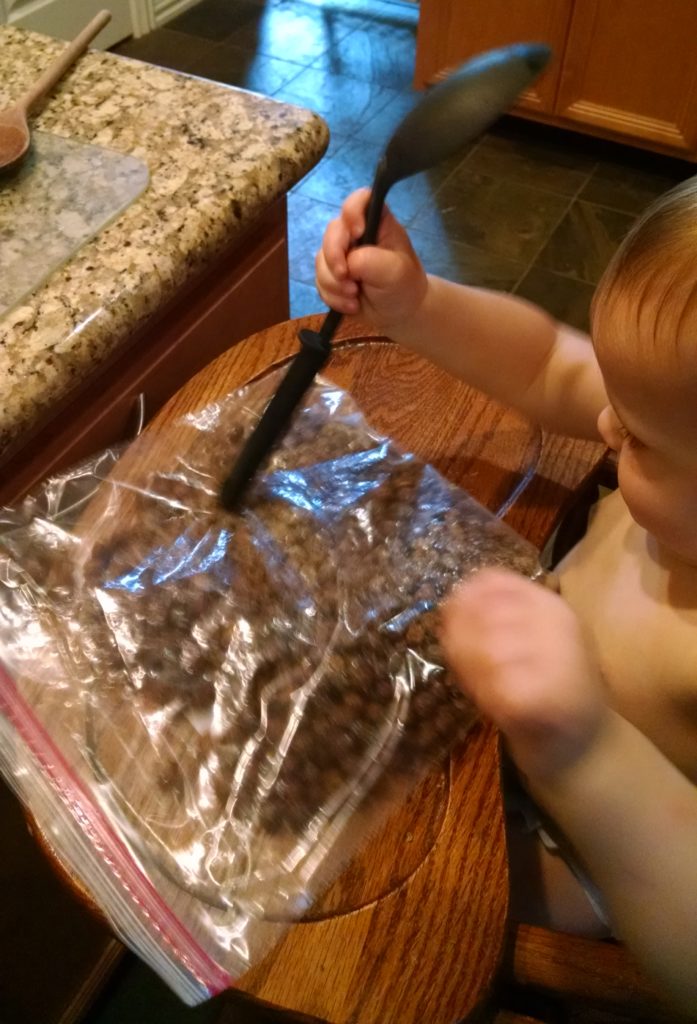 Step Five: Sprinkle crushed up Cocoa Puffs to make a layer of dirt, then arrange some gummy worms.
See? Five steps! You can even do all the other steps and refrigerate the entire dish once prepared. I did that with the main dirt cake I made for the potluck.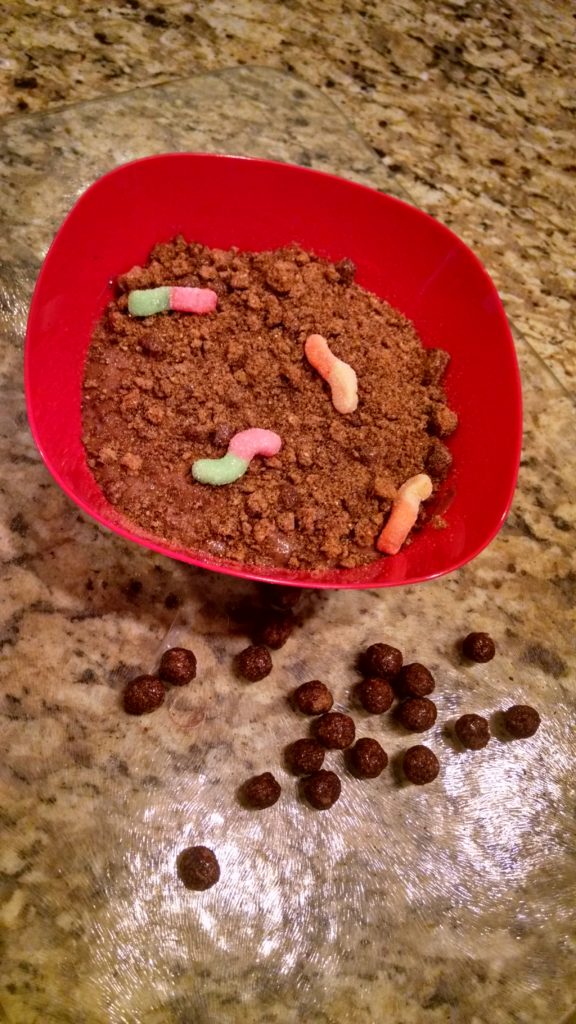 Now that our snack was ready, it was time for the sensory play with edible dirt activity. I got Master H in his diaper and a bib because I expected him to have some messy fun times. I figured he would enjoy digging in the edible dirt to find the worms, then getting to eat the worms and the dirt. I wasn't wrong! He certainly had some fun. Check out that pincer grip!
Master H immediately went for those worms like he had done this activity before (this was our first dirt sensory play activity).
Look at those sweet little fingers getting those worms! Master H enjoyed digging in the dirt, and I enjoyed telling him about the dirt and the worms and just watching him play.
As for the dirt cake that I made for the potluck? It came out quite lovely if I do say so myself.
What fun memories can you cook up with your favorite Big G cereals?
Check out the Día de los Niños Pinterest Board and visit QueRicaVida.com for more inspiration and recipes you can make for your kids around this fun holiday.
Join the Working Mom List
Join the Working Mom collective and get support and tools to help you thrive! Subscribers get access to my library of resources and printables.