As parents, your children's safety is your primary responsibility. And you want to protect your kids from every possible hazard at all times, so, you attempt to provide a guarded atmosphere where they can grow and flourish. While you frequently focus on physical safety precautions, it is critical not to overlook electrical safety at home for kids.
Don't worry, dear mommies & daddies! This blog post is here to make your home and world safer for your lovely small wonders. Keep reading till the end.
Let's Look at 10 Practical Tips for Electrical Safety for Kids
Inform Your Children About Electrical Hazards
When it comes to keeping your children safe, education is essential. Explain the potential risks of electricity to them. Teach children the dangers of placing things into outlets and the significance of not touching electrical outlets, wires, or appliances with damp hands. You can empower your kids to make safer choices by boosting their awareness.
Keep Electrical Appliances Dry
Water and electricity do not get along. Thus, keeping electrical appliances away from water sources is essential. Make certain that your children understand the dangers of utilizing electrical gadgets near bathtubs, sinks, or other damp surfaces. Instilling this behavior early on helps reduce electrical mishaps.
Protect Electrical Outlets
Children are inherently inquisitive, and they are always attracted to electrical outlets. Invest in electrical outlet boxes and covers to keep them away from the reach of your children. You can also install tamper-resistant outlets. These precautions at home keep your kids from placing things into outlets, lowering the danger of accidental electrical contact or shock.
Replace any Frayed or Outdated Wire
Wires and cables can fray, wear out, or get damaged over time. Such cables represent a substantial risk of electrocution or fire. Inspect your home regularly for evidence of worn-out wiring and replace them as soon as possible to safeguard your children.
Install Ground Fault Circuit Interrupters (GFCI)
GFCIs are electrical safety devices that protect against electrocution. In the case of a ground fault, they instantly turn off the electricity, saving your children and other family members from electrical shock. Install GFCI outlets where water and electricity are likely to collide, such as the kitchen, bathrooms, and outdoors.
Use the Appropriate Size Circuit Breakers and Fuses
Circuit breakers and fuses are essential parts of your home's electrical system. Ascertain that they are appropriately sized to accommodate the electrical demand in your home. Using the incorrect size might result in overheating and electrical dangers. If unsure, ask a licensed electrician to analyze the electrical need of your place and make changes if required.
Never Disregard Repeated Circuit Breaker Trips
If your circuit breaker trips frequently, it indicates a larger electrical problem, like overloaded circuits or damaged wiring. Avoid the urge to just reset it without first researching the issue. Contact a certified electrician immediately to identify and repair the problem for the sake of the electrical safety of kids and everyone else in your home.
Carefully Conceal Cords
Tripping hazards for both toddlers and adults can be caused by dangling wires. Keep cables hidden and out of high-traffic areas. Consider utilizing cord coverings or organizing solutions to avoid inadvertent tugs and pulls that might result in accidents or damage to electrical gadgets.
Always Unplug Unused Electronics
Leaving the gadgets plugged in when not in use can increase the potential for electrical risks. Encourage your children to disconnect items such as chargers, game consoles, and small appliances when they stop using them. This practice not only ensures electrical safety at home for kids, but it also saves energy.
Schedule a Professional Electrical Safety Assessment
It's always a good idea to seek professional advice when it comes to electrical safety. Make an appointment with a licensed electrician for a thorough electrical inspection. They check your home's electrical system to identify any risks. Based on that, they can recommend how to increase your home's electrical safety.
As you can see, you and other family members can work together to decrease the likelihood of an accident. When it comes to electrical safety for kids, a mix of education, monitoring, and proactive safety measures can go a long way. So, enjoy the naughty activities of your little bundles of joy without worry by ensuring their electrical safety.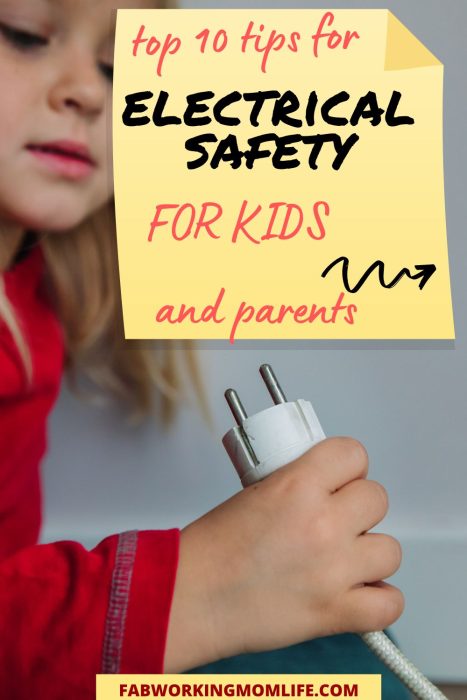 Author Bio
Jeson Pitt works with the marketing department of D&F Liquidators and regularly writes to share his knowledge while enlightening people about electrical products and solving their electrical dilemmas. He's got the industry insights that you can count on along with years of experience in the field.
Join the Working Mom List
Join the Working Mom collective and get support and tools to help you thrive! Subscribers get access to my library of resources and printables.