Older toddlers and preschoolers are in a very special part of their lives – everything is a toy, it is always playtime, and everywhere is an opportunity to learn. Being this age is so much fun, and learning through play is the best way to build young minds. What are the best toddler toys? Toys that help with toddler development of course! We love critical thinking toys for toddlers! Enjoy this collection of our favorite educational toys for toddlers and preschoolers.
Getting the best educational toys for preschoolers and toddlers also keeps them occupied longer independently as these are active toys that engage their imaginations and they don't get bored as quickly as with passive toys. So not only is the little one learning and benefiting, the mom gets a break, too. Win-win! I love finding the best learning toys for toddlers! They are also the best non-electronic toys for toddlers and preschoolers since they typically encourage open-ended play.
Here are some wonderful best STEM toys for toddlers and educational toys for 2-year-olds and 3-year-olds to help enrich the minds of toddlers and preschoolers while giving their little bodies something fun to do. Here are some of the best learning toys for preschoolers and toddler thinking toys.
This post contains sponsored and affiliate links. Affiliate links are used in gift guides to share our product recommendations with you. I will be compensated if you make a purchase after clicking on my links.
Educational Toys that Inspire Thinking
Educational toys that inspire thinking in young children are amazing. They are great for brain-building and as family activities (since they are also fun for parents). I'm sharing the best educational toys for toddlers here in this post.
STEM Toys
We love stem toys for 2 year olds and preschoolers here so here are some of our recommendations!
How about a KidyStars drawing board? My son loves this – he calls it magic 🙂
It's a fun drawing pad and it comes with fun space/planet and letter stencils. He loves the space part.

What is KidyStars?
It's a magic drawing board that stimulates children's creativity and distracts them from smart devices. KidyStars is designed for drawing in the dark with a LED light included in the package. Just turn it on and express your creativity on the board!
It uses a photo-luminescent PVC material in a frame, which quickly accumulates light from an artificial or natural light source and then glows for a while in the dark, gradually fading out. All components are absolutely safe for children.
Mochi Robot is a LEGO-compatible screenless coding toy for kids 3-6 years old. Mochi teaches children coding in a playful, hands-on way as they explore the universe and learn colors, numbers, letters, basic words and more!
My readers can use 10% off promo code- fabworkingmomlife10
Here's another STEM robot toy, and its' a train called Coding Express. One thing to note, I'd recommend rechargeable batteries for this guy. My son had a blast putting the stickers on the track and having the robot react, but it does require fresh batteries for best performance.
Robobloq Battery-Operated Smart Robot Toy Train, 22 Functions, Coding Toy for Kids, Compatible to Thomas & Friends, BRIO, IKEA, Melissa & Doug Wooden Tracks (Train)
---
Board Games and Puzzles
Board games and puzzles help build critical thinking skills. Plus, they can be fun to do together with our children! Love these best educational toys for 2 year olds! Here are some ideas.

---
Educational Toys for Building
Building toys, such as blocks, are wonderful for little minds and tiny hands. Not only do they help build motor skills, but these activities develop critical thinking as well. STEM for the win! We love these best learning toys for 2 year olds!
You know I'm a huge fan of STEM toys for toddlers. Check these out! These are gears like blocks in a rainbow of various shapes and colors to sort, count, stack, build & create with their imagination.
---
Educational Toys that are Active
Toys that promote movement and active playtime are great for tiny people. They not only help build coordination and motor skills but are also good for fitness. We love these development toys for 2 year olds to help stimulate their minds and bodies!
---
Educational Toys for Pretend Play
Pretend play is very important for tiny minds. They mimic us adults so much at this stage, and it is fun to watch them invent realities to act out. Toys such as play kitchens, dress-up, puppets, play medical kits, etc. are wonderful for preschoolers. These activities also help build language skills.
These learning tools for toddlers are also amazing for pretend play!
When it comes to finding the perfect toy for your toddler, you want something that will not only entertain them but also help with their development. These learning toys for toddlers are designed to do just that! From puzzles and games that encourage critical thinking to activity centers that get them up and moving, there is sure to be a toy on this list that will be perfect for your little one.
What do you think of these STEM and educational toys for preschoolers and toddlers? What are some of your favorite toys to stimulate your child's imagination and learning?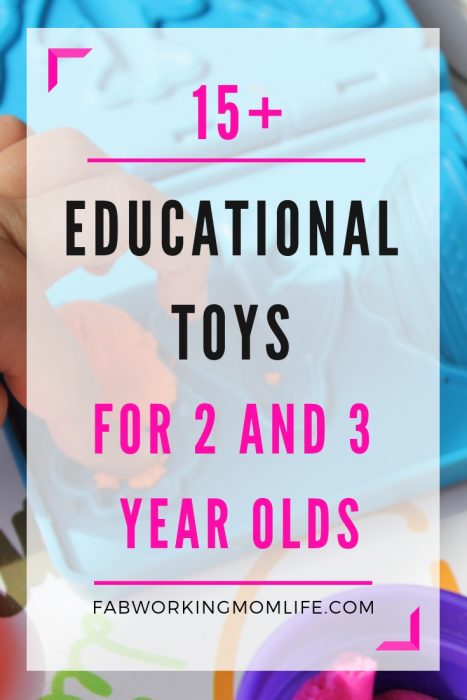 ---
Join the Working Mom List
Join the Working Mom collective and get support and tools to help you thrive! Subscribers get access to my library of resources and printables.