Toddlers are such curious creatures. Full of energy, everything they see is a toy, and they soak up their surroundings like a sponge.
They are at a perfect age to try new activities to enrich their minds, practice their skills, and learn something new.
This busy working mom is always on the look for simple, and I mean simple activities I can do with my toddler on weekends. Something fun to teach him a new skill or concept, but easy for me to put together.
This past weekend I came up with one such idea.
I have been hoarding collecting baby food pouch caps for a while as soon as someone pointed out to me that they were in different colors. That was an eye-opener since I didn't even notice (you know, mom brain), so once I got on board with that fun tidbit, I started saving them.
Now for the activity: color sorting!
What you need for a simple color sorting activity with your toddler
I took a muffin pan (since my tot seems to be a fan of it) and because I was too lazy to cut circles out of construction paper, I just twisted up pipe cleaners of various colors and placed them on the bottom of the muffin pan.
Then I helped him sort the caps by color, saying the color out loud and pointing to where it needed to be "filed" in the pan.
The use of tongs is an optional item for extra fine motor practice. Picking up the caps with the tongs to sort is more complex than simply grabbing the caps with soft, baby fingers. My toddler was more in favor of using his hands than using the tongs, but he did give it a try to put the pouch caps back into the box when we were done.
Verdict: a fun, enjoyable learning activity for a silly toddler.
Try it and let me know how your tot likes it.
Do you have any suggestions for simple, toddler activities we can try? Share them!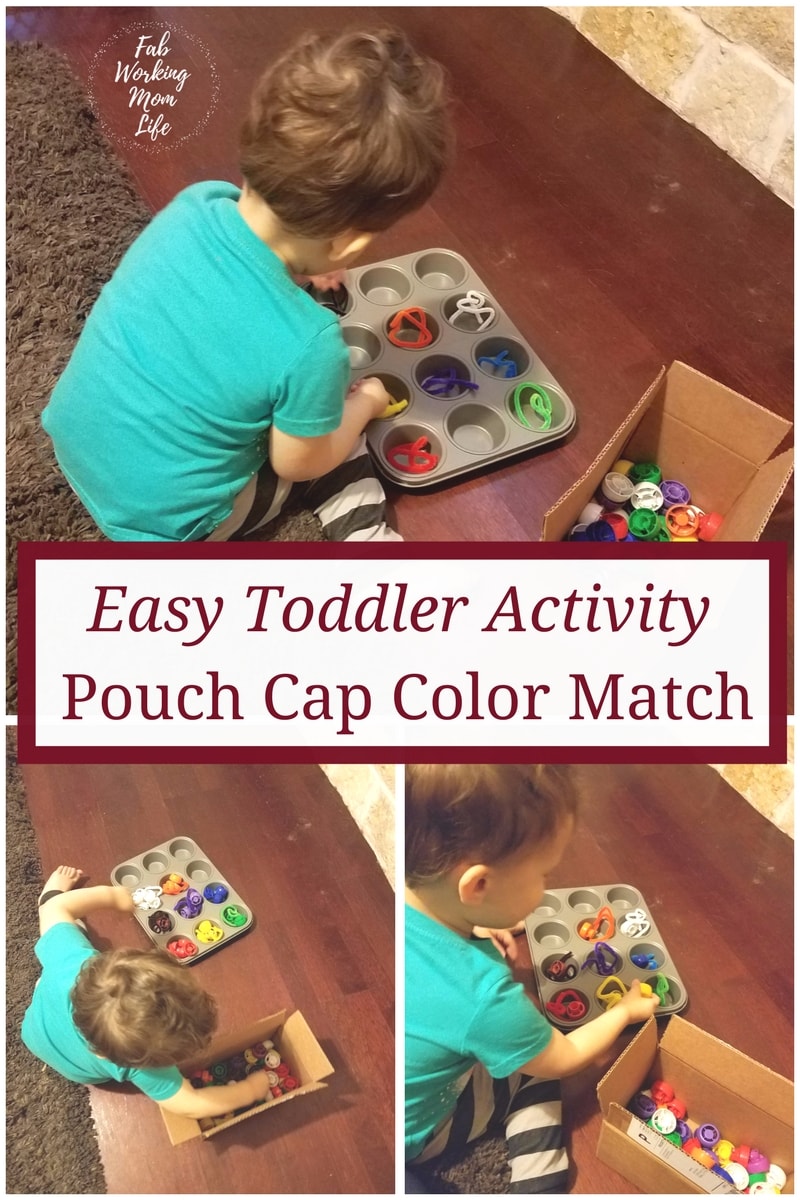 Join the Working Mom List
Join the Working Mom collective and get support and tools to help you thrive! Subscribers get access to my library of resources and printables.