Did you know that Grandparents day is fast approaching? It's often overlooked since Mother's Day and Father's Day is SO much bigger. But let's not forget these special people in our child's life! So if you're trying to find some easy grandparents day crafts, here's one idea for a grandparents day crafts for toddlers!
Grandparents Day Toddler Craft
My parents have a cat. Ok, we have a cat too. But my parents? They have a Maine Coon. HE IS GINORMOUS! And my son loves him! So I thought it would be super fun to make a cat craft card for Grandparents day since my parents are coming to visit this coming weekend for Labor Day!
Well when I asked my son if he wanted to paint a kitty, he was over the moon excited. I gave him two paper plates, one large one small. And he went to town. He's all about layering the paint. You know, so it all turns brown LOL. My husband has called it the camo paint look, after our Father's Day craft debacle.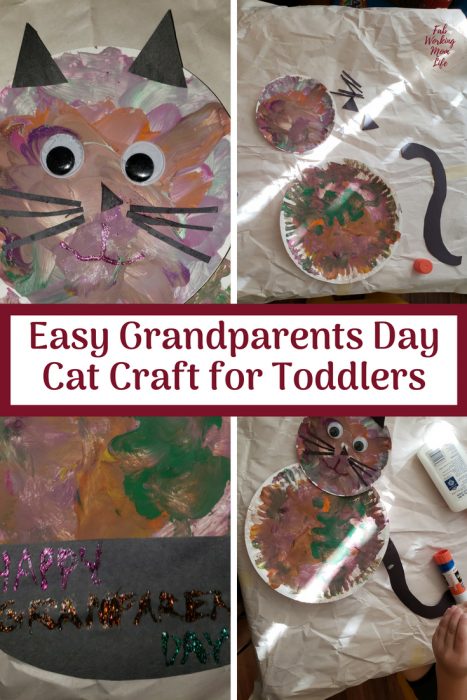 Here's how we did the kitty cat craft
Kitty cat crafts for toddlers are great options for grandparents day crafts for toddlers.
Supplies:
Paper Plates
Scissors (preschooler safe scissors if you want the kiddo to cut)
Glue
Newspaper or packing paper for a mess-free workspace
Steps:
I let my son paint the two paper plates to his heart's content, then we let them dry.
After the plates were dry, I cut some face and tail shapes out of black construction paper. The tail was fun, I had to trace that first – kiddo loved the tail. I did simple large triangles for ears, smaller triangle for the nose, and a few thin rectangles for whiskers.
And I brought out the large googly eyes.
Then I helped him place the items in their appropriate places with glue. First, we glued the smaller plate to the larger, to make the body and head together. Then we glued the tail to the back left side. Then when that had a chance to dry, we added eyes, nose, ears, and whiskers.
The preschooler enjoyed gluing down the items. When that was done, I pulled out the glitter glue tubes to make the mouth lines and to write "Happy Grandparents Day" on a scrap of construction paper, which I later glued to the bottom as a "card" or "sign" or whatever you want to call it. I also let kiddo put some glitter glue on the tail (remember how I said he really liked the tail?)
And there we go, simple and fun Grandparents day card made by the kiddo in a fun project.
Join the Working Mom List
Join the Working Mom collective and get support and tools to help you thrive! Subscribers get access to my library of resources and printables.