This post was sponsored by Power AirFryer Oven. All opinions are my own.
If you've been reading this blog a while you know I'm all about simple, really easy family recipes that can be put together quickly and have little fuss. I'm a working mom, I don't have time for fussy recipes. My toddler is fussy. I don't want my meals to be.
So I'm always interested in trying out various products and devices meant to make my life easier. This Power AirFryer Oven is one such device. I have never used an air fryer before, so this whole project was a fun experience and is making me want to try new, more adventurous recipes.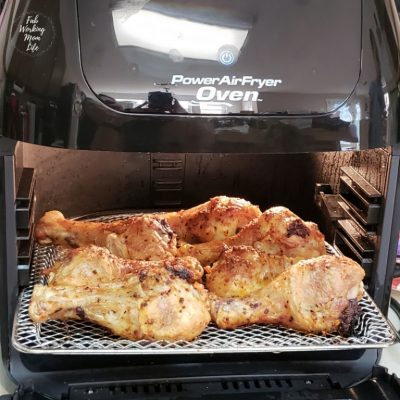 Why use an Air Fryer
First of all, look how sleek and pretty this looks. Yes, kitchen appliances can be pretty. This one fits nicely on the counter and can be put away in one of my kitchen cabinets without taking up all the space, so that is wonderful. I was a bit nervous when the giant box arrived, but the air fryer itself is a comfortable size.
The Power AirFryer Oven's 360-degree airflow technology allows you to have fried crispy foods without all the oil and grease. This product is an air fryer, rotisserie, and a dehydrator, and it can replace seven appliances, making it super easy to cook healthy and tasty family dishes.
It does come with quite a few accessories that I have yet to try. On my to-do list is making some fried zucchini and maybe some chicken nuggets for my nugget.
But let's go and talk about what I did make. We had a packet of chicken drumsticks in the freezer I have been wanting to cook, but we still haven't gotten a new grill after moving to this house. So when I asked hubby what he wanted to make in the Power AirFryer Oven, he was excited about the drumsticks.
Here is how to cook drumsticks in a Power AirFryer.
Start with your (thawed) chicken drumsticks – the rack holds 7. We used the deeper rack, not the flat one.
Paint some melted butter or ghee on the drumsticks. Then sprinkle with seasoning. We used Chipotle & Roasted Garlic on some, and some had Tony Chachere's seasoning for hubby.
Press the chicken button to cook, and cook for about 20 minutes. The chicken button will default to a longer timeframe but the drumsticks cook much faster. Check with a meat thermometer to ensure the correct inner temperature is reached (175° Fahrenheit).
For a more "fried chicken" feel you can add some breadcrumbs or Panko. I might do that next time.
There's your simple air fryer oven drumsticks recipe!
When the chicken was done, we cooked some corn on the cob.
We bought some corn on the cob that is already cut into pieces. I was able to fit 8 pieces on the rack.
Then we followed a similar pattern with painting the corn with ghee and adding spices. I used the same Chipotle & Roasted Garlic as well as Italian seasoning. This time I set the time and temperature manually to 400° F and 10 minutes.
So there you have it. Super simple. This is how I roll. And I added a side salad and hubby and I had a nice dinner. And since my toddler doesn't eat anything, we used the air fryer to make him a quick grilled cheese sandwich. I'll call this dinner a win.
---
Ready to try the Power AirFryer Oven out yourself? Great! Grab 5 free secret recipes for your new Air Fryer here! Personally, I can't wait to make the bacon & onion-wrapped filet mignon!
You can also use the following promo for a 20% discount: OVEN20H to get your own Power AirFryer Oven!
Looking forward to hearing about all the new recipes you make! Please do share them with me.
Join the Working Mom List
Join the Working Mom collective and get support and tools to help you thrive! Subscribers get access to my library of resources and printables.