We have a lovely stone fireplace in our living room, but it stopped being lovely when we realized our little one could really hurt himself if he fell on it. So my awesome hubby came up with a great DIY project to construct a bumper, and I helped a bit! Of course, he did all the hard work, I just helped hold the boards together and pick out the fabric. And take pictures along the way. Because #blogging. Here's our diy fireplace bumper.
How we made a bumper for our stone fireplace to keep our baby safe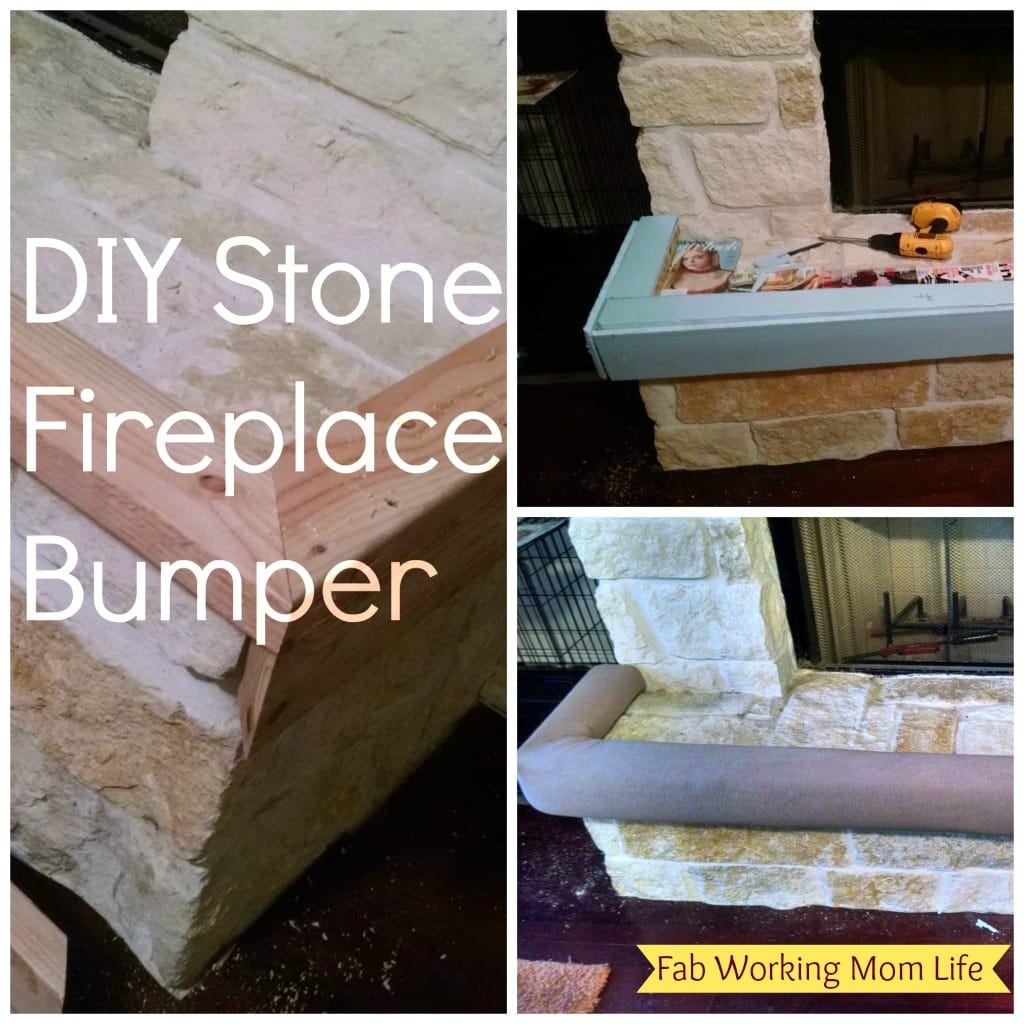 We started with measuring the fireplace (measure twice, cut once!) and gathering our supplies. We needed several two by fours, and of course hubby's collection of drills, long screws, drill bits, staple gun, air compressor, etc. We also got spray adhesive, Styrofoam as well as quilt batting for the padding, and of course, the final touch is the fabric.
His idea was to have the boards meet each other at an angle at each corner so they connect nicely. One board to go on top of the fireplace, and one to go parallel with the edge.
When hubby cut the boards, we would lay them where they would go on the fireplace mantle to confirm that everything fits well together. The initial step looks like this with the cut boards.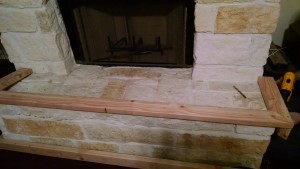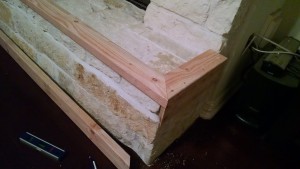 The next step is to connect them in place with a long screw. The first hubby used a drill bit to create a hole in the wood for the screw to go into. Then he made the top of the hole wider with another drill bit just so when the screw is driven into the board, the head would not stick out. Smooth is what we're going for here. I thought it was quite brilliant since I'm a complete novice when it comes to construction work. I helped hold the boards while he drilled in the screws and connected all the pieces on the fireplace. It made sense to construct this in place so that everything fits just right.
Sorry the pic came out blurry, I was helping and taking pics in between taking care of the baby. I didn't realize it was blurry until I uploaded the photos from my phone onto the blog via the WordPress app (which BTW is how I get most of my photos from my phone into my media library – yay for shortcuts).
Next, he measured and cut Styrofoam to attach to the boards for padding. Some spray adhesive is all that was needed.
When done, the whole thing looked blue hah! But wait, we're not done with the padding. At this point, the boards are covered with only one layer of soft padding, but it is now time for the quilt batting. So, we took it off to wrap the second layer of padding.
You can kind of see in this photo how it went around the sides and top of the bumper.
Finally, it is time for the fabric. We got one 4-yard stretch of fabric and wrapped it around the bumper, stapling it in place with a staple gun. It took a lot of staples! But look how good it looks!
Since this was the final step, we just had to attach it back to the stone fireplace. It is set up so it slides on, but takes both of us to slide it on just right so it can't be removed by silly baby.
Ta-da! What do you think?
Doesn't it look soft and safe now?
Here's a "before" photo – a true before as this photo is from when we bought the house (and most of that isn't our furniture – though we bought their couch and TV).
So there you have it, our DIY Fireplace Bumper!
Join the Working Mom List
Join the Working Mom collective and get support and tools to help you thrive! Subscribers get access to my library of resources and printables.