You see her, purse slung over one shoulder and an overstuffed tote slung over another. A squirming child in her arms. Then you realize: you're seeing a reflection of yourself.
Why does the new title of Mom seem to be synonymous with "bag lady" these days? Babies require a lot of stuff just to get out of the house for a quick grocery run or (if you're brave) restaurant meal. Juggling a teeny tiny baby and car seat and stroller and bags is an interesting initiation into parenthood.
And really, why do we even call it a diaper bag? Is it just a busy mom diaper bag? It is more like a suitcase of essential emergency preparedness supplies in case zombies attack, or babies poop. We should just refer to it as a mom bag, am I right?
We ended up with two "diaper bags", mainly because my husband refused to use the "monkey bag" that was gifted to me by his own mother! So he used a tactical backpack instead – which ended up being the main diaper bag because seriously, keeping two bags stocked at all times got old. Since hubby had Fridays off and was taking Baby H to his weekly physical therapy and DOC Band appointments while I didn't have any time off after returning to work, he won the diaper bag debate.
Newborn Diaper Bag
Itty bitty babies require so much stuff! Here's a list of the type of things I carried around with me when Baby H was a newborn/infant.
Several diapers. And extra diapers.
Wipes.
Little doggie bags for public diaper disposal. Or storing soiled clothing to bring home for laundry.
Changing pad.
Bibs.
Extra baby clothes. Lots of extra clothes. What is it about spit up or poonamies?
Extra clothes for me, too, since the poonamies typically happen on me.
Formula, pre-measured in the awesome disposable containers.
Baby bottles.
Water bottles. For making formula but also for my hydration.
Nipple shield, since I was also breastfeeding.
Burp cloths.
Rattles or other toys.
Pacifiers.
Dish soap to wash said bottles of formula.
Mom snacks.
Toddler Diaper Bag
A toddler diaper bag is a bit different than that of a newborn/infant. There's still a lot to lug around, but you can often get away with leaving it in the car. Here's what I currently carry for my little man in my diaper bag for toddler.
Several diapers.
Wipes.
Little doggie bags for diaper disposal.
Changing pad.
Sippy cup full of water.
"Scooby snacks", including crackers and food pouch squeeze packages.
Extra clothes, because he tends to play hard and get dirty.
Hat.
Toys, books.
Pacifier.
I haven't reached the potty training stage yet. I am in no hurry for that one. But I imagine my diaper bag of zombie apocalypse will change yet again.
If you're wondering about the best bags for moms with toddlers, here's a great website to shop: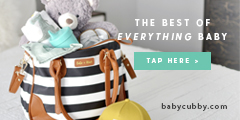 What did you pack in your diaper bags? Did it change a lot with each stage?
Join the Working Mom List
Join the Working Mom collective and get support and tools to help you thrive! Subscribers get access to my library of resources and printables.