When was the last time you went on a date with your husband? How often should parents have date night, anyway?
This post contains affiliate and sponsored links.
Last updated in 2023.
A huge commercial holiday is coming up where date nights are expected and candy will be exchanged. Are you ready? Well, I know that as a parent, I'm not. Not that I've been a huge fan of Valentine's Day specifically – I think we should make the effort to show our love and try to spend time with our spouse regularly, not because of a holiday. But sometimes you take what you can get, right?
And with kids? Making date night happen is not easy! But it's important to find how to have a date night without a babysitter! I have listed and rounded up ideas for a fun date night with your spouse. You can use these ideas for the upcoming holiday, or any time of year!
Do you exchange gifts for Valentine's day with your spouse? If so, you might like some of these date night gift ideas for parents.

Making time for Date Night
Set up an "us" time when the kids are asleep. Especially if your children have early bedtimes, you can really take advantage of that quiet time together on the weekends. You can really come up with a great list of an at-home date night ideas for parents. Provided your children sleep well, of course.
You should always have a list of fun and cheap date night ideas for parents you can pick from on any evening your kids are already sleeping or otherwise cared for.
Do you both have a day off work but daycare is still open? Send that toddler to daycare and have a movie day! The husband and I did that over the holidays and saw a double feature. It was so amazing to have some kid-free time.
Trade babysitting with a friend or neighbor. Maybe you have alternating weekends where you have a play date while the other couple gets some quality time together.
Otherwise, it might be a good idea to get a babysitter that you can call on to watch your kids so you can go out. Here's more details on how to find childcare.
And if you're separated by many miles, consider sending a long-distance date.
Then start a list of easy and fun date night ideas for tired parents.
Here are some great ideas for date night at home for breastfeeding parents and busy families.
Date Night Ideas for Parents
Now comes the fun part – this is where we find some date night ideas for parents.
Romantic Valentine's Day Coupons
Gift this cute coupon set to your significant other for Valentine's Day! Comes with 66 pre-made coupons, and three that you can write in yourself. Be as creative or naughty as you would like!
This Valentine's Day, show your special someone how much you care with our Romantic Valentine's Day Love Coupons! Our carefully crafted coupons are designed to bring a little extra love and surprise into your relationship. From romantic dinners to relaxing spa days, these coupons offer something for everyone — and each coupon comes with its own unique message of love. With these special coupons, you can express your feelings in creative ways that will last throughout the year.
At Home Date Night Ideas for Parents
There's always the simple idea of rent a movie and snuggle on the couch. Sometimes a movie date night at home is my favorite.
Have a conversation date, asking each other questions. Try Our Moments conversation cards.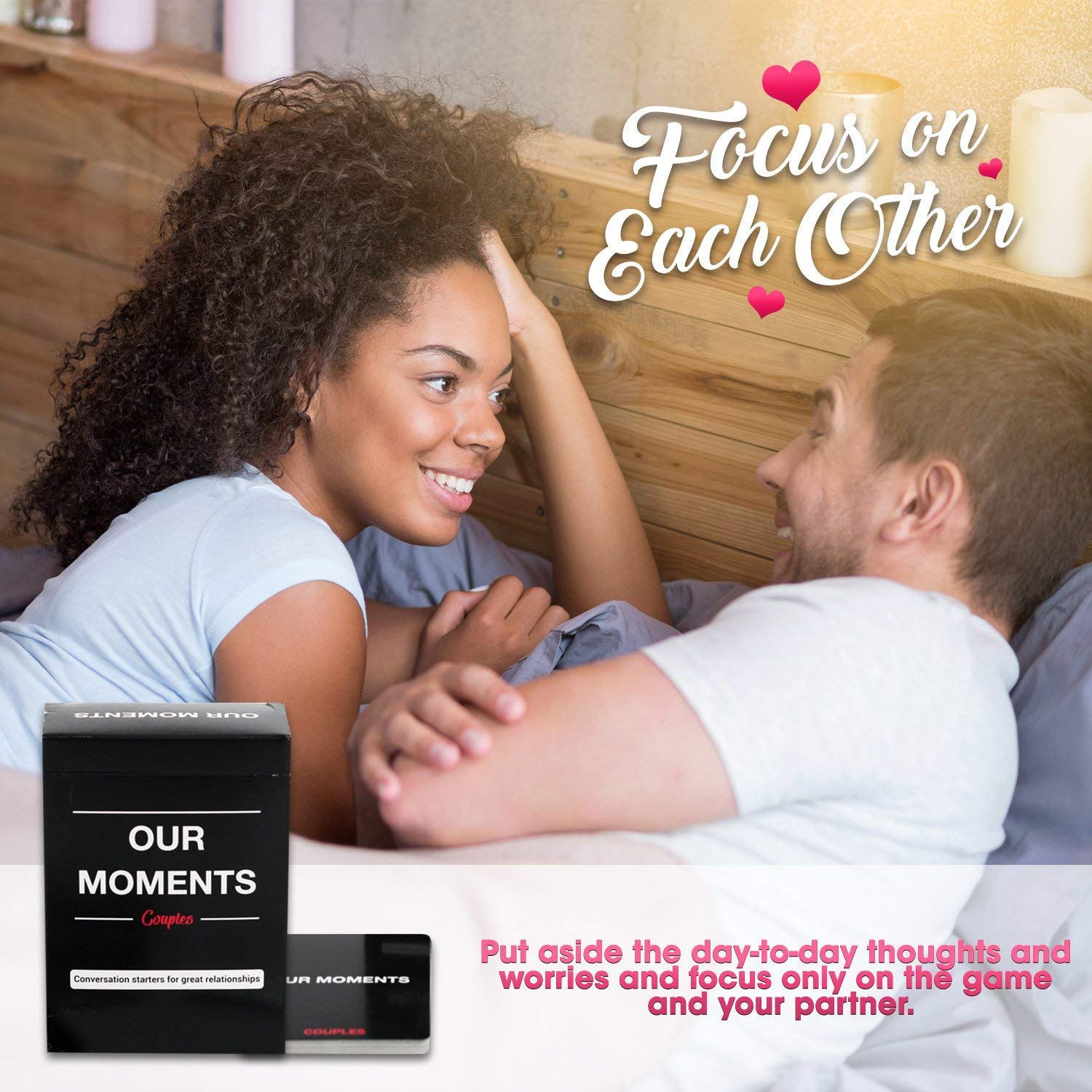 Here's are some other great sets of conversation starters and date night card games:
Play some board games. Seriously game nights are fun and there are plenty of two-person player games.
Or play a video game together, especially if your spouse is a gamer! We had such a fun time playing these on the PlayStation.
Cook for each other, together. Bonus points if it is a brand new recipe for you. A fun DIY date night for parents!
Order delivery and have a relaxing no-cook night.
Enjoy a bouquet of jerky flowers together!
Learn something new together – a virtual class on a topic of interest.
Put on some slow music and dance together in the living room.
Go on a pretend date out – get dressed up, mix drinks at home, and enjoy each other's company by candlelight. Or out on your lanai by your fire pit.
Find a virtual escape room and solve the puzzles together.
Or do some Unsolved Case Files together and play detective.
Pun on some lingerie and see where the evening takes you 😉
Set up some relaxing and romantic lighting with this Smart Galaxy Star Projector and gaze up at the stars from inside your home.
Date Night Ideas Out
Or get all dressed up and go see a play at the fancy theater in town.
Do a scavenger hunt around your town based on the season or a specific topic.
Go to the drive-in movies if you have one near you. Or a regular movie theater will do.
Go to a museum.
Go for a walk around your neighborhood. Maybe talk about what you like about each neighbor's yard. See if their Christmas decorations are still up!
Go to the park and walk a trail. Don't forget to pack a picnic!
Go camping if you like, and have overnight child care.
Go to a local festival. My area is always doing one festival or another, it is awesome!
If you're in a splurging mood, get a couples massage!
Go to a local coffee shop, bonus points if it's a small mom and pop rather than a chain.
Do a dinner out at a nice new restaurant, or even a progressive dinner – where you start with appetizers at one place, the main course at another, and finish with a different restaurant for dessert.
The classic dinner and a movie to catch the latest flick.
If your children are at grandma's, get a hotel for the night, and enjoy all the hotel services (spa, pool, room service, etc).
Date Night Planner Journal
Make your date night special with the help of our Date Night Planner Printable. This easy-to-use printable gives couples an effortless way to plan a romantic evening together. It includes checklists and worksheets that you can fill out with your partner, making it easier than ever to organize everything you need for your night out, or in.
Date night for parents: a chance to connect, reconnect and reignite the love. Find many unique ways to spend quality time together while also creating memories that will last well beyond the evening. Unwind with your partner in the comfort of your home or on an evening out with these ideas.
These are all great fun ideas for parents date night!
Here are some more amazing date night ideas from lovely bloggers I follow:
>>Check out my Date Night Pinterest board for more ideas!
---
Enjoyed this post? Pin for later!

What date nights do you have planned?
Join the Working Mom List
Join the Working Mom collective and get support and tools to help you thrive! Subscribers get access to my library of resources and printables.