My husband likes to fill our freezer with game meat each winter so he's a busy man during hunting season. He recently came home with two deer and we decided to process them ourselves to be budget-friendly. We ground up most of it but there were some solid slabs of meat that were just too good to grind up, so we decided to do a type of stew with it. So this deer stew slow cooker recipe is our slow cooker venison stew.
We had this recipe for chicken, green beans, and potatoes all in one pan but we've always wanted to switch it to a slow cooker meal since the potatoes usually aren't done when the chicken is ready. So we adapted it and just kind of put it together. I thought I would share it with you in case anyone wants to do something similar, or adapt it to something else.
We added the venison to the slow cooker, then added chopped up red potatoes and green beans. I sprinkled a packet of Italian dressing mix on top, then we poured some olive oil and the remainder of some chicken broth we had from another meal. Then we just let our big 7-quart slow cooker do the magic it does for about 8 hours. We checked it periodically but after 8 hours the potatoes were done. The venison meat was soft and juicy, like a beef stew, but leaner.
slow cooker venison stew recipe
Ingredients for DIY Hunter's Stew aka Crockpot Venison Stew:
Large (7-quart) slow cooker
2 pounds Venison (or you can use beef or chicken)
5 red potatoes, chopped into bits
1 bag of green beans
1 packet of Italian dressing mix
1 cup of broth (chicken or beef, whatever you have on hand)
1/4 cup Olive Oil
Note: these measurements are approximate since we didn't really measure or weigh everything when we threw this together.
Directions for DIY Hunter's Stew aka Slow Cooker Venison Stew:
Add everything to the slow cooker (meat on the bottom) and slow cook for at least 8 hours. (Check when potatoes are ready, then the whole thing is ready). Enjoy.
Why did I call this "DIY" Hunters Stew? Well, because the entire meal, from hunting the deer to processing it, to cooking it, was done by hubby or both of us.
Tell me about a meal you "DIY"-ed!
>> Looking for a great venison stew slow cooker? Check this one out: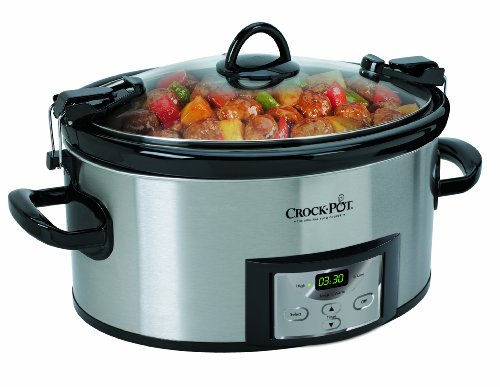 Join the Working Mom List
Join the Working Mom collective and get support and tools to help you thrive! Subscribers get access to my library of resources and printables.