Imagine having all the time in the world to create a scrapbook album of all your children's childhood memories. I don't even have time to come up with scrapbook ideas for childhood memories let alone actually create a scrapbook album or a childhood memory book or research creative ways to preserve memories of kids.
I have a four-year-old and a six-month-old. They are cute and fun and hard work (let's be honest). Without fail, if I leave my house with my darling boys in tow, a lovely stranger reminds me that; "it all goes too fast" and "before you know it they will be all grown up" and "make sure you enjoy every moment".
Yes, yep, ok. I get it.
If you are a parent of young children I bet you eye roll as you read this (even a little). We know deep down that we should enjoy every moment HOWEVER not every moment is enjoyable.
So… How do we get through it, be present but try not to miss the best bits so we have time to enjoy them over and over?
I have some ideas that will allow you to keep some very treasured memories while still having actual time to be present.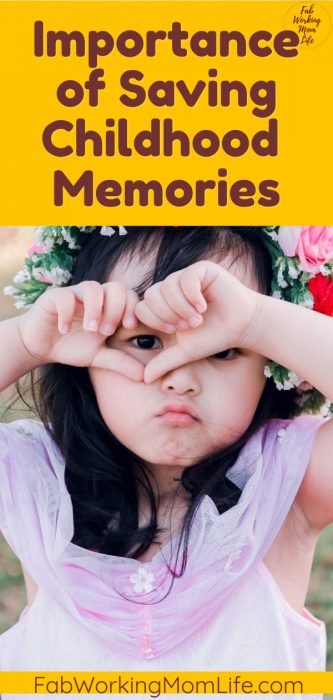 Jot it Down
I have a blank, lined notebook and a pen on my bedside table. If something really cute or funny or momentous happens during the day, I write it down. It doesn't take too long and has allowed me to keep some memories that I would have otherwise forgotten. I will also (approximately once a month) write a little overview of what has been happening. There is always something to write about that might mean nothing much in that particular moment but when you read it four, five, ten years later, it is awesome.
Here are some other ideas that could kick-start a paragraph before bed:
What you did together that day (a typical day)
Something funny that has happened recently
List of your child's current favorites – toy, food, song, etc.
New skill or trick
What we ate for dinner
A typical weekly routine
Best friends – who is your child playing with at kindergarten or school?
I started this when our first son was seven months old. He is now four and we will often get the book out and have a read of it. He loves it and it allows me to remember things I have since forgotten. The book is a bit tattered but there is room in there for his little brother's memories too and when we fill it up we can just buy a new one.
You might want to use my lovely notebook journal I have on my Zazzle store. Call this your childhood memory journal.
Get Snap Happy
I actually make a conscious effort to limit my social media and phone use when I am with my kids. It is so tempting to Snapchat or Instagram every cool or cute thing that they do. I believe that this sometimes takes us away from living in the actual moment with them. Instead, I will often take a few pics throughout the day and then use a digital scrapbooking app (Project Life) at night. This year I am aiming to complete at least one digital scrapbooking page for every week of the year. I will then print these pages out and put them into a 2019 album. This allows us to see the highs and the lows and the everyday moments of our whole year.
For each digital page, I sit down at the end of the week and write a few notes on what we have been up to, and then add some photos. It honestly takes me about 15 minutes and it is a great way to record some incredible memories. In addition to this, I do extra digital scrapbooking pages for occasions or events like family holidays and birthday parties.
Make a Movie
I will be the first to admit that we have endless videos of my son running around the house or jumping or playing with his cars or some other random thing that I thought was cute at the time. He loves looking at them but it has made me think that we need to be more purposeful in the videos we take. For example, I have a video of my son (when he was 2) telling his Dad what he loves about him on Fathers Day. This is one that he plays over and over. It was purposeful and meaningful and is also a fun way to encourage oral language development. This was a real memory that we are glad we recorded.
I am sure you can think of and find a million purposeful things to record but here are a few ideas to get you started:
Interviewing them on their favorite things
Getting them to show you their bedroom and their favorite toys
Something clever they can do – riding their bike without training wheels, attempting to crawl for the first time.
A tour of their kindy classroom (get the teacher's permission for this one of course)
Singing a song
Reading a story (our four-year-old has just started bringing readers home from school)
The best way to be purposeful is to think ahead – will this have meaning in ten years' time? Will this be interesting for us to watch in the future? Will this make us laugh or bring back a special memory that we can talk in more detail about together?
I always make sure that I say the date, the location, and my child's age when I start recording a video. It is so handy because my son always seems to ask; "how old was I then Mum?" and "Where were we?"
Enjoy the wonderful moments and remember together later on too!
Author Bio

Shannon is the lead writer for The Schooled Parent and writes regular posts relevant to the education, schooling, and development of primary school children. Shannon has been a teacher for 13 years, has a psychology degree, and has also achieved her Masters of Education (majoring in Guidance and Counselling). Above all, Shannon is the mother of two little boys – a gorgeous, redheaded four-year-old and a chunky, delicious six-month-old.
Here is a translation of this post in Spanish.
Join the Working Mom List
Join the Working Mom collective and get support and tools to help you thrive! Subscribers get access to my library of resources and printables.