With the trampoline being an incredibly awesome aerobic activity, it's so much fun to resist for people of all ages. However, there are some restrictions for pregnant moms.
That's right, when your belly grows bigger, it becomes difficult to keep balanced. Therefore, to stay safe during this period, there are some things that you should know…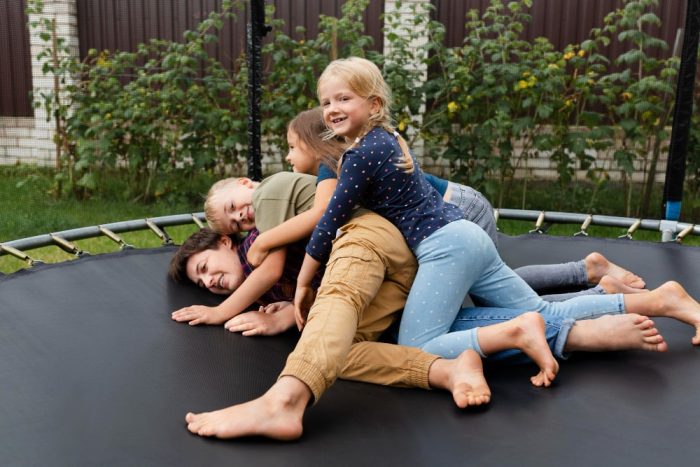 So, Can You Jump On A Trampoline While Pregnant
During pregnancy, you should avoid any activity that would increase the risk of falling from heights during the second and third trimesters. So can you jump on a trampoline while pregnant? Well, no, and it should be avoided.
Still, there is more to it…
Balance In Early Pregnancy
It seems ok to rock-n-roll during your first trimester as your belly is not visible. However, any demanding activity during your early days may cause you to lose balance.
The loss of balance during early pregnancy could be a result of
Reduced blood pressure

Increased hunger

Standing up too quickly or for long

Anemia

Swollen blood vessels
Loss of balance during early pregnancy is one of the most common reasons to avoid strenuous activities. While your body goes through a sudden gush of hormonal changes, you will feel tired, sleepy, and shaky, so again, avoid bouncing and jumping on your trampoline.
Rocking And Bouncing The Baby
Though jumping on trampolines does not cause any harm to your baby, your tiny pumpkin is packed well enough inside your uterus and perfectly safe. However, don't forget that you are still at a vital risk of falling, which may cause serious harm to your baby.
Second and Third Trimesters
Trampolining is not safe in the second or third trimester either. This is when your amniotic fluid serves as a shock absorber and keeps your baby safe from jolts and shocks. But any excessive movements or sudden change in the center of gravity may lead to placental detachment.
Ask Your Doctor
Pregnant women are recommended to minimize their bouncing activity, and if they are trampolining, they must keep their activity as low as possible so they do not lose their balance. They must also consult their doctor before pursuing any bouncing or jumping on a trampoline.
Can You Go To A Trampoline Park While Pregnant?
Yes, you can visit a trampoline park with your kids while you are pregnant. Enjoy these moments with your little ones but avoid jumping on trampolines. Most of these parks have strict guidelines for pregnant women to avoid doing any activity on the trampoline until they are under the supervision of their instructor or have consulted with their doctor.
Will Jumping On A Trampoline Cause A Miscarriage?
No, pregnant women are not likely to have a miscarriage through trampolining. Yet they are at the risk of spontaneous loss of balance leading to a life-threatening condition of their fetus. Most miscarriages happen during the first trimester; you must inquire with your doctor before trampolining.
Different Stages Of Pregnancy
Pregnancy is divided into 3 stages. Every stage requires special care rendering to the new body challenges and the ever-increasing growth of your baby. Let's see if you can bounce on a trampoline during these three stages.
First Trimester (1-13 weeks)
The first trimester comprises 13 weeks and is considered one of the most critical times for pregnancy. During her first trimester, the pregnant woman already feels weak, dizzy, and nauseated. The hormonal changes happen so fast that most women find themselves tired and unable to do heavy exercises.
Though light exercises and taking a little walk is not a cause of concern, you will have to wait for at least 5 to 7 weeks to rebound on a trampoline.
Second Trimester (14-26 weeks)
Now in the second trimester, both mother and baby start gaining weight. Though the mother does not feel as tired and nauseated as during the first trimester, she might lose her balance due to a change in her center of gravity.
Though it is still difficult to bounce on a trampoline at this stage, however, for mothers who start trampolining at the end of their first trimester can go without a big hassle.
Since the chances of having a miscarriage are reduced during the 2nd trimester, you can consult your doctor and can do light trampoline workouts instead of big jolting bounces.
Third Trimester (27 – 40 weeks)
We suggest you avoid strenuous workouts or heavy activities during this period. The third trimester is the final yet most critical stage, as even a bit of negligence or a smaller injury may seriously harm your baby.
Since the baby has gained the maximum weight in this trimester, taking up most of the space and narrowing the vacuum of your bell, jumping on a trampoline will shrink your belly and may harm your baby directly.
The hormone that loosens your joints begins to flow in these months, preparing you for the birth of your baby. That's why any jolty and jerky moves may lead to premature birth or damage to your baby.
Therefore, you must be extremely careful during your last trimester and avoid jumping on a trampoline.
After Pregnancy
Jumping on a trampoline is a great post-pregnancy workout to burn calories and lose weight. It's fun and helps you build a strong pre-pregnancy figure and strengthen your pelvic floor muscles. So, once you get a green light from your obstetrician, you can return to your bouncing workouts.
Image by prostooleh on Freepik
Are There Any Benefits of Using a Trampoline While Pregnant?
Well, there are, but not as beneficial that can minimize the risks…
Mild aerobic activities boost your mood and eradicate antenatal depression. Jumping on the trampoline induces the release of endomorphin hormones associated with happiness.

It stimulates blood flow and circulation in the pelvic area and tone leg muscles.

Jumping on the trampoline keeps you fit and active and prevents extra weight gain.

Bouncing on a trampoline is a good workout routine to ease joints and back muscles. The shaky movement reduces stiffness in the back and joints, reducing pain.

Jumping on a trampoline is also good for addressing issues like Gestational Hypertension.
Ideas For Simple Trampoline Exercise After Pregnancy
After pregnancy, Managing balance is key for doing workouts on the trampoline. It is suggested that you listen to your body and go slow.
Low-Key Bouncing
It is an ideal exercise to boost your lymphatic system and increase your physical fitness. Bending knees while bouncing tones your legs and keeps your joints in good condition.
Jogging In Place
Running statically or jogging in place on a trampoline enhances balance. This low-height, low-intensity running on the trampoline helps you to burn calories while constantly maintaining your center of gravity and balance.
Moving Step By Step
Doing this exercise reduces knee and joint pain. It is easy, safe, and highly effective to keep mothers healthy.
Warning Signs to Stop Trampolining
Here are some major signs that tell you to stop trampolining after pregnancy and contact your doctor ASAP.
Chest or any muscle pain that requires immediate medical attention.

If you experience vaginal bleeding.

When you notice an amniotic fluid leakage.

Chronic pain or uterine contractions.

Loss of breath, feeling dizzy or experiencing pain in your feet.
Safety Precautions
Safety precautions while trampolining after pregnancy are not strict. They are just to keep you safe while burning some extra calories.
Use A Small In-Home Trampoline
Small in-home mini rebounders are great for safer trampolining than large outdoor trampolines. Also, attach safety bars to your trampoline.
Use A Safety Net
Install a safety enclosure to your trampoline. Using a safety net prevents any fallouts of the trampoline.
Use A Safety Pad
Use a safety pad and cover any metallic part on the trampoline that might injure you.
Do Trampolining Under Supervision
Make sure that someone is near you while trampolining. Adult supervision is necessary for support because that person could immediately rescue you in case of an accident and take you to the hospital.
Avoid Collisions
It is obvious to avoid more than one person jumping on the trampoline to avoid collisions.
Other Useful Tips for Pregnant Women
Stay well hydrated.

Keep warm and dry during outdoor workouts, and wear layers if it's cold outside.

Do not over-exhaust yourself.
FAQs
What is the size of the ideal trampoline for pregnant women?
Small indoor trampolines are best to do light trampoline workouts. They are safe and reduce your chances of getting hurt or falling.
Can jumping on a trampoline induce labor?
Jumping on a trampoline may complicate your pregnancy, and it is not smart to induce labor. Focus on mild workouts, walking, and yoga to prepare yourself for labor.
Does jumping on a trampoline increase blood flow?
Yes, light bouncing on a trampoline increases blood flow and helps loosen tight joints and underused muscles.
Can I start an exercise routine while pregnant?
Yes, if you don't have any health issues and your doctors tell you everything is good, you can start a workout routine.
What Should Be Done If a Pregnant Person Suffers an Injury While Trampolining?
Bouncing on a trampoline is one of the major fall risks, as we said earlier. If a pregnant woman suffers an injury while trampolining, then immediately take her to the hospital.
How does jumping affect pregnancy?
Jumping during pregnancy leads to severe consequences and health issues for both mother and baby. Experts also do not recommend any such movements during pregnancy.
Conclusion on Can You Jump On A Trampoline While Pregnant
Jumping on a trampoline is fun, yet for pregnant women, it can cause serious injuries and risks to unborn babies. Women are more prone to lose balance during pregnancy and are susceptible to great hormonal changes leaving them with a major concern about falling. However, with doctors' consultation, light to moderate workouts will be better for a pregnant lady than high-intensity workouts.
Join the Working Mom List
Join the Working Mom collective and get support and tools to help you thrive! Subscribers get access to my library of resources and printables.