Can Breastfeeding with an STI Harm My Baby? Tips for Mothers
As a new mother, there are certain risks you just don't want to take. If you became infected with an STI before or during pregnancy, chances are that your doctor helped you manage the situation to preserve both your own health and the health of your newborn. If you became infected after delivery and you're still breastfeeding your baby, you should consider stopping and ask your doctor whether or not it's a good idea.
If you're wondering can a baby get an STD from breastfeeding or can STD be passed through breast milk, keep reading.
Diseases That Can Be Passed Through Breastfeeding
Can STDs be transmitted through breast milk? Not every STI can be passed through breastmilk, but the few that can have very serious consequences. If you believe there's a chance that you've been exposed to any of these STIs, it's best to discontinue breastfeeding until you've spoken with your doctor.
Herpes
Herpes is a finicky disease. There's no cure for it, and a lot of people carry some sort of herpes variant. In most cases, mothers infected with herpes cannot pass it to their child through breastfeeding. However, there are still exceptions to this rule. Mothers with herpes lesions or sores on their breasts can actively expose their child to the disease and potentially spread the infection. Breastfeeding with herpes requires a lot of discretion.
Syphilis
Is syphilis transmitted through breast milk? Syphilis is one of the most dangerous STIs that can be passed through breastfeeding. Untreated syphilis can lead to irreversible damage to the brain. The infection is spread through chancres that pop up all over the body throughout the late stages of the disease. If you have syphilis, do not risk breastfeeding your child. If a chancre or small sore on or near the breast goes undetected, the infection will spread to the child.
HIV or AIDS
Since HIV and AIDS cannot be cured, it's unwise to play fast and loose when you could potentially expose someone else to these diseases. HIV is transmitted through all bodily fluids, including breast milk. If you're living with HIV or AIDS, there is no way to safely breastfeed your child with or without the necessary medications.
Hepatitis C
In truth, no one has come to a medical consensus regarding whether or not hepatitis C can be transmitted through breastmilk. Most doctors believe that the risk of transmission is low and that breastfeeding is safe in most cases. Before you make a decision, talk to your doctor about what's best in your situation. It's best not to assume.
Diseases That Cannot Be Passed Through Breastfeeding
Some STIs, mostly the varieties that can easily be treated with antibiotics, pose little to no risk to a breastfed infant. This doesn't mean that mothers shouldn't be proactive about their health or postpone regular health screenings for their babies.
Gonorrhea
Can gonorrhea be passed through breast milk? Gonorrhea can have some potentially devastating side effects on a mother. It ravages the internal reproductive organs and can damage fallopian tubes to the point where future conception becomes impossible. Despite this, an infant is unlikely to contract gonorrhea via breast milk.
Hepatitis B
Most babies who become infected with hepatitis B contract it during the birthing process. In the event that you were hepatitis B positive when you gave birth, your doctor proactively vaccinated your baby to prevent the transmission of the disease. Your baby won't develop hepatitis B as a result of breastfeeding.
Chlamydia
Can you pass chlamydia through breast milk? Chlamydia creates havoc on the reproductive system, leading to pelvic inflammatory disease that may cause irreversible damage. All babies are given medication at birth to prevent infection from chlamydia they may have been exposed to during delivery. Chlamydia is not transmittable through breastmilk.
What You Can Do About It
If you know or suspect you may have an STI, you need to begin treatment immediately. Even if the STI in question is not transmittable via breastmilk, it's still damaging your body through long-term consequences that you may never be able to repair. If you have a curable STI, your doctor will prescribe you antibiotics. Make sure your doctor knows that you're breastfeeding – certain medications shouldn't be used while breastfeeding. You might be able to freeze and thaw some breastmilk.
If you have an infection you were unaware of during your pregnancy or childbirth, have your infant screened immediately. Even if the STD test results come back perfect, you'll be able to sleep easier knowing that you made the right decision for your child.
Author Bio

David Beeshaw is an advocate of healthy living and a blogger constantly sharing his tips and suggestion for staying fi. David is also a part of the team supporting raTrust – a non-profit organization that supports and helps all those at risk of STIs, STDs and HIV. Feel free to follow David on his Twitter.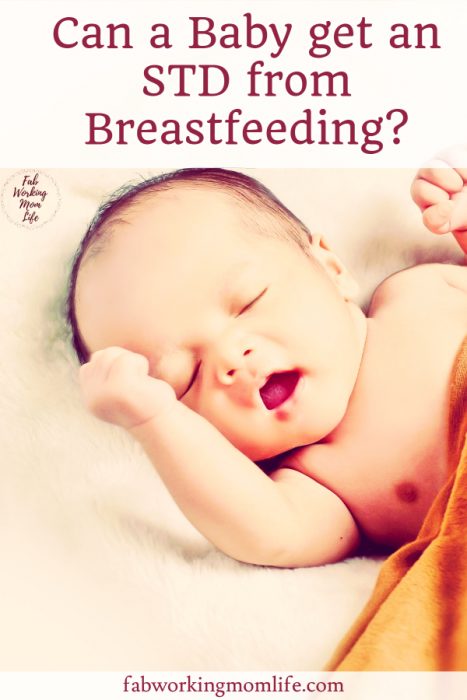 Join the Working Mom List
Join the Working Mom collective and get support and tools to help you thrive! Subscribers get access to my library of resources and printables.