The more you make, the less you seem to keep. Do you have this problem, too? Why is money so hard to hold onto? It certainly requires being organized, planning ahead, and having a good budget in place. But do you know how to make a monthly budget that works? Here are some tips for personal budget planning.
Learn to make a monthly budget that works!
Many of us make an attempt at a budget, but then unexpected things creep up or holidays and birthdays happen, and our good intentions go out the window. There's always something that is getting our attention and wanting us to buy it, take it home, and live with us. We live in a world surrounded by commercials, and it is no surprise that we are also a world struggling with personal finances.
But baby steps. Yes, it takes willpower to be strict with a budget, but creating a budget in the first place is a vital step. When you create a budget for the first time (or even if it has been a while since you revisited your budget), it really opens your eyes to where your money has been going. It also motivates you to perhaps make a few changes or course corrections here and there.
So let's dive in and take the first step on a journey to financial awareness with setting up a budget.
How to make a monthly budget in Excel?
The budget worksheet I'm providing for you free is in PDF. Are you interested in an Excel version monthly budget calculator?
Here you go:
But wait! I expanded the Excel budget workbook to include an income and expenses tracker for the entire year.
I'm now offering a budget and expenses calculator workbook to help a fellow working mom out.
The Yearly Budget Workbook Planner contains the budget planner, monthly and annual tracker, as well as goodies like a savings tracker, a debt payment tracker, net worth calculator, and more!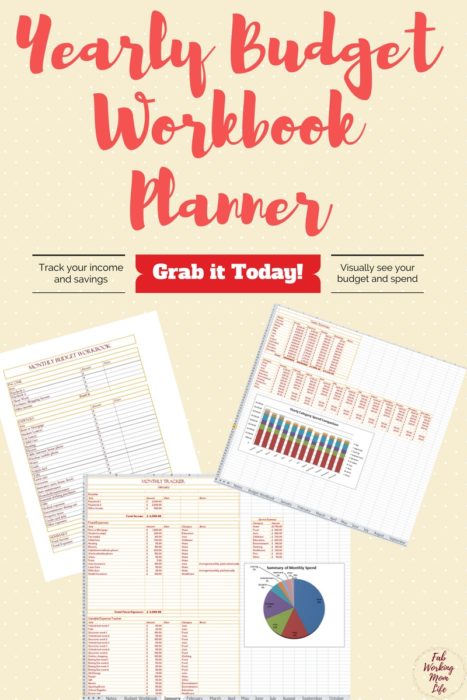 Not sure yet? Start with the free printable monthly budget.
Over to you – how do you make your monthly budgets?
---
This post is part of the 31 Tips for Working Moms series. See the rest of the posts here:
Grab your Budget Workbook Now!
Join my email list and we will send you this Monthly Budget Workbook right away!