Inside: If you're wondering the details about Invisalign vs braces for teenager kids read on for braces vs Invisalign pros and cons.

You want the best for your child as a parent. If your child's teeth are crooked or misplaced, you may want to explore orthodontic treatment alternatives other than traditional metal braces to help fix their smile. Well, there is a solution – Invisalign aligners!
Invisalign is a popular orthodontic procedure, especially among teens, as it straightens teeth using transparent, removable aligners. Let's learn more about it.
9 Things Parents Should Know About Invisalign for Teenagers and Kids
If you are curious whether Invisalign could be the right choice for your child, here are the 9 things you should know.
Invisalign for Teens is a Popular Choice
It is crucial to realize that Invisalign is especially popular among youngsters. This is most likely due to the fact that transparent aligners are less visible than traditional metal braces, which may be a huge benefit for children who are self-conscious about their looks.
Invisalign Treatments are Often Completed in Less Than 2 Years
Another advantage of Invisalign is that treatments are frequently finished in less than two years. It is significantly less than the usual treatment duration for conventional braces.
Invisalign is Completely Removable
One of the most significant advantages of Invisalign is the fact that the aligners are fully removable. This means that your child may take them out to eat, brush, and floss, making it much easier to maintain proper dental hygiene.
Invisalign Aligners are Simple to Clean
Additionally, the transparent aligners are simple to clean. All your child needs to do is brush them with a soft-bristled toothbrush and rinse with water. Sometimes they may need to clean them with Invisalign cleaning crystals to do better care for Invisalign aligners. But that is also pretty easy.
Invisalign Requires Some Maintenance
Invisalign does require some maintenance. Your child will need to wear the aligners for a minimum of 20 hours per day to see results, and they'll need to switch to a new set of Invisalign aligners every two weeks. Additionally, your child must visit their orthodontist every six to eight weeks for check-ups and to ensure their treatment progresses.
Your Children Can Participate in Sports
One concern that some parents have about orthodontic treatment is whether their children will be able to participate in sports. Fortunately, with Invisalign, your child can continue playing sports as usual – they'll just need to remove the aligners during games and practices.
Invisalign Increases Confidence in Your Child
Invisalign for teens is nothing short of a blessing! It can increase your child's confidence in their smile. This is because the aligners are less noticeable than traditional braces, which can help your child feel more comfortable in social situations.
Improved Security and Convenience
One of the most significant advantages of Invisalign for teenagers is its increased security and convenience. Invisalign aligners, unlike metal braces, may be readily removed for eating, brushing, and flossing.
Lower Chance of Cavities
Because the aligners are removable, teenagers may brush and floss normally without worrying about metal brackets or wires getting in the way. This lowers the likelihood of tooth decay and gum disease.
Invisalign vs. Traditional Braces: 5 Key Differences
In terms of differences between Invisalign and traditional braces, there are 5 key factors to consider.
Cost
Firstly, the cost is often a consideration – let's look into Invisalign vs braces cost distinction. Invisalign can be more expensive than traditional braces. However, this can vary depending on your location and the specifics of your child's treatment plan. However, many parents feel that the benefits of Invisalign are worth the extra cost.
Outcome
Additionally, the outcome of Invisalign treatment can be similar to traditional braces. While both methods can effectively straighten teeth, Invisalign can also be used to correct other dental issues, such as overbites and underbites. Your orthodontist is the right person to suggest the most suitable method for your case.
Comfort Level for Kids
Comfort level is another factor to consider – some children and teens find the metal brackets and wires of traditional braces uncomfortable. At the same time, Invisalign aligners are made from smooth, flexible plastic that can be more comfortable to wear. Plus, they put less pressure on teeth resulting in less pain.
Caring & Maintenance Requirements
As mentioned earlier, care for Invisalign aligners is simple. Your children must remove the transparent aligners when eating, drinking (other than water), and brushing their teeth. They can clean the aligners with soap and water or Invisalign cleaning crystals from time to time.
When it comes to braces, they need to brush and floss carefully around the wires and brackets of classic metal braces to avoid plaque accumulation. They'll also need to avoid hard or sticky food items that might harm their braces.
Duration of the Treatment
Finally, the duration of treatment is often shorter with Invisalign than with traditional braces, although this can vary depending on the specifics of your child's treatment plan.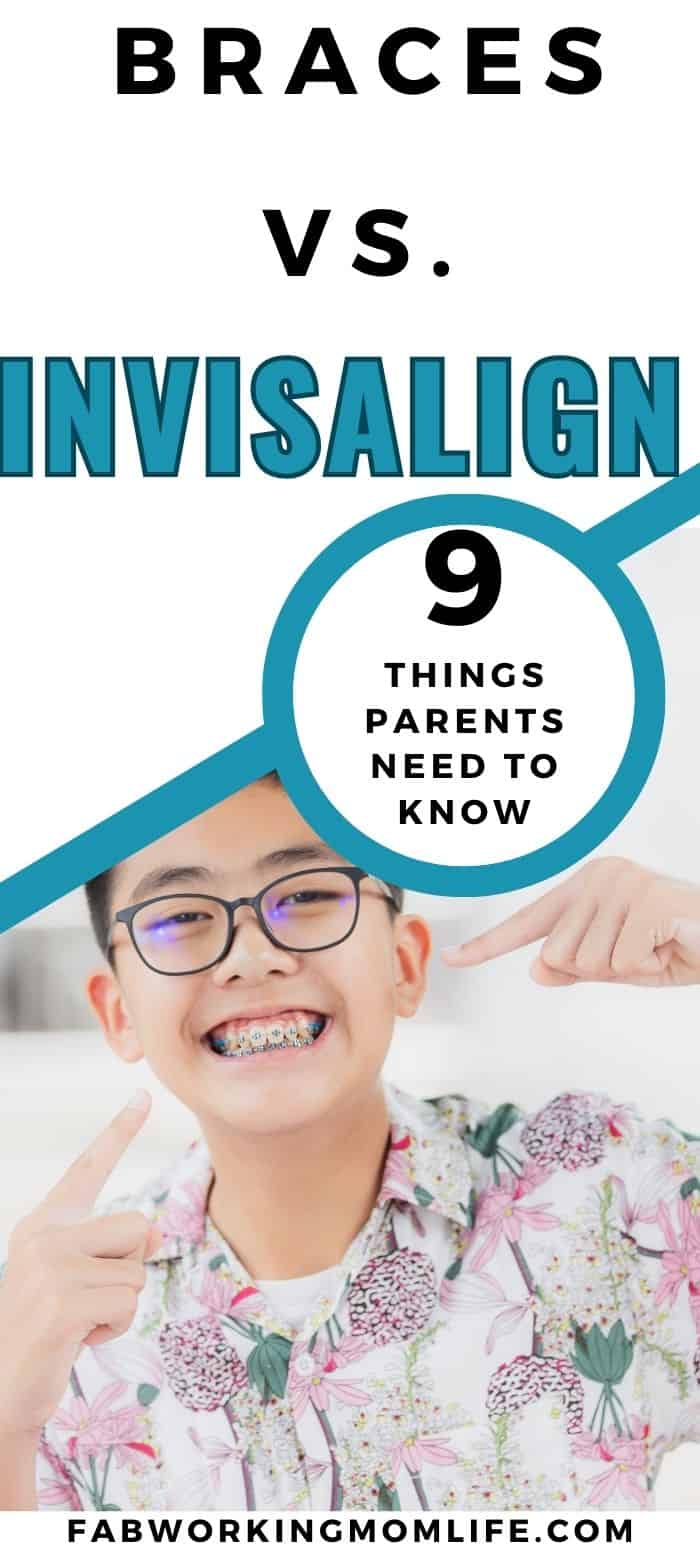 In conclusion, Invisalign aligners can be an excellent choice if you want to straighten your child's teeth with a discreet, comfortable, and effective treatment. If you want to learn more about Invisalign for teens and children, talk to your orthodontist or dentist to see if they could be the right choice for your family.
Author Bio
Dr. Satish Pai is an orthodontist and Ivy League-trained dentist who has served as a faculty at Columbia University. He believes a perfect smile makes a person look great and feel great. As the founder of Putnam Orthodontics and a Partner at Brite Orthodontics, he is dedicated to providing the best orthodontic treatments to his patients. He also writes to educate people about orthodontics, the importance of correctly aligned teeth, and good oral health. In his free time, you can find him golfing, doing yoga or surfing, and spending time with his family.
Join the Working Mom List
Join the Working Mom collective and get support and tools to help you thrive! Subscribers get access to my library of resources and printables.