Inside: A fun collection of picture books that teach empathy to toddlers and kindness songs for kids to teach kids to be kind.
My toddler is a bit of a tornado and has been having a lot of trouble keeping his hands to himself. We've had issues with complaints from school, and not to mention all the biting and hitting he's been doing to dear old mama (aka me).
So I've been working with him on that behavior with transferring the need to touch other people onto another sensory input activity for hyper kids and learning to control the outbursts.
Teaching kindness is so important because a child who wishes to be kind will not want to harm his friends or his mommy. Right? Kindness is good for all of us!
So I try to teach him: what are some easy ways to be kind? Such as saying "Hi" to your friend. Be nice to your doggy. If you see someone fall down, maybe you can help them up!
So we also started reading a lot of wonderful books that teach kindness. We love books about kindness for toddlers and kindness songs for preschool.
Are you teaching your toddlers to be kind?
Books that teach kindness – Kindness Books to Read Aloud
Hen gives Pig an unexpected present. "How kind!" says Pig. Pig is so touched, in fact, that he decides to do something kind too. How Kind teaches about kindness and specifically passing it on to others. My son loves this, and when I ask him if he wants to be kind too, he says yes!
Harry the Happy Mouse is another sweet book teaching others to pay kindness forward. And it was free on Kindle when I looked it up.
The Nice Book shows simple ways young children can show they care for those around them.
If your child is having trouble keeping his hands to himself like mine is: Hands Are Not for Hitting teaches children to be peaceful and not violent, showing that we are all capable of being kind and loving. My son is a huge fan of this one, he keeps asking to read it again and again, like the How Kind book. He likes all the different hand gestures and photos and likes to act some of them out! The last page has some resources for parents for dealing with tantrums, so it's a great book all around. I'll have to get more in this series.
Baby Be Kind teaches that being kind feels so good that even a baby will want to try it.

Thankful Frankie teaches kids to be thankful for the amazing and non-materialistic things we all have. Instilling gratitude at a young age has many benefits that can positively affect our everyday lives, and helps kids express a positive outlook to help others around them. Each book includes discussion prompts at the end, creating space for children to write, draw, or dictate what it is they are thankful for.

A Girl With a Cape shows how one little girl wears an adorable scarf as a cape, trying to be a superhero and help everyone around her. Her tiny good deeds brighten everyone's day, even if she doesn't realize how much her actions inspire and affect everyone. It's such a sweet book that made me tear up reading it, what a powerful message that kindness as a superpower. My son enjoyed reading this and wanted to run around wearing a cape of his own.
You can go to the author's a Girl with a Cape website to grab some awesome activities for teachers and students (and these are fun for kids of all ages and their parents too). I love the kindness club kit!

You Can Be Kind contains fun rhyming text and colorful illustrations to help children recognize how they already demonstrate kindness in their daily lives!
This is a perfect book to teach preschool and kindergarten children what it means to be kind and to inspire them to show kindness to those around them!
I love that this book contains some discussion questions – some great ideas for asking your little ones how they were kind to someone and what kindness means.
This is the second book in the "you can be" series and a companion to You Can Be Brave.

Little Thor Gets Mad is a great book to show that even superheroes get mad but it is not ok to smash things and hurt people. It shows kids alternative ways to deal with their anger, like deep breaths and talking about it. Very helpful book to read to teach a child how to control their outbursts.

Cami, Wyatt, and Kindness Too. We loved the first Cami Kangaroo book (about treats and dental health) and now are thrilled with the second installment about kindness.
From baking cookies for the neighbors to saying Hi to the bus driver, this book shows that no act of kindness, no matter how small, is ever wasted!
---
And if your child has trouble regulating and understanding emotions, this toolkit might help!
---
Kindness Songs to Teach Toddlers Kindness

Who remembers the Sprout channel? This song is catchy and fun and reminds kids to flex their kindness muscle.

A song all about kindness with Tori Kelly and Sesame Street. A very upbeat poppy song!

This is another lovely song All About Kindness and I like how it starts right out with keeping your hands to yourself.

This one is called Fill Your Bucket, and its teaching filling each other's buckets with kindness as simple as holding hands.
The description of this video also contains a free curriculum on kindness which is meant for educators but parents can certainly pull from and teach kindness at home, such as the kindness tree to build on for each act of kindness the child displays.

This is a lovely song reminding kids they have the magic inside to make good choices.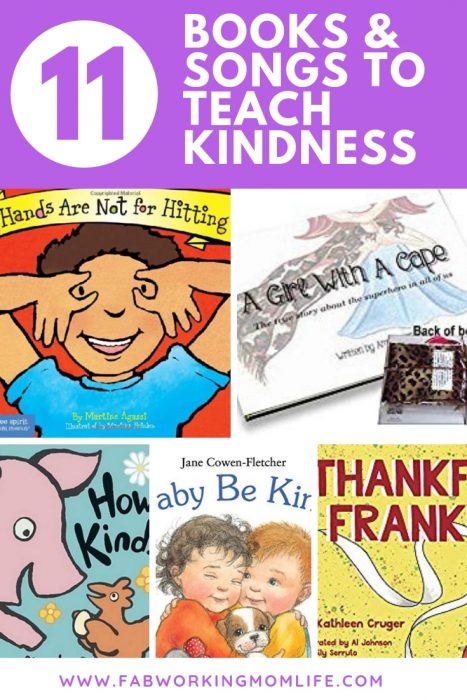 You might also like:
How are you teaching your toddlers to be kind? Give us your mom advice in the comments!
Join the Working Mom List
Join the Working Mom collective and get support and tools to help you thrive! Subscribers get access to my library of resources and printables.