Inside: Are these newborn splurges baby registry must-haves? Keep reading for some baby registry tips and ideas for baby items you really need.

*This is a sponsored post
When you're having a baby, there are so many things you need and want to buy. It's hard to know what's worth the splurge, and what's just hype. Take a look at this list of a few of the most splurge-worthy items you need to add to your baby registry!
Baby Monitor
There are so many different baby monitors on the market. There are those with just sound. Some that do video and sound. There are some that even tell you the temperature of your baby's room while letting you talk to the baby through the camera. Some hook to your WiFi so you can watch through your phone, while others just hook to a small monitoring unit that has to be in range. No matter what you pick, one with a camera is definitely worth the splurge. It's so much easier to look at the baby on the camera instead of having to get out of bed to go look at them. You also risk waking them up! Baby monitors give peace of mind, and might even allow you to get a little extra sleep.

Infant Carrier
Having a great infant carrier can be a game-changer for busy moms. It helps you by keeping baby close, happy, and safe while you have your hands free to do other tasks. If you don't have a carrier, you absolutely need one!
Wireless Car Camera
Backing your car up can cause a lot of anxiety. Especially when you have kids, and there are kids everywhere you go. It would be devastating to hit someone, and that's why a wireless car camera is so splurge-worthy. If you don't have a backup camera on your car already, getting a wireless car camera is one of the best investments you can make. It'll help everyone be safer—and that's totally worth the money.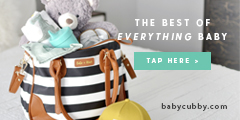 A Vital Signs Monitor
A vital signs monitor can be an expensive splurge, but it's worth every penny. They monitor the baby's heart rate and oxygen levels through a sensor you put on your baby's foot. The monitor hooks to your phone through WiFi, and it allows you to check on baby's vitals while they are sleeping. If their vitals dip outside of the preset ranges, an alarm will sound, hopefully alerting you to check on your baby. This can help anxious mamas catch some zzz's instead of constantly getting up and checking that the baby is breathing all night long. It might also help in an emergency situation.

Sleep Sacks
Sleep sacks are wearable zip-up blankets for babies and toddlers. They stay put so that babies don't suffocate on hefty blankets. You can even get sleep sacks that will swaddle your baby if that's how they prefer to sleep. It's a safer more comfortable option to blankets that can get kicked off or cause problems.

Whatever you decide to splurge on, don't worry about what anyone else thinks, and just get what will make you and baby most comfortable.
Author Bio
Angela is the writer and editor of lavidamom.com. As a full-time working mother to a beautiful toddler, she enjoys balancing her career and motherhood by creating helpful content that will help other busy moms in similar shoes. When she's not in front of her laptop or chasing after her toddler, Angela likes to treat herself to a good sushi date with girlfriends or a glass of wine with her husband cozied up next to their fireplace.
Babylist Registry is the best, universal gift registry for expecting parents. They offer unbiased advice to help parents make decisions with confidence. Create a Babylist registry today to be eligible for a free baby box full of goodies for you and baby!

Join the Working Mom List
Join the Working Mom collective and get support and tools to help you thrive! Subscribers get access to my library of resources and printables.