I have been compensated by JOHNSON'S® Baby for this post; however, I am sharing my own thoughts. All opinions are my own.
Becoming a parent is a wonderful and chaotic journey, where everything changes day-to-day but you do your best to keep your life as normal as it was before. This means continuing your regular family trips and visits, even though you have an extra passenger (with quite a bit of extra luggage).
Developing a good bedtime routine with your baby is key, and important to establish at home while schedules are normal. Then this established routine can be taken with you when you travel with baby, slightly modified where needed, and can continue to be successful.
We traveled with our infant several times for family events on both coasts when he was 8, 9, and 13 months old. Keeping to our normal routine steps helped keep the travels from stressing the baby out too much and getting all of us some more sleep.
How to make a Bedtime Routine with Baby
Bedtime is a time to unwind from the day. The end of the day is a time for relaxation and family togetherness, and that is a perfect way to set up the baby bedtime routine as well.
Here are some suggestions for a bedtime routine that is both relaxing and a lovely time for bonding. Pick what works for your schedules and adapt as needed, but the below list should give you a good starting point.
Start with a relaxing bath
One of the best ways I unwind after a long day is by taking a nice hot shower. Well, a similar concept applies to babies. A warm bath to soothe the stress away is good for everyone, and perfect for babies.
I love that I received so many JOHNSON'S® Baby products at my baby shower because we use them so much and continue to pick up more when we finish a bottle. It is super convenient, too, I just order them online at Walmart.com and have them magically appear at my doorstep. Yes, this busy working mom doesn't really have time to walk the store aisles on a regular basis.
I use a combination of JOHNSON'S® Baby shampoo (I prefer the lavender-scented one for bedtime but the regular is good for mid-day poo-mergency baths) and JOHNSON'S® Baby moisture wash. When the baby is clean, warm, and relaxed, the bedtime routine can continue.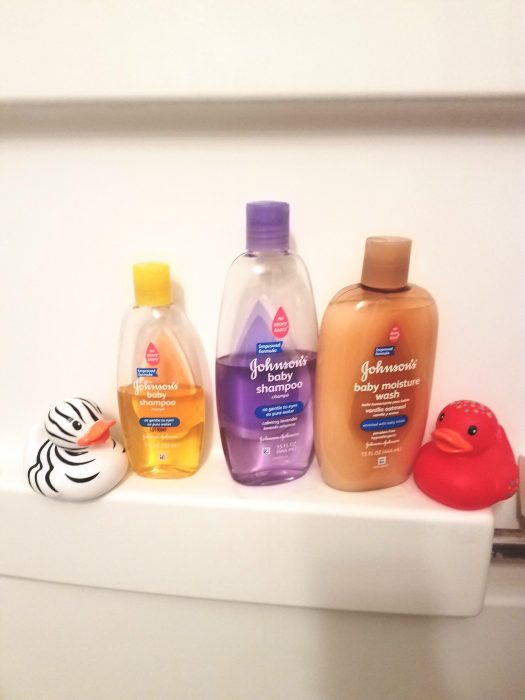 Follow with a gentle massage and lotion
I know that a back and neck massage help me sleep better than anything else, so again, we apply a similar concept to the little one. A very gentle body rub with JOHNSON'S® Baby lotion is a wonderful way to keep the baby's skin oh-so-soft and help the little one relax and get ready for dreamland.
Plus, after bath and lotion, that little bundle of joy smells so good and you just want to cuddle that sweet baby even more. All of these wonderful products can be picked up at Walmart, in-store or online. I even saw some mini travel size bottles once, for easier (or at least somewhat lighter) travel.
Read a book
Reading aloud to children is a wonderful gift we can give them, as it encourages vocabulary and speech. There are so many wonderful baby books on a variety of topics, but start with some family favorites like Goodnight Moon or a Dr. Seuss book and expand as baby gets older and more curious.
Sing a lullaby
Song time is my favorite time of the day. I have a Russian lullaby that I sing to my baby that my mother taught me (and probably sang to me as a child). Now that my child is a toddler and can sing along, it is so magical. Pick a song you like, and sing that same song after lights out. This is the signal to your baby that it is time to sleep. Over time, your child will associate that song with sleepy time and that is where consistency is important.
Complete Baby Bedtime Routine
A good bedtime routine does not have to be complicated to be effective. These pieces of the bedtime routine can be expanded or simplified as needed for travel. The important note is the bedtime routine with baby needs to be consistent so you can adapt it for use on the road and at home.
A complete baby bedtime routine can look like this:
Evening feeding
Bath time and teeth brushing
Lotion and baby massage
Clean diapers and pajamas on
Read a book
Sign lullaby songs
Lights out
This seems simple, but it is very effective at home and on the road. I even made a printable for you to use to help calm the chaos of bedtime with baby. Click the image to download.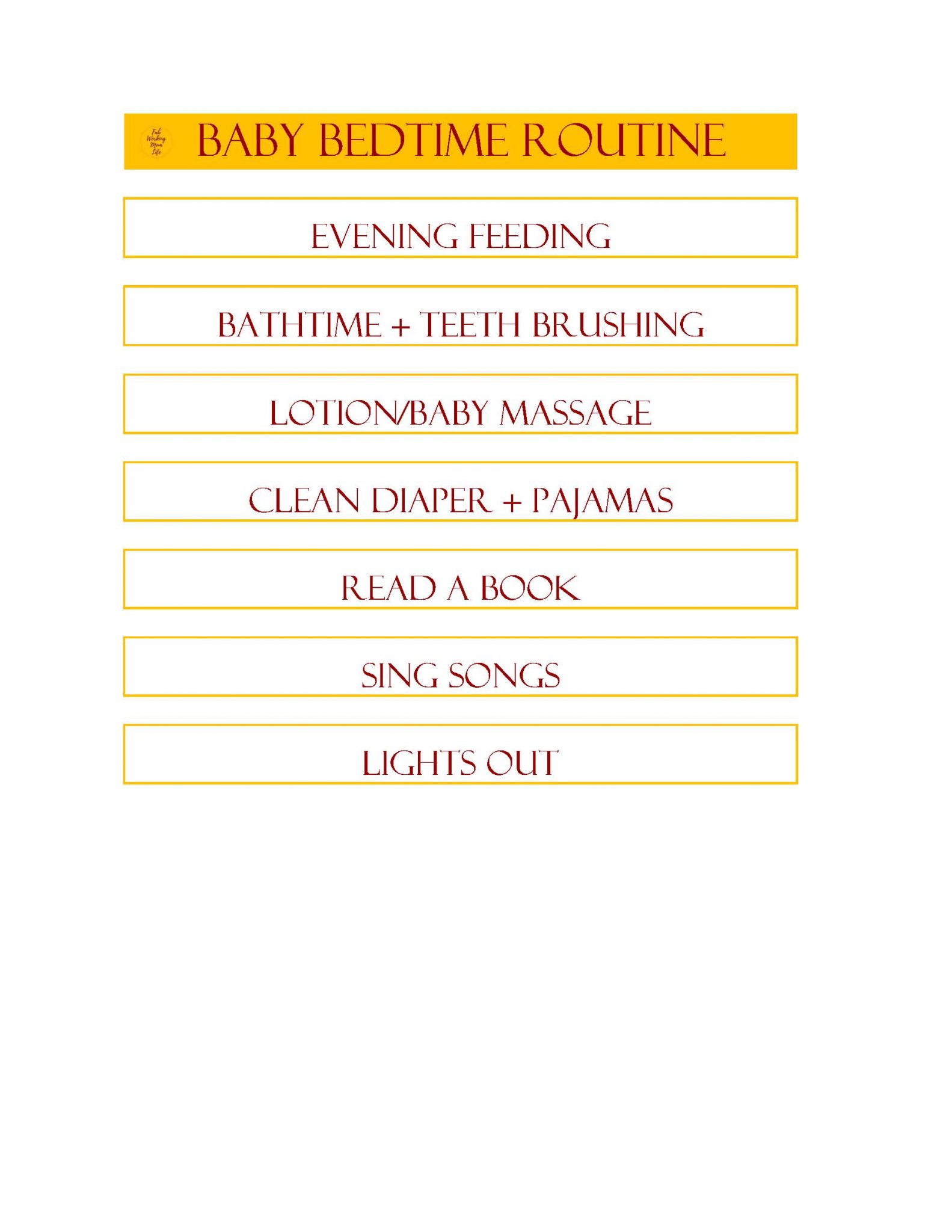 If someone is reporting an adverse event or a product quality complaint, please tell them to call the Johnson & Johnson (J&J) North America Consumer Care Center at 800-361-8068 during normal business hours of operation: Monday through Friday, 8 a.m. to 8 p.m. ET. After normal business hours, they can report adverse events or product quality complaints through www.jnj.com Contact Us page.
Join the Working Mom List
Join the Working Mom collective and get support and tools to help you thrive! Subscribers get access to my library of resources and printables.