Breastfeeding can be a beautiful, wonderful thing. But it isn't for everyone, and that perfectly fine. Some women choose to breastfeed while others choose not to, and those are simply two ways to feed a baby. Unfortunately, there are people who make women feel guilty about the choices they make. Well, I'm here to say let's put an end to the bullying and stop the bressure.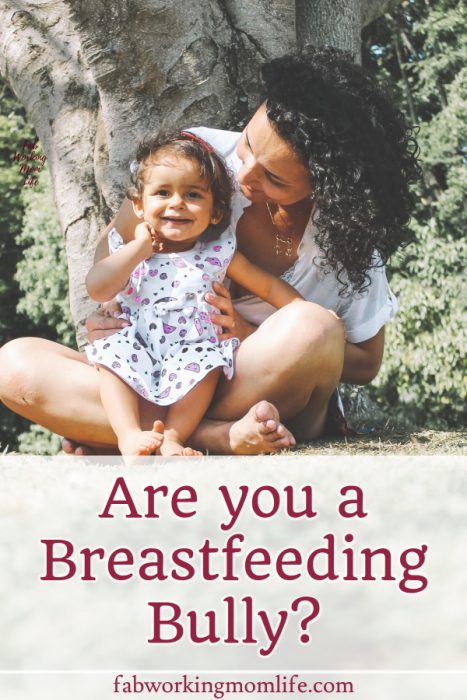 Some people might not even realize they are being breastfeeding bullies, so I have put together this little quiz to help identify what makes a bully.
Are You a Breastfeeding Bully?
Do you judge other moms for not breastfeeding? (Don't be so judgy!)
Do you confront moms who are bottle feeding their child and try to tell them that breastfeeding is better? (Ever heard of MYOB?)
Do you call baby formula "poison" or "garbage"? (Oh, so you never eat food from the supermarket? If you don't grow all your food and say this, you are being a hypocrite.)
Do you stop being friends with someone if they formula feed their child? (Some friend you are. She is better off not being friends with you anyway.)
Do you think that if you had an easy time breastfeeding, then it should be easy for everyone else too? (Seriously, everyone's different and have different challenges.)
Do you give others dirty looks while you're breastfeeding your child publicly? (I've seen it. That's not feeding your baby, that's making a statement.)
If you answer yes to two or more of that list, you're a breastfeeding bully.
Stop the Bressure
Take a good look at yourself in the mirror and tell yourself to stop the bressure. (And also learn to mind your own business, because you don't know someone's situation and shouldn't try to push your own beliefs on them.)
There is a difference between lactivist and bully. A breastfeeding advocate raises awareness and supports mothers. Bullies just judge and shame others. It is no secret that I am a supporter of breastfeeding and yet I am struggling with it and having to supplement with formula.
It isn't for everyone – not everyone can breastfeed, and not everyone wants to breastfeed – and that is OK! It doesn't mean you love your child any less and it doesn't mean your child will suffer for it.
Your baby will thrive and grow into a successful adult not because of how you fed him or her, but depending on how you parented and raised him or her.
So please, can we just stop with the bressure and just support one another? Motherhood is a tough gig, so wouldn't you rather be with people who celebrate each other's victories instead?
Join the Working Mom List
Join the Working Mom collective and get support and tools to help you thrive! Subscribers get access to my library of resources and printables.