If you're wondering how to meal plan for a month, this is the post for you! Inside this post, you will find a collection of meal planning services and tools that make life easier for busy moms, because we have better things to do than spend our time agonizing over dinner.
Being a working mom means we probably don't have time to cook a brand new beautiful meal from scratch every day.
But you know what? That's fine! That's not where my passions lie, or my skills for that matter! It is more important for me to come up with a simple plan for meals so I can focus on what really matters – the time spent with my family (not the time spent slaving over grocery shopping and cooking).
Use some of these great meal planning service suggestions to make your own simple weekly meal plans. These companies answer the "what to cook for the week" question easily by giving you a weekly meal planner with a grocery list!
I'm all about using the tools and services provided by others that make my life easier. Life is complicated enough, and that is why others have taken the time to create these products to help each other out. There are so many wonderful meal planning and delivery services available to us, so why not use them!
Wonderful Meal Planning and/or Delivery Services
Meal Plans by eMeals
I signed up for several months of eMeals a few years ago based on a recommendation from a coworker. It was wonderful – each week I would get an email with a shopping list and recipes. Simple recipes. Recipes that are short with few steps that all fit on one page for the week. I collected them and printed them out – and still refer to them often in a binder when we're looking for a meal to cook.
What's great about it is you don't have to think about it – new ideas come to you.



You can even Try eMeals plus grocery delivery with Shipt
!
Chef-crafted for the slow cooker
What a Crock Meals chefs work hard each day to create gourmet meals designed specifically for the slow cooker. They only use the freshest proteins, veggies, and sauces in their recipes.
Safe delivery straight to your doorstep
Orders are shipped straight to your door frozen. Every order is packed with dry ice and insulation to ensure the meals arrive safely and reliably.
No prep, no mess, delicious dinners
Just drop a meal into your slow cooker in the morning and come home to a delicious, chef-crafted dinner in the evening. That's it! No prep or mess required.

Get $10 off any purchase of $100 or more! Use code: SAVETEN
The What'sForDinner meal planning tool was developed by a female-owned team in Austin, TX. Generating a meal plan in What'sForDinner is super easy – you simply swipe through some recipes (right to add to your meal plan, left to skip), and voilà, just like that your grocery list for the week has been generated.
You can now choose to have your grocery list sent to your inbox, or they can deliver the groceries directly to your door, from your local grocery store.

Freshly Prepared Meals
Freshly is a great solution to busy working mom overwhelm. Get Chef cooked, healthy meals delivered to you.
CHOOSE YOUR MEALS – 30+ menu of all-natural dishes.
WE COOK & DELIVER – Cooked by chefs and sent fresh.
YOU HEAT 'EM UP – Ready to eat in 3 minutes.
EAT & REPEAT – Skip a week or cancel at any time.
Purchase FRESHLY and save $60.00 on your first 4 orders($15 per order).
Use Promo Code: LAUNCH15
Meal Plans by The Chaos and the Clutter
I love these Dump Recipes from Chaos and Clutter – I'm very into dump it in a crockpot and move on with my day! They have quite a few meal plans available.

Meal Plans by MyFreezEasy
If you love the concept of freezer meals and want more recipe ideas, MyFreezEasy is a great program that shares tons of meal plans and shopping lists.
MyFreezEasy provides printable downloads that contain recipes, shopping lists, assembly notes, assembly instructions, 1 new assembly video each month, and printable labels for your bags and trays. New meal plans are uploaded into the member area each month and are packaged to make you spend as little time in the grocery store getting what you need, and as little time in the kitchen preparing the 10 meals for the freezer. The member area also contains a video library, a resource library, and a free freezer cooking workshop.

They also have challenges like the Make One, Freeze One challenge with additional support and recipes. Fun and fills your freezer for easier future meals.
Frugal Meal Plans and a Free Cookbook by 5 Dollar Dinners
If you want to kick off your meal planning with a freebie, grab this FREE cookbook from 5 Dollar Dinners with a full month of slow cooker recipes to get your meal planning going.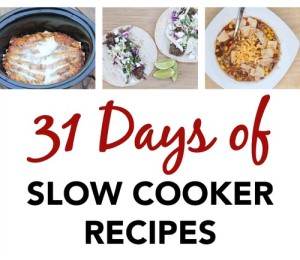 5 Dollar Dinners contains many frugal meal plan ideas from various grocery stores and is great for keeping you on a budget. Actually, the site is owned by the same brilliant lady as the MyFreezEasy meal plan above. Different services, both excellent.
Meal Plans and Delivery by Blue Apron
Blue Apron's mission is to make incredible home cooking accessible to everyone. Launched in 2012, Blue Apron is reimagining the way that food is produced, distributed, and consumed, and as a result, building a better food system that benefits consumers, food producers, and the planet. The Company has developed an integrated ecosystem that enables the Company to work in a direct, coordinated manner with farmers and artisans to deliver high-quality products to customers nationwide at compelling values.

Try Blue Apron
Meal Plans and Delivery by HelloFresh
HelloFresh sends you recipes and fresh ingredients to cook with! No waste, just enough food for that meal they sent you.
You don't have to shop or leave your home, just receive the box and cook! The meals we got were fun and tasty. The plans they have are typically for 3 meals, either for a couple or for a family, and take approximately 30 minutes to cook. I say that's pretty much a win.
Their dedicated team of chefs works alongside dietitians to create 15 new recipes each week. Whatever plan you pick –
Veggie, Classic or Family – only order what you want, when you want it. You can skip weeks, swap recipes, and cancel anytime.
Healthy food Delivery by HungryRoot
Hungryroot delivers weekly boxes of healthy convenience foods that customers can use to make a variety of inspiring, delicious dishes. All of the food is plant-based and gluten-free and comes either ready to eat or ready in less than 15 minutes. Customers can choose to make the dishes according to provided recipes or mixed and match ingredients for additional flexibility.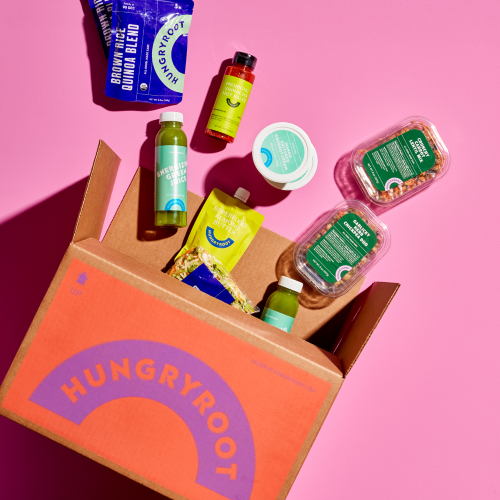 Revive Superfoods
Try these healthy smoothies by Revive Superfoods or any of their other superfood meal delivery options. These recipes include pre-portioned, flavorful superfood smoothies, meals, oats, soups, and falafel pops. All use simple, honest ingredients that are flash-frozen at peak nutrition and are available in convenient on-the-go cups that they deliver right to your door.
Meal Plans by other bloggers
There are so many amazing blogs with already put-together meal plans.
Check out this awesome book called From Freezer to Table: 75+ Simple, Whole Foods Recipes for Gathering, Cooking, and Sharing by bloggers Rachel and Polly of Thriving Home!
Amazing Courses to Teach us Cooking Shortcuts
Eliminate the stress of "what's for dinner" and get dinner done in record time with simple 30-minute meal plans.
That's why the goal of 30 Minute Dinners isn't to just give you 30-minute meal plans.
The goal is to help you overcome the stress and wonder of "what's for dinner?" by teaching time-saving kitchen hacks and meal plans so you can make healthy meals in 30 minutes or less.
FREE 5 Day Real Food Fast Challenge
5 Days to Getting Real Food on the Table, FAST is a FREE 5-day challenge that teaches you the insider tricks to drastically reduce the time it takes to make a healthy meal, so you can get dinner on the table faster, night after night, no matter how busy you are.
This challenge for families who seriously struggle with the TIME aspect of real food. Do you say things like:
I don't have time to shop for real food.
Cooking from scratch takes too long (or too much time).
How do you make it all fit into a busy schedule?

Teaching our Kids to Cook
You can also teach your kids to cook, and have them help you in the kitchen! That is a huge time saver for busy moms if our kids are old enough to help, right? Now instead of spending time away from kids cooking, we can do that as a family activity.
This is a course that is offered several times a year that does just that – teaches you to teach your kids to cook.
With summer coming, I know a lot of families are looking into day camps or some other activities to keep the young minds busy, so why not teach them to cook and play a valuable role in the family dynamic?
Helpful Tools for the Kitchen
Slow Cookers are a Must
A programmable slow cooker is a great tool to have. Not all recipes can handle 10+ hours of cooking while you're at work or driving (more like 12 for me), so a programmable cooker allows you to set the desired cooking time, and then just keep it warm for you until you get home.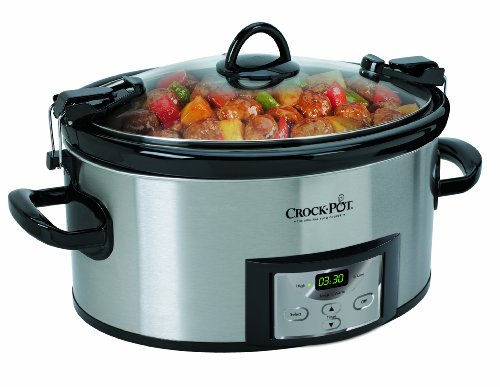 Easier Grocery Shopping
I have mentioned that I'm using services like Shipt to deliver my groceries. I do the list online, and they do the shopping and bring it over.

You can read about other services I use to streamline my life here.
Coupons, Samples, and Recipe Subscription
Betty Crocker
Betty Crocker's FREE email delivers the best of Betty's 15,000 kitchen-tested recipes, how-tos and more — straight to your inbox! PLUS, get up to $250 per year in coupons savings and access to FREE samples (quantities limited, one per member).

What are your favorite meal planning services and kitchen tools to save time and your sanity?
Join the Working Mom List
Join the Working Mom collective and get support and tools to help you thrive! Subscribers get access to my library of resources and printables.