Tablets and preschoolers, well, we know they're buds. And while we all agree that setting limits and managing screen time is essential, not all screen time is created equal. I'm here to tell you why we love ABCmouse.com so much, and why this is a no-guilt screen time app for my preschooler as we are working on kindergarten readiness skills! Especially now that we're safe at home and I'm still working full-time.
ABCmouse.com gifted us with a one-year membership as an affiliate with them. Opinions are mine.
Originally posted in 2020 and updated in 2022 for our continued recommendation!
My son is in Pre-K and is learning a variety of skills he will need in Kindergarten. At our parent-teacher conference, the teacher told me he is good with counting and shapes, but that we need to work on letter sounds and more pre-reading activities. One of the resources she recommended was ABCmouse.com.
So I started by downloading some letter sounds, and early learning apps on the tablet my son got for his birthday. Most of them didn't keep his attention. When I got a chance to try ABCmouse.com, I was delighted with the results.
I told my son this is an important app, and that before he can play any of his regular games on the tablet, he had to do some of the Learning Path activities on ABCmouse.com. We've had it for about four months now, and he's still enjoying the games.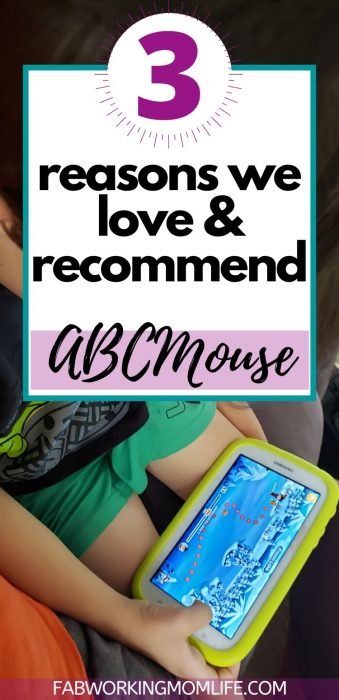 Benefits of ABCMouse for Pre-K/Kindergarten Learning
As a busy working mom (and not a teacher), I look for apps that help me teach my child. Especially right now, during all this time of quarantine and isolation, the app has been amazing.
While I'm busy working from home and meeting deadlines, I know my son is still learning, in his favorite method – his tablet.
I selected the Kindergarten level, so he could practice and learn what he needed in parallel to what he was doing in his pre-K class. The app says it's suitable for 2-8, but I would wait until your child knows how to use a device and is engaged with one. My son is now five, and this app is precisely his speed.
ABCMouse is engaging
He loves to show me the games he's played as part of the learning path. He is thrilled each time he completes a learning activity and earns tickets. Yes, tickets, like an arcade game. That is speaking his language. Then he uses those tickets to buy tubes and cages for his hamsters, or goodies for one of his other pets. In the game, of course. He can also buy clothing for his avatar, and he loves to change up his look in the game.
I have yet to see an app hold his attention and thrill him this long. He often downloads games from the Play store, tries them out, realizes they're hard or doesn't like something about them, and deletes them. This has been going on about daily when he asks for permission to download a game, and then the next day asks me to remove it. But ABCmouse.com he's been playing daily for months now, and still loves it.


ABCMouse has great learning path activities
Each ABCmouse.com learning path game is short, so as not to overwhelm or get daunting. The games alternate in type – some games are to pop the balloons when you see a named letter, number, or word. Other games use animals, like Elephants spraying with trunks.
There's the learn-at-home classroom, a learning path full of activities, math games, and a storytime library!
Sometimes the game is a puzzle with pieces you drag around. The world and screen change depending on if you're in the desert or the sea. Or a snowy field.
Your child can trace letters or match words with their starting letter. Your child can listen to a story for read-aloud time. All this can happen while you're on conference calls for work.
He's already worked through letter sounds and numbers, and I'm looking forward to him reaching the early reading path.


Recommended by teachers for kids and parents
ABCmouse.com is recommended by teachers. Our preschool has great things to say about the ABCMouse app and recommends it to their kids to continue learning at home. This educational learning app is the perfect liaison between kids and their preschool teachers.
You can also do a parental assessment of your child's learning level and see what you need to focus on more.
There's a parent section where you can check up on your child's progress, and you can see which activities your child has completed that day and ask about them.
We've only ever used the tablet app, not the website, but you have options to access the learning.
Join the Working Mom List
Join the Working Mom collective and get support and tools to help you thrive! Subscribers get access to my library of resources and printables.