Having a baby in your home can be the most exciting experience. If you are a mother for the first time, the anxiety is certainly overwhelming. They bring tremendous joy but they have to be taken care of because, like a treasure, their importance cannot be overlooked.
How do you make sure that no harm comes to your baby at home? You cannot afford to ignore even the smallest details, anything can go wrong and you don't need to take that risk.
Source: Shutterstock
How To Keep Your Baby Safe At Home
Babies are curious human beings and while this nature may be hard to comprehend, it can be managed. There are things that you can do to make sure that your child is entirely safe.
Ensure That Their Crib Is Safe
A crib is a baby's safe haven. Even though, not all cribs provide assurance that they will be safe. A safe crib needs to be smooth because if not, splinters may bruise your baby. You should also avoid drop-side cribs because they have been known to cause injuries and in some cases, death. Further, the slats should be close to one another. They should never be 3 inches apart.
Secure Your Bathroom
Babies may not know how to use a bathroom but that doesn't guarantee you that it will not be their favorite places. Always keep the toilet lid down and locked. You can also use non-slip mats to prevent them from slipping and breaking bones. It's not fun watching your baby hurt and be unable to take away their pain.
Purchase A Baby Monitor
A baby monitor will allow you to know what your baby is up to even when they are not with you. This lessens the number of times that you worry about their location and what they're doing. A baby monitor also lets you know when they are in danger and this way, you can go help.
Always Keep Your Cabinets Locked
Make sure that all your cabinets are locked. Sometimes we store dangerous chemicals in there and tools that can harm them, like nails and other sharp appliances. You can as well avoid keeping poisonous chemicals and medicines in cabinets within their reach.
If your child keeps on insisting, you can set aside one cabinet particularly for them and store their safe toys inside. This way, they will pay little attention to the other cabinets.
Keep Them Away From Fire Or Any Hot Surfaces
Burns and scalds are dangerous to your child so make sure that they are not anywhere near fire or any other hot surface. Closely watch them when they are in the kitchen when you are cooking. When there is a power blackout at night, keep them away from candles so they do not get burnt. Hot drinks should also be kept out of their reach.
Enhance Water Safety
Closely monitor your baby when they are around water, pools, and baths. If you have a pool in your home, make sure you have a pool fence and a self-locking gate. They might decide to get a bit adventurous and you do not know where they will choose to explore.
You should also keenly supervise them when they are taking a bath and never leave them in the bath alone.
Enhancing water safety in your home will prevent cases of drowning and traumatizing deaths.
Enhance Electrical Safety In Your Home
You certainly do not want your child electrocuted. Therefore, you should have a licensed electrician install safety switches in your home. They should also do any necessary repairs; if the electrical appliances and cords are worn, they should be replaced instantly.
You should also cover all open outlets with outlet covers and hide electrical cords and cables behind furniture.
Carefully Choose Their Toys
Carefully choose the toys that you allow your child to play with. Some of them may have sharp edges that may bring harm to your baby. You must also make sure that marbles or any small harmful items are out of their reach because babies have a tendency of eating everything they put their hands on. When a baby swallows a marble or anything that cannot be defined as food, it is dangerous and can be a choking risk.
The fact is, motherhood is a fun but difficult task. You should, therefore, do whatever you can in your power to make sure that no harm befalls your baby.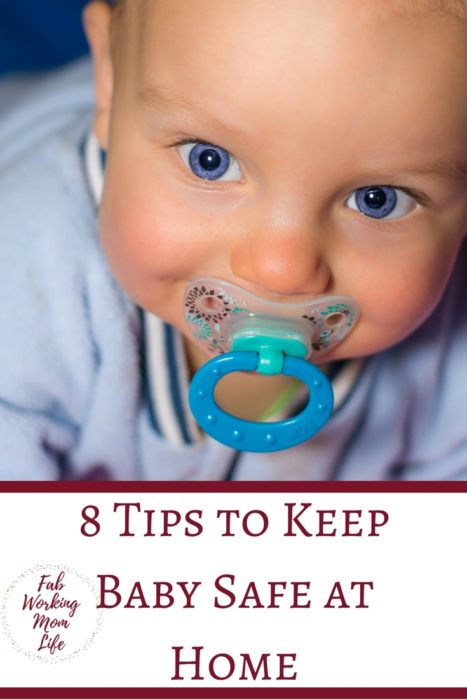 Author Bio
Crystal is the founder of MakeYourBabyLaugh. She wrote the blog to help parents who are struggling to raise their children. She hopes that her experiences in child-rearing can inspire and help parents overcome their parenting struggles.
Join the Working Mom List
Join the Working Mom collective and get support and tools to help you thrive! Subscribers get access to my library of resources and printables.